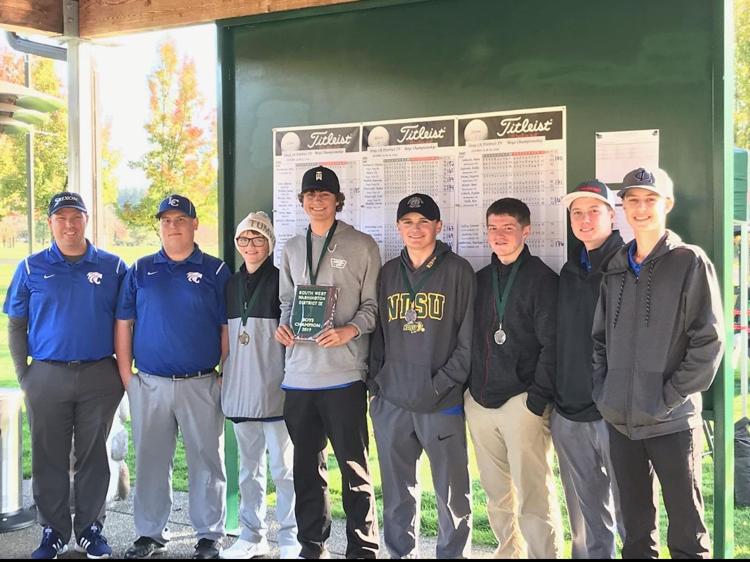 Four La Center boys qualified for state following the district tournament in Tumwater last week. Of the team of Wildcats, Aaron Sundahl, Collin Newberry, Caeden Fender and Cole Entenman qualified for the state tournament after becoming district champions for the first time in La Center High School history. 
Seniors Newberry and Sundahl golfed a 165 and 170, respectively, in the district tournament at Tumwater Valley Golf. Junior Fender golfed a 169 and sophomore Entenman put up 167. Juniors Jack Saban and Ethan Skinner golfed, while on the La Center team, didn't qualify for state next spring. They golfed a 182 and 187, respectively. 
"It was phenomenal," Sundahl said about winning districts. "For it to be the first time in school history it's definitely an honor. I couldn't actually believe it because I knew that we had good teams in the past and it was the first time we had actually won the tournament."
As a senior on the team, Sundahl has spent four years golfing for the Wildcats. 
"We've never even had someone go to state while I've been here," he said.
He contributed the successful 2019 season to "perfecting the game" and "working on the mental side of things." 
"Previous districts we get inside our head and fall apart," he said. "(This year) everyone kept their head in the game, and that's what got us the win this year."
Head Coach Michael Parker also talked about working on the mental game with the golfers. "Once you learn how to swing, golf is 10 percent swing and 90 percent mental," he said.
He also mentioned how the team worked on course awareness and management.
To prepare for state next spring, Parker said he's working with the kids on their short game, swings and mental preparedness. 
"Mainly (we are) going out and making sure (we) can still hit some golf balls," he said. "We worked a lot on putting this year, the short game. That's helped out a lot."
1A Trico State Golf starts up next spring along with tennis and spring sports such as girls soccer, baseball, track and softball.