Amid the seasonal rains, a few dozen Ridgefield School District students and parents gathered near the district offices Jan. 12 to advocate for a plan to offer in-person learning options for older grade levels as elementary-aged grades make their return to the classroom.
Off of Pioneer Street demonstrators waved signs bearing slogans at passing cars in the second event of its kind in the area in the past several weeks. Unlike a demonstration that took place Dec. 8, this event was organized at the student level, with Ridgefield High School Senior Megan Masters taking the lead.
Masters said she was spurred to do something over a perceived lack of feedback from the students affected by remote learning.
"No one's really asking us what we want," Masters remarked, adding the demonstration was a way to have her and her fellow students' voices heard. In other action she said she had spoken at a Ridgefield School District board meeting, with some communication from the district alluding to future work on plans for older grades in the past weeks.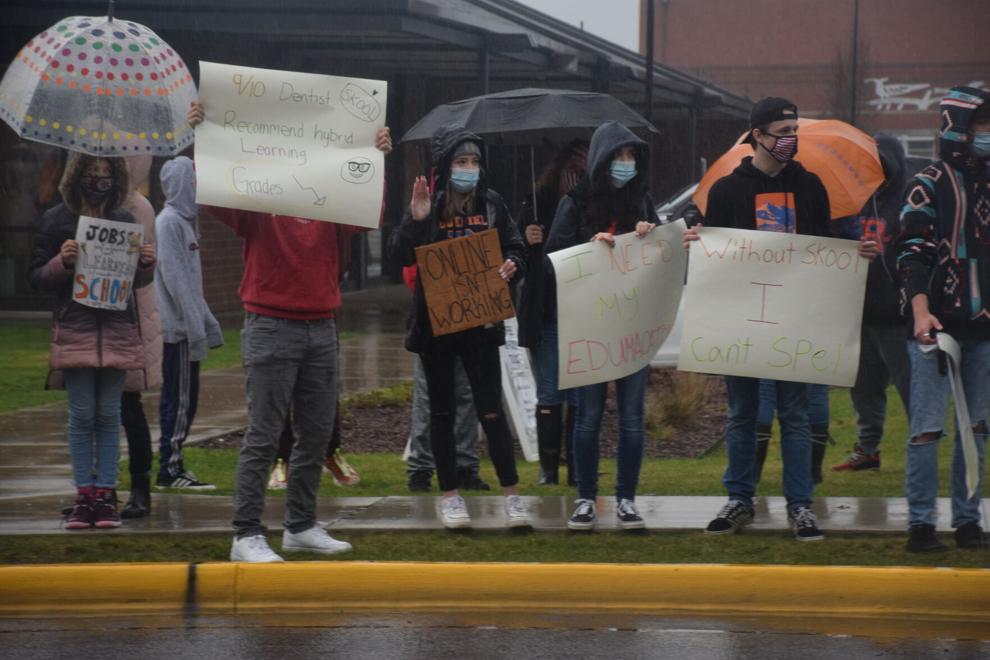 In a Jan. 5 letter to district families, RSD Superintendent Nathan McCann laid out the elementary grade levels' in-person reopening plans, adding that the district's focus would now be on students in sixth grade and up. He wrote the district was "actively working on plans that will provide the opportunity for secondary students to return when conditions allow."
In a news release ahead of the demonstration, Masters noted that the recent case rate of COVID-19 in Clark County had been on the decline, however the day of the event an update from Clark County Public Health showed the first increase of the rate in almost a month. Masters said the news was frustrating, and said she respected the decisions of those wishing to stay as distanced as possible as the pandemic continues.
But the toll on students was still there, as Masters noted in the release that students with failing grades and those dealing with depression and anxiety as a result of the remote environment were cause enough to entertain in-person learning for older students, something she said had been undertaken in districts and private schools across the state with similar case counts.
"Someone needs to step up and advocate for the students, and if someone's got to do it, I'll be the one to do it," Masters remarked. 
Though she did attend an activist rally last year, the demonstration was the first time Masters had been involved with organizing such an event. She said her mother, Mara, provided encouragement for her to get out and organize a demonstration.
"I feel empowered to have a voice," Masters remarked.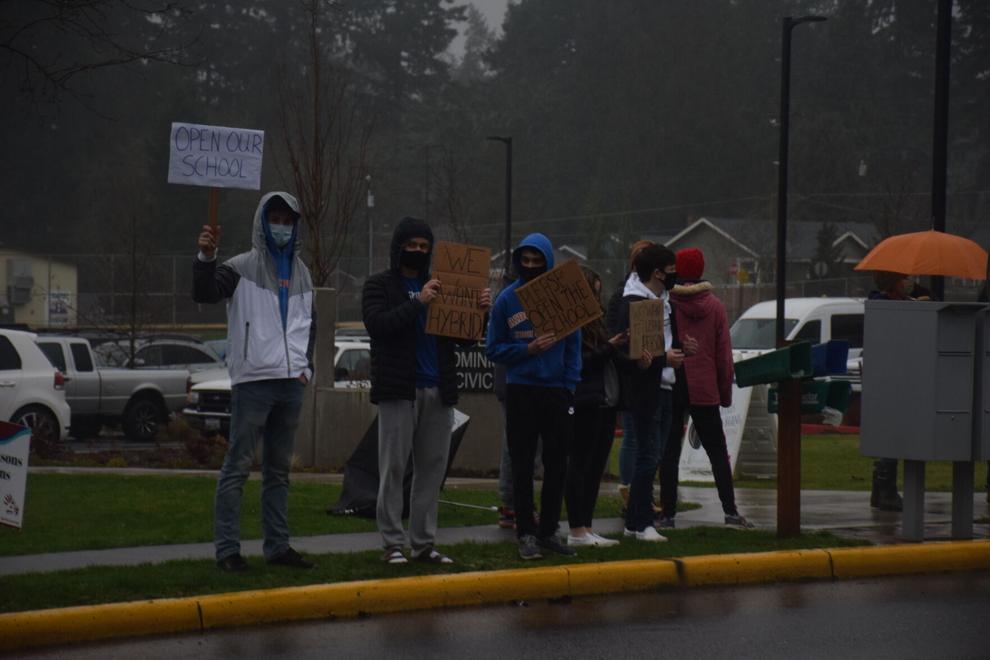 A number of the students present at the demonstration were seniors who felt that in their last year of school they were missing out on the memories usually associated with their final high school year.
"Your parents always say that high school is the best time of your life, and it's kind of getting taken away from us," Ezra Jackson, a senior, said. He remarked that current restrictions were keeping students attached to their computers, something that was contrary to the urging of parents for youth to limit screen time and spend time outside.
"It would be nice to see my friends before we all go off to college," Jackson remarked.
"A year ago today, I would never be out here trying to go back to school," Austin Wills, a senior remarked. While the initial prospect of a vacation of sorts from school might have sounded enticing at first, now approaching a year since school buildings closed, the desire to return to the buildings had set in.
Masters said she learns better in a classroom than in an online setting, explaining learning from home proved a struggle to stay motivated. She said there was a feeling of hopelessness coming from the constant pushing back of deadlines for restrictions put in place due to COVID-19.
Trenton Elliot, also a senior, mirrored Masters' statements on the learning environment being a large part of their desire to return to in-person learning.
"For me, it's just so much harder to sit in my room and focus on school when there's so much other stuff I could do," Elliott said.