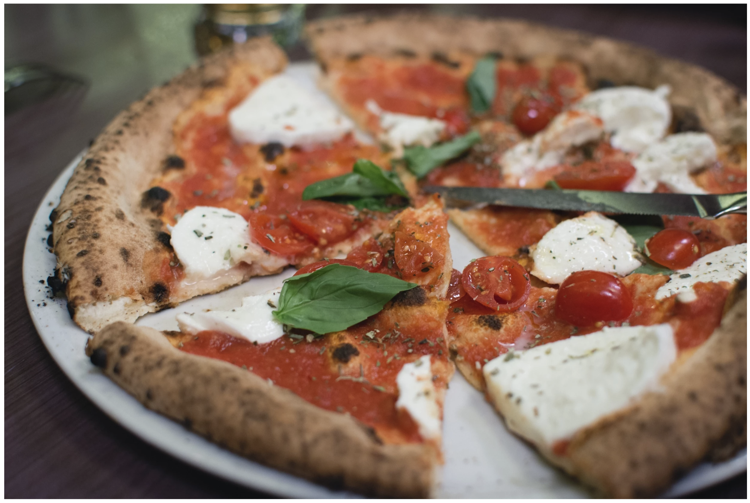 Small restaurants and businesses across the country are feeling the strain of the COVID-19 pandemic. While some are closing their doors for the time being, others are adapting to the new environment of grab-and-go.
The Rusty Grape in Battle Ground has a few tricks up its sleeve.
According to Rusty Grape owner Jeremy Brown, the restaurant quickly changed gears and moved to takeout and delivery once social distancing protocols were put into place. Brown said the restaurant is still offering its menu of "classic wood-fired pizzas" for takeout.
Along with cooked pizzas, Brown said the Rusty Grape has put together a number of take-and-bake meals for the local area. From lasagna, salad and breadsticks to pre-made pizzas that just need to be cooked in the oven when it's time for dinner, Brown said the menu of take-and-bake meals have been expanding each week to offer more to the community.
For the time being, the Rusty Grape is open from 4 to 8 p.m. on Fridays, noon to 8 p.m. on Saturdays and noon to 6 p.m. on Sundays. Brown said a majority of his week is spent ordering and preparing meals for the community.
"You can order from us anytime online or by phone but we're only operating Friday, Saturday and Sunday," he said, mentioning that the restaurant is still offering its full wine menu. "We've even expanded to offer some imported wines as well as we transition the project to more of a farm."
This Friday, the first stages of a new addition to the Battle Ground winery will be unveiled as Brown and his family add a specialty market and menu to the works. Brown said the Rusty Grape wine products are here to stay. However, a portion of the property is being converted into a deli-style restaurant with more grab-and-go options and a 6-foot deli case full of caprese salads, pasta dishes and more.
"Instead of us being more of a preorder style, it'll be more of a just swing up and see what is here," Brown said. "It will be farmstand meets Italy. We are reinventing and recreating ourselves into something that is us and something that is original."
Brown said he plans to stick to the Italian theme because "he loves Italy" and he and his family want to "embody a little bit of Italy" for Battle Ground community members. The new deli-case style addition will launch with a new name this weekend.
Brown was quick to mention that while the name on the street will be a little different and they will have new offerings, he and his family plan to still offer the core feel of the Rusty Grape and the new additions are just that, additions.
As Washington begins its phase-in plan to ease social restrictions due to COVID-19, many restaurants could see the reopening of their sit down space with limits on seating and group size. Brown said he and his family have been hard at work rearranging some of the furniture and seats inside the restaurant to fit the new code. According to Brown, while the number of seats will remain the same, they will be more spread out and the "giant table" for large groups will be removed.
While the COVID-19 crisis has been hard on the Rusty Grape and other small and local businesses, Brown was quick to mention that he appreciates the Battle Ground community.
"For as long as we have been a part of it, we band together," Brown said, mentioning that local businesses order from him and vice-versa. "The best part about this community is that everyone gets together."
According to Brown, The Rusty Grape donated 24 pizzas last week to local businesses and he plans to donate more in the future.
For Brown, the future looks exciting and bright.
"We're moving in this new direction and I'm happy," he concluded.