OLYMPIA — Spokane Valley Rep. Matt Shea is being billed $4,700 for the cleanup of olive oil he poured on the steps of the domed Legislative Building in early March, part of a Christian group's response to an earlier demonstration by Satanists who had marched around the building.
The oil was poured onto porous stones that form the steps and sidewalk around the domed structure that houses the Legislature and top executive offices, making it difficult to remove, according to the Department of Enterprise Services, which manages the Capitol grounds and buildings.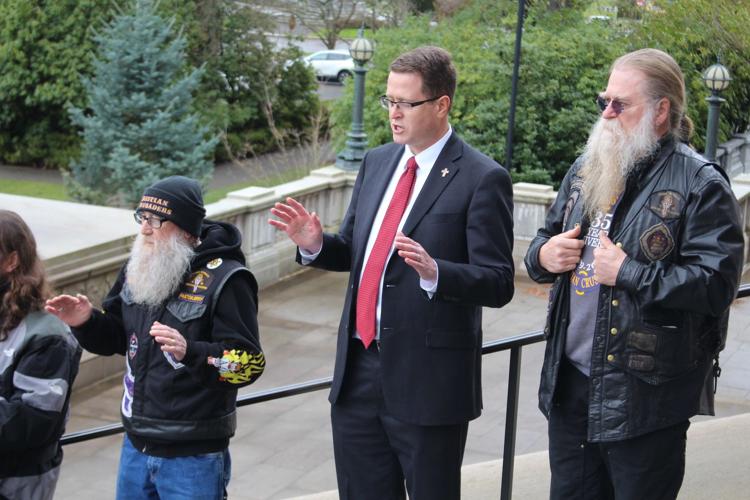 Shea was sent a letter and an invoice Thursday from the department's finance office.
"This invoice to you is generated to recover the full amount of expense incurred to repair damage caused by olive oil on the Legislative Building Steps on March 6, 2020," the letter says. "Please send your remittance to the Department of Enterprise Services."
The North Steps of the building is a frequent location for demonstrations of groups of all sizes and political beliefs.
On March 6, a group of protesters from the Seattle-based Satanic Temple of Washington, many of them wearing black hooded robes, gathered at the Capitol and marched through and around the domed building. According to the permit they received for that gathering, they were performing an "invocation."
"Having not been invited to give an opening invocation for either the House or Senate this year, the Satanic Temple of WA would like to give an invocation on the Capitol Building Steps," the permit said for a gathering from the department to perform an "invocation" at the Capitol
A short time later, Shea joined a Christian group that gathered on the steps to pray, sing and blow ceremonial rams horns known as shofars as a counter demonstration.
Shea had a container of olive oil at that time, but it was taken away from him, a DES employee said. He later brought outside a bottle of olive oil from the ground floor of the building housing his legislative office.
In video released by the department from a public records act request, Shea is seen leaving the building accompanied by a group of men wearing black leather vests and jackets with patches identifying themselves as members of a group "Lord Jesus Christ -- Christian Crusaders."
He leads the group out a west door, around the building and to the north side of the building where the oil was poured on sandstone blocks forming the walkway, and down marble steps to the sidewalk where the Satanist marchers had passed.
An incident report says the stream of oil was poured about 100 feet down the steps. The custodial manager was called for "immediate cleanup."
DES employees later spent days removing the oil, which in some cases had sunk into the stone. The results of the cleaning, which left those stones lighter than the area around them, can still be seen on the walkway.
The newspaper is seeking a response from Shea.