Battle Ground residents will have two opportunities to voice their opinions on the potential for Clark County Fire District 3 (FD3) to annex the city into its jurisdiction.
Though the move would raise property tax totals, it would also avoid declines in city services outside of just fire protection, city and district officials say.
On Oct. 7 and Oct. 21, the Battle Ground City Council will host two public hearings during its regular bi-monthly meetings prior to a vote on whether or not to put the annexation question on the February 2020 ballot. Currently, the city contracts with FD3 for fire service, though both district and city officials say the setup isn't sustainable in the long term.
The numbers
Under the current contract, the city has said that paying for the services would exceed the property tax Battle Ground levies on citizens in 2021. Currently, the city pays the district nearly all of its property tax levy, with $1.35 per $1,000 of assessed value going toward the contract, leaving only 2 cents of the total $1.37 per $1,000 to pay for other city services. 
While nearby cities that are formally a part of fire districts can use their own levy to fund expenditures outside of fire protection, Battle Ground has to rely heavily on sales and utilities taxes to pay its general fund expenses, Battle Ground City Manager Erin Erdman said. Battle Ground is the only city in Clark County that contracts for fire services, Battle Ground city spokesperson Bonnie Gilberti said, with other cities either having their own departments or belonging to a fire district.
Annexation would mean that Battle Ground property owners would be paying both the city and fire district levies, effectively leading to a tax increase in the amount of FD3's rate. Currently, that rate is right about what the city pays through its contract of $1.35 per $1,000. According to a comparison of total tax rates based on city municipal codes and county data, Battle Ground currently has the lowest combined property and utility taxes of Clark County cities, not counting levies from school districts. 
Though there had been talk of reducing the city's own levy to ease the burden on taxpayers, Erdman said the city decided to cut its utility rates by 10 percent should annexation be approved. The reasoning was that with 30 percent of the city's population renting their homes, a reduction in utility taxes that everyone pays would be directly felt by more of the population than just property owners.
Battle Ground's current utility tax rate was 22 percent is the second-highest in Clark County next to Vancouver, according to information from the city. The reduction if annexation were to be approved would drop the rate to 12 percent for both water and sewer.
Arriving at annexation
Clark County Fire District 3 Chief Scott Sorenson said that during the signing of the current contract, which went into effect in 2016, "the idea was to see how the partnership progressed and how well it went," while looking at options for the future. Erdman said the city council had formed a task force looking at different options for fire service, with annexation coming at the top of the list. Other options were continuing to contract, the city forming its own department or forming a regional fire authority. 
The inability for long-term planning from continuing short-term contracts, the cost of starting its own department and the procedure of forming a regional fire authority made annexation the most feasible for both Battle Ground and FD3.
In April, the city conducted a survey to evaluate the feelings of residents on potential annexation with close to 500 responses received. Erdman said the results were somewhat more positive about annexation than expected, especially on later questions after the realities of city fire protection were presented in the survey.
"It basically told us that we have a population that was wanting more information to make those decisions, which we took as a positive," Erdman said.
"Folks who understood that the city contracted for fire services and understood the tax revenue structure were more prone to understanding why annexation was important," Gilberti added.
With or without annexation
With the city levy freed up for non-fire uses, Erdman said city staff had a few ideas, such as increasing police funding and street preservation and maintenance. She said keeping up with current street projects cost about $1 million a year, with the city's transportation benefit district funding of $290,000 annually being the primary source of those dollars.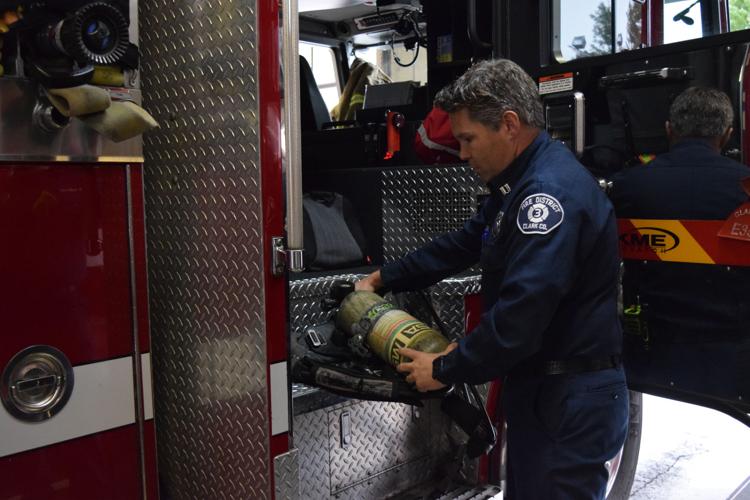 "This would help bridge that gap and get us caught back up with our maintenance," Erdman said.
Should annexation fail, the city has come up with several areas where they would make cuts necessary to deal with a structural deficit in its budget. Cuts included stopping fire and police responses to less serious issues or incidents, personnel cuts, fewer street improvement projects and parks maintenance as well as cuts to community events such as National Night Out or summer and holiday programs.
"By the time we get to 2021, we're going to have to already have made some of these cuts" if annexation wasn't approved, Erdman said. Should voters approve the ballot measure, Erdman said improvements to programs and work that would be cut otherwise could be seen after the structural budget deficit is dealt with.
"It will take us a little bit of time to get back out of the hole," Erdman said, adding that those improvements could be realized in 2022.
Next steps
The Battle Ground City Council will likely vote on approval of adding annexation to the February 2020 ballot following the Oct. 21 hearing. If approved, the Fire District 3 commissioners would make their own vote during their Oct. 28 meeting, and should they give the OK, Clark County Council would have the final say.
Should annexation make it to the ballot, city residents and those living outside Battle Ground in FD3's jurisdiction would vote. Sorenson noted that tax increases resulting from annexation would only affect properties in city limits.
Sorenson said the rest of the district benefits from the partnership with Battle Ground through shared resources. He said that and other benefits were reason enough for district residents outside of the city to consider annexation, adding that a failed vote would cut into services for everyone.
"I think there's a perception out there that people think, 'Why should we pay for this when we already get it?'" Sorenson said. "You're not going to get the same thing if (annexation) fails."
Annexation would also potentially give the city representation on the district board of commissioners, as Battle Ground residents could then run for that office, which is currently not the case.
Outside of the hearings, city and district officials started presenting before community groups on the matter last week. Erdman expressed cautious optimism over citizens' acceptance of the realities that the city faces, which the increase in taxes from annexation would help, city and district officials believe.
"This is something that I think would be a huge benefit for the citizens of Battle Ground," Erdman said.