Julie's Cottage Kitchen is down but not out following a kitchen fire last month, though it might be a few months before the Dollar's Corner staple is back open for business.
Julie's Cottage Kitchen Owner David Murray said he was the first to discover there was a fire when he arrived for work the morning of Sept. 19. When he spoke to The Reflector Sept. 27, Murray said there were a few theories as to the cause, including a pilot light igniting oil or a heat source next to a wall that turned studs flammable over time.
The fire had subsided by the time of Murray's arrival that morning. He said it was likely extinguished by the building's fire suppression system, a melted water pipe or a combination of the two.
In terms of losses, Murray said the kitchen was flooded and had significant smoke damage. Though there was no fire damage in the dining room, its carpet will need to be replaced due to smoke, and walls will need to be scrubbed and repainted.
By Sept. 27, Murray didn't have an estimate for the cost of repairs, though he believed it would be close to the maximum insurance would cover. Despite all the interior damage, he said nothing was visible from the exterior. That's what led him to put up a banner explaining the situation so customers won't think Julie's is out of business for good.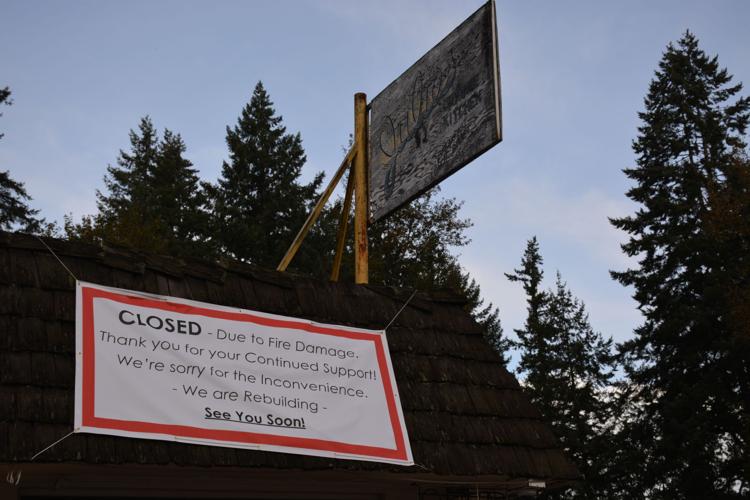 Murray said the kitchen would have to be "stripped down to the studs, completely rewired, completely replumbed," estimating about half the equipment would need replacement. 
Considering the amount of damage, he said Clark County Public Health requested a plan review for permitting, which will require an inspection before the restaurant can reopen for business.
Murray said he hopes the restaurant is back up and running in eight to 12 weeks, after receiving a payout from insurance. All told it could be three to four months before reopening.
Murray became the owner of Julie's at the start of 2017, taking over from the namesake Julie Riggins, who still works at the restaurant. He told customers not to lose hope and that a reopening is on the horizon.
"We hope all of our regulars come back," Murray said.