Fans of the former Old Town Battle Ground staple Shoppe 7 rejoice: the store has returned under a new but familiar name only a few storefronts down.
Main Street's newest addition, Haute Madre, had its opening weekend starting Sept. 6 and if initial results are any indication, the curated thrift shop is a hit, much like its predecessor. Haute Madre owner Michelle Smith described opening night as "epic," recounting long lines as part of the first day of business.
"People have been ready for this place to open," Smith remarked. 
The business occupies the former location of Bo's Home Decor. Through mutual friends, Smith learned that Bo's co-owner Kristina Schlappi was looking to close up shop, which coincided with the closure of Smith's own Shoppe 7 business on the other side of the street back in February.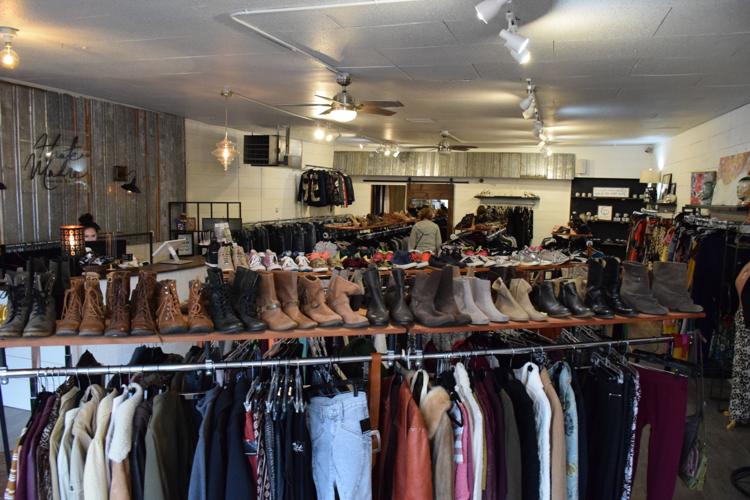 Shoppe 7 closed following uncertainty of the storefront after its previous building owner decided to sell. At that time Smith had expressed a desire to find a location back in Old Town, with the former Bo's now serving as the new home for the shop focused on women's clothing.
"Everybody knows Old Town Battle Ground is where you go to shop," Smith said.
Haute Madre is both a re-opening of sorts for Shoppe 7 as well as the relocation of her other business in Hazel Dell that bore the Haute Madre name. Smith said she chose to stick with that name as it was more her brand, having taken over the Shoppe 7 moniker from a previous business owner at that time.
"With Shoppe 7 I knew people loved it because it was already established," Smith said. "Haute Madre is like the new girl in town. I didn't know if it would be liked or hated."
"Shoppe 7 had the location. Haute Madre had the look, the feel, the vibe," Smith said. "Together, it's magic."
Compared to other thrift shops Smith said her inventory is more curated, explaining that employees spend a good deal of time choosing what hits the racks.
"Almost everything here, it's hand-selected to meet our customer's (demand)," Smith said.
Being back in Old Town after a few months away feels good for Smith and her business.
"I feel like I'm home," Smith remarked.