During a career spanning decades as both a flight instructor and commercial passenger pilot, Vashon Island resident Truman O'Brien never experienced a situation where he had to crash into a Pacific Northwest forest.
That changed the afternoon of March 29, when he and his passenger, Craig Beles, experienced engine trouble above Clark County in their small four-cylinder aircraft and were forced to land in tree cover near the Clark-Skamania county border. They were rescued by a U.S. Navy helicopter hours later with only a cut on O'Brien's forehead for injuries.
The Washington State Department of Transportation first reported the crash and rescue later that evening. According to their report, air traffic control in Portland lost voice and radar signals from the plane at about 3:45 p.m. — O'Brien had been speaking to air traffic, alerting that the plane's engine "started running rough" and the plane was losing altitude.
In an interview with The Reflector, O'Brien said the first inkling of a problem came when the plane experienced a "really strong vibration," which he said didn't feel like an engine issue for the first few seconds. He dropped the plane lower in altitude to about 6,000 feet in a hope that the issue would clear up, "and then (the engine running) just kept getting rougher and rougher, and there was no way we could maintain altitude."
O'Brien and Beles, also an experienced pilot, asked air traffic control for the closest airstrip once it was clear that the plane would need to land, O'Brien said. When the plane broke out of the clouds he saw "nothing but trees" as well as a logging road, which although clear, he said would not have been a good location for landing.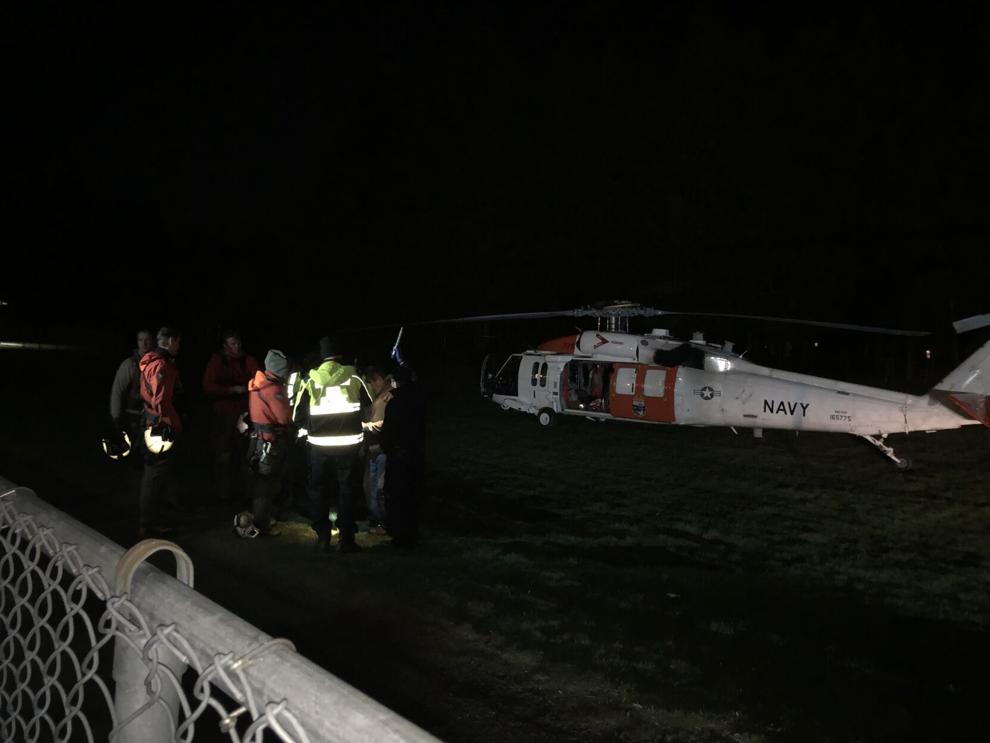 O'Brien said prior training taught him that putting the plane down in a thick stand of trees to slow the aircraft as much as possible would be the best option given the situation. 
"It's still not a great option, but it's better than any other," O'Brien said. 
He said he did notice a nearby clearing, but explained that in the Pacific Northwest those could be more dangerous as they could be the result of logging, leaving a surface of stumps and debris that could do more harm than good. O'Brien still aimed for near the clearing, reasoning that upon landing it would make it easier for rescuers to approach the plane's location.
The plane, a model built by Piper Aircraft, came to a rest upside-down, with both O'Brien and Beles hanging upside-down "by their straps," O'Brien said. The two managed to get loose and checked their conditions — O'Brien had a cut on his forehead, which he said looked worse than it was.
Aircraft like the one O'Brien was piloting are equipped with emergency beacons designed to assist in recovery following a crash, he explained. The one in that aircraft had not activated, so O'Brien turned it on manually, and Beles was able to activate a portable antenna, which was necessary as the installed one was pointing toward the ground, given the upside-down aircraft.
WSDOT reported that the last-known signal from the plane provided search crews a good target for where to search. A release from the Clark County Sheriff's Office stated that air traffic control contacted Clark Regional Emergency Services Agency (CRESA), alerting them to the possibly downed aircraft, after which deputies were dispatched and set up a command post at Sunset Falls Campground.
The deputies requested aid from the Clark County Sheriff's Office Civilian Search and Rescue Team (CCSO SAR), the Volcano Rescue Team, as well as a search and rescue helicopter from the U.S. Naval Air Station on Whidbey Island, the sheriff's office release stated. While waiting for the helicopter, sheriff's deputies and CCSO SAR used unmanned aircraft to search the area, while additional CCSOR SAR and Volcano Rescue Team members did ground searches.
Although it was nearly six hours between the plane losing communications with air traffic control and O'Brien and Beles' rescue, O'Brien said the two stayed fairly busy in the intervening time. O'Brien took out the seats from the airplane to keep the two off the ground as they awaited rescue, though he estimated they only saw a few minutes of use. He and Belles assessed the need for a fire, though material Beles gathered from the surroundings was too wet to burn well. The two were able to use the aircraft battery and some fuel dripping out of the tank to start the fire, which given the wet material produced more smoke than flames and heat.
O'Brien said that proved advantageous in the end, as the rescue team was only a few miles from the crash, and were able to see the smoke plumes to locate him and Beles.
The helicopter arrived near the scene at about 8:30 p.m. and located the aircraft at 9:10 p.m., the sheriff's office reported. The airlift rescue was "pretty much a non-event," O'Brien commented, given the training that the Navy crews receive in preparation for such operations.
"These guys do this all the time … very, very efficient, terrific young men," O'Brien remarked. 
He said two of the crew dropped down, with Beles donning a vest to go up with one of the crew, and O'Brien riding the rescue basket.
O'Brien said the flight from the crash site was about 10 minutes to Yacolt Primary School, which served as a landing zone for the operation. O'Brien and Belles were treated for injuries and given food and water at Yacolt's North Country EMS station, the sheriff's office reported, and were later transported to the sheriff's West Precinct Office where they were picked up by a family member.
O'Brien said he and Beles were heading back to Vashon Island after the two flew separate aircraft down to Bend, Oregon, to have one of the planes receive some work — Beles flew the plane that would crash. O'Brien said that to his knowledge he had not flown the particular route in years, if ever.
O'Brien said he started flying when he was 16, not becoming a professional pilot until his early 30s. During his career he made charter flights and at one point was the chief instructor of a large flight school in the Seattle area. He also spent time flying a DC-4 hauling fish in Alaska before returning to the Seattle area, eventually spending almost 20 years as an Alaska Airlines pilot.
In his decades-long career, O'Brien said he had never been in a crash like what happened March 29, "and I don't want to ever do it again," he remarked. Though the event was new, he said years of training for such a situation made him know what to do in what could have been a life-or-death ordeal.
"I've taught all these procedures that people need to use … it wasn't my first rodeo," O'Brien remarked.  
The crash is now under investigation by the National Transportation Safety Board. Though he had no clear theory on what led to the engine malfunction, "it had to be catastrophic," O'Brien said. The plane had a four-cylinder engine, and an issue with only one of the cylinders could have led to severe problems, though ultimately he did not have an idea as to what exactly happened.
"We filled up with fuel when we left, and we put a little oil in … we did everything that you should do on a normal flight," O'Brien said.
Though the plane in the crash is "toast," as O'Brien put it, and his other plane is out of commission for painting for several weeks, forcing somewhat of a break from flying, O'Brien said he won't be taking any time off flying following the crash.