With the shutdown of restaurants, bars and other establishments, it may feel like there is nothing to do in these unprecedented times. 
However, unless you're experiencing symptoms, you don't have to stay inside to maintain a good social distance from other people. Last Wednesday, the cabin fever hit my 685-square-foot apartment a little harder than usual. I had to get out and go somewhere, and what better place than the great outdoors. 
I grabbed a bottle of water and some snacks and hit the road to local favorite, Moulton Falls. Located just south of Yacolt, Moulton Falls is an out and back hike alongside the East Fork Lewis River. Crossing a gorgeous foot bridge over crystal-clear water, the falls and river can be heard for a majority of the hike. With the river on the right and a mossy cliff on the left, the nearly flat trail is great for all ages and abilities. 
First things first, this hike is great because parking is free and relatively easy to get. There's a parking lot with enough spaces for about 15 or so vehicles right next to the falls with other places to park along the highway. For those who want the offer of immediate serenity, the falls are directly off the parking lot, and a stairway offers easy access to the viewpoint. 
After looking at the falls for a bit, I took the trail up toward the picturesque footbridge that overlooks the swimming hole. Battle Ground resident Lori Hasselbalch was taking in the view. "It's just such a gorgeous thing to have in our backyard," she said, explaining how she would come here often when she was in high school to swim in the water. "We would put our towels out on the rocks and swim all day."
Hasselbalch and I weren't the only ones that chose to distance on the trails. Family of four Kirc Roland, Mary Ludwiczak and Trevor and Greta Hanich were out taking their dog, Ophilia, for a walk. 
"Well, our Hawaii vacation got canceled," Roland said, noting that his kids were home from college so they still wanted to spend time with them while also remaining socially distant. "We're trying to heed what needs to be done right now to make our planet more healthy."
Roland and his family had been out on the trail before and said that, while it's not Hawaii, it's "beautiful in its own way."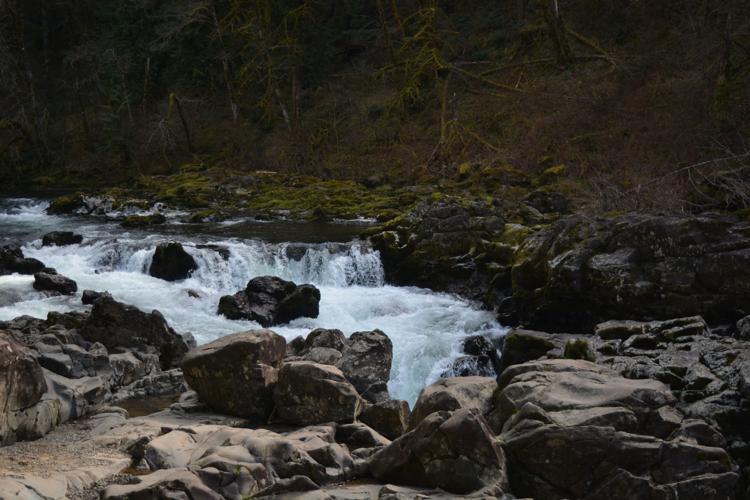 "Golfing and hiking seem to be approved," Roland said, "so we're taking it day by day."
Further along the trail, the mossy cliffside exposed smaller creeks and waterfalls, each offering a brief sense of serenity on the trail. Ashley Newland was out on the trails with kids she was babysitting along with her. 
"Obviously, all the kids are out of school and we just wanted to give them a good time instead of being inside all the time," Newland said. "We just wanted to hang out and show them that there's more than just sitting inside of the house."
Newland later said that she felt that the great outdoors was a great way to escape from everything going on in the world right now. 
"It's honestly a relief that we have these trails out here," she said. "It's a beautiful place."
Addison, 9, said she was excited to be out of school and never wanted to go back. Climbing on the small, mossy cliffside was a fun adventure for her and her friends. While she was excited to be out of the house, she felt nervous when she thought about what grade she will be going back to if school is canceled for the year.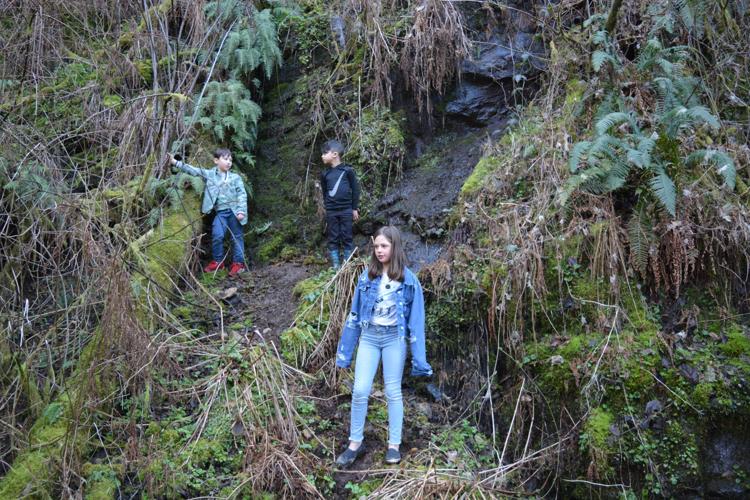 "What's gonna happen?" she asked. 
I felt bad that I couldn't honestly answer her question. 
While the Moulton Falls trail is relatively flat and easy to access, parts of the trail branch off and offer opportunities for more experienced hikers to get their fix. The Bells Mountain Trail branches off and gives plenty of options of hikes ranging from 7 to 11 miles long. Some of the hikes end in campgrounds and lookouts to offer longer senses of escape. 
In these uncertain times, I urge you to get out and escape. Spend some time outside of your home and explore the beautiful Pacific Northwest. It may be a little cold, but the weather is great and a breath of fresh air can really cure the cabin fever. Stay tuned next week for another one of my favorite places. 
Learn more about Moulton Falls online at wta.org/go-hiking/hikes/moulton-falls.