Southwest Washington Republicans may have a hard pill to swallow when it comes to a Interstate 5 bridge replacement as Gov. Jay Inslee says that light rail is inevitable if any project backed by Oregon will move forward.
Speaking at a legislative preview press event in Olympia Jan. 10, the governor stressed that because of Oregon's insistence on light rail being featured on a bridge replacement, those working on a process to get a new bridge would have to accept the mode of transportation.
Last month several legislators representing Clark County at both state and federal levels signed on to a letter that urged Inslee to reconsider his stance on light rail. Nearly every lawmaker representing the 17th, 18th and 20th legislative districts had their name on the letter alongside U.S. Rep Jaime Herrera Beutler, R-Battle Ground, which addressed concerns over language in his budget that explicitly said that the Washington State Department of Transportation "… shall assume any plan for a new bridge will include light rail."
At the press event, Inslee said that if Oregon was going to pay for their half of a replacement that mode of mass transit was a necessity, stressing the need "to have leadership that recognizes that it does take two to tango here and we have to have an agreement about what components will be on that bridge."
"If we paid for the whole thing maybe we could do it" without light rail, Inslee said, "but that's not in the cards."
In a question regarding transportation funding, Southwest Washington was at the forefront as Inslee remarked that "we have to replace the I-5 bridge." Included in his budget is $17.5 million to open a project office specifically focused on the replacement.
Inslee said that "there's a lot of legislators who want a bridge and they are fine with light rail on the bridge," adding that it would allow Southwest Washington residents the opportunity to tie into one hundred miles of rail in Oregon.
Inslee took issue with a characterization that connecting to Portland's rail system would be a detriment to the quality of life in Southwest Washington, implying that Republican lawmakers in the region were afraid "those people" would be coming into their districts.
"I think the 'those people' thing … we've heard enough of that in D.C.," Inslee said. "We'd like to be connected to the state of Oregon, not disconnected."
Inslee said that he was still disappointed Republican legislators killed the Columbia River Crossing "when we spent $150 million on it and we were ready to build it."
"I don't want to see that happen again," Inslee remarked.
Inslee said he personally was open to other forms of mass transit such as buses, but that light rail was the best solution. He said those who don't want light rail on the bridge are preventing the process from moving forward.
"At the moment, unless Oregon changes its view, we're going to have to put light rail on the bridge," Inslee said. "The Southwest Washington community needs to either come together and say we are going to build a bridge like that, or we're going to do nothing until the cows come home."
"I would prefer to build a bridge as soon as we can," Inslee said.
Interstate tolling plan 'likely eligible'
In other bad news for Southwest Washington Republicans, the Oregon Department of Transportation announced last week that the Federal Highway Administration (FHWA) had given guidance regarding the department's tolling plans for I-5 and Interstate 205. The department noted that their proposal to put tolls on all lanes of I-5 from Going Street to Multnomah Boulevard and Interstate 205 on the Abernethy Bridge was "likely eligible" for a federal pilot program for tolling to combat congestion.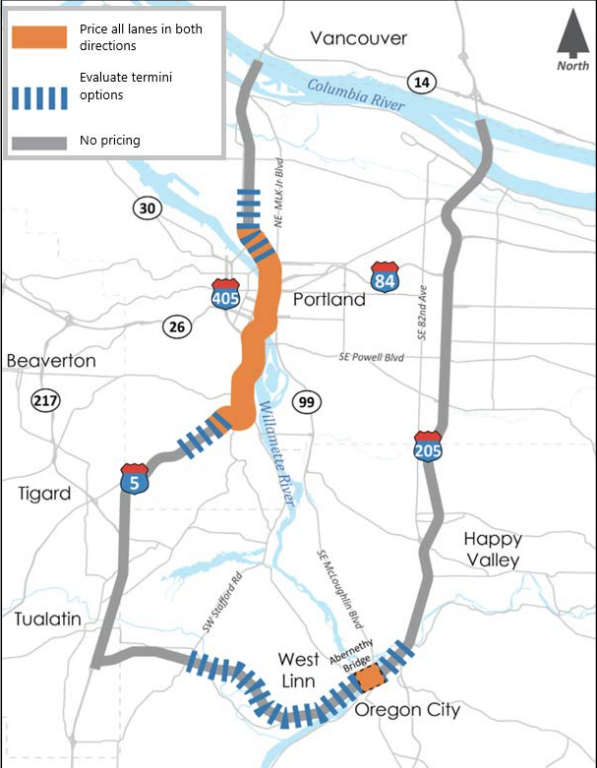 ODOT stated in their announcement that the FHWA's letter provided clarifications on the next steps to move the tolling plan forward.
"This is a major step that will help us keep moving forward in what will be a long process," Oregon Transportation Commission Chair Tammy Baney stated in the announcement. "In this letter, the FHWA acknowledges the work completed in our feasibility analysis and points us toward the next steps we need to take to use tolling in Oregon to help us maintain a transportation system that will meet our growing needs."
ODOT is anticipating the next round of analysis to begin this spring. Part of that analysis would include assurances that low-income and other underserved groups would benefit from the program, that diversion of traffic into neighborhoods would be mitigated and other transportation options would be improved.
ODOT noted that the next phase would likely take "several years" before completion, "due to the rigor of the necessary analysis and the extensive public engagement required."