On Monday, Dec. 28, the Cowlitz County Sheriff's Office received a report of a burglary at the Cowlitz Fire District 1 station on Woodland Heights Road in Woodland.
According to a news release from the office, all of the medical equipment was stolen from the vehicles parked inside. Essential tools, such as Self Contained Breathing Apparatus (SCBA), oxygen tanks, an Automated External Defibrillator (AED) and portable radios as well as chainsaws.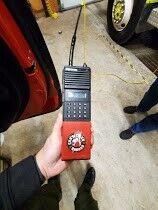 The sheriff's office is asking anyone with information about this incident to contact Deputy Kelly Pattison at (360) 577-3092, regarding case A20-3243.