The world Charles Ferguson was born into was vastly different than today. Born in 1916, the centenarian was one of five sons of a poor farmer east of Woodland, a city that was only incorporated a decade before.
Charles recently celebrated his 102nd birthday on June 29 and, when not wintering in Arizona, still lives south of Woodland on property that his family has owned since 1929. 
Except for his time in college and three years in King County, the seasoned dairyman has lived his life near Woodland, a member of a family with deep ties to the city and outlying community.
All five Ferguson boys including Charles were born in a house nearby the Frank Abel Cemetery East of Woodland. At that time, Charles' daughter Margaret Beck explained, the family patriarch James would raise chickens and pigs, taking meat to sell at logging camps around Yale.
Charles has memories of the Spanish influenza pandemic in the late 1910s. His family all got sick but remarkably survived. 
Living close to the cemetery meant they could see who was not so lucky as hearses came and went.
In 1929 the family moved to the current 185-acre farm, which Beck said involved a legitimate cattle drive down the road to the new spot. The move was so the Fergusons could open a Grade A dairy, a more lucrative business, though it required the family to lose the animals that weren't cattle.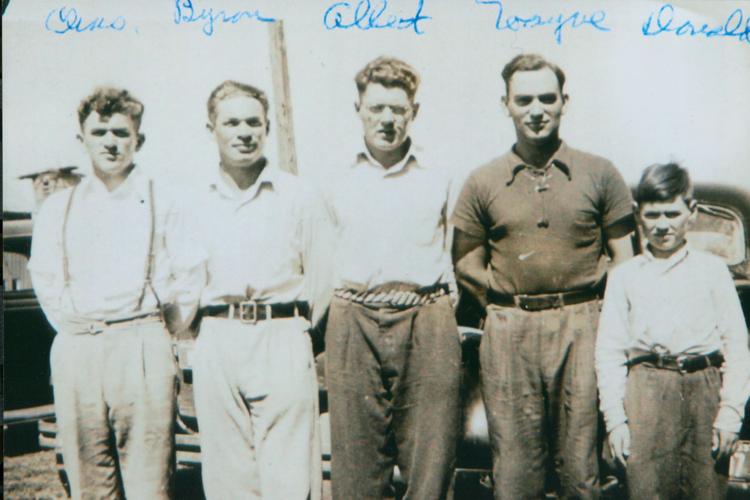 Charles has kept a remarkably active lifestyle and has traveled extensively throughout his life, in many cases by way of hitchhiking on freight trains during his younger years. Beck explained living close to the train tracks made it easy for Charles to hitch a ride, using the free-if-illegal form of transport to travel across the country.
One trip in 1937 would lead him and his friend Melvin Robertson to New York, ostensibly to eventually make it to England. A recent raise in fees for passage made it infeasible to cross the Atlantic — instead the pair bought a Model A car and commenced a tour of the American south and Mexico, eventually making it to Mexico City.
After graduating from Woodland High School Charles attended Lower Columbia College, eventually transferring to what was then Washington State College, now a university. It was in Pullman that he met his wife, Ellen, at a dance hosted at a Methodist church.
"He was Presbyterian. She was Lutheran. Her roommate was Catholic and convinced her to go to the Methodist church and that's where they met," Beck remarked, calling it an "ecumenical" process.
Following graduation from Washington State and his marriage to Ellen in 1940, Charles worked as a milk tester in King County for three years. In 1943 both he and brother Byron purchased the farm from their father and the two ran it for the next 70 years up until Byron's death. Starting in 2014, Charles' sons Doug and Jim have ran the operation.
The Ferguson farm had its share of disasters during its operation, with a 1933 flood being one of the first. Beck said a dike break in 1948 necessitated an evacuation of the cattle who were relocated to a nearby farm safe from the flooding.
Other than water, an October 1962 wind storm also challenged the farm. Beck recounted how when checking the dike a piece of metal roofing flew and came close to hitting Charles as whitecaps hurtled down Lewis River.
Even with the power knocked out the farm had a generator that kept the milk cool, preserving the product and keeping the Ferguson farm from the struggles of nearby dairies who had power out for a week or more.
Beck said she and Charles had reckoned that when she was born there were about 50 dairies in the area — now the Ferguson farm is one of the few still around. Charles said that after he's gone the farm is likely to go to sale, noting unfavorable milk prices as a pressure to sell.
For now, the farm remains in service. Currently Charles lives in a home on the property built in 1950 with additions in subsequent years — Beck remarked that both her and Ellen were thrilled to have hot running water when it was first finished.
Though Charles talks a lot about his youth it was once he became an established dairy farmer that his effect on the Woodland community was felt. He has filled several posts including board member for the Lower Columbia College Foundation and Woodland Public Schools, a Port of Woodland commissioner, a fire district commissioner and Woodland Chamber of Commerce president.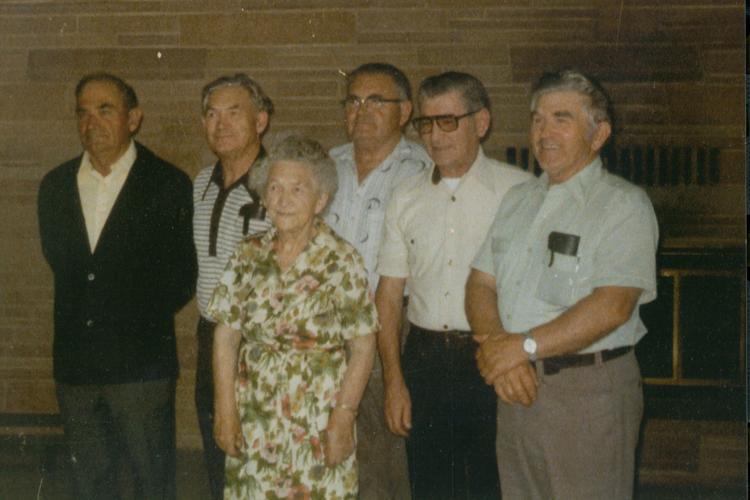 In 2006, Charles was honored along with other long-lived icons in the community, being named citizen of the year by the chamber and receiving a key to the city. Had the farm been in city limits he may have been a Woodland councilor.
Charles' life overall has been relatively healthy, with a few noteworthy events — a broken wrist, contracting the mumps and a heart attack at 62 — being the only bumps on a relatively smooth bill of health. 
"When you get my age a whole lot of guys are old and stodgy," Charles said. To keep himself mentally active he has taken on a hobby that has been paying him in more than a healthy brain — the stock market.
For the number of milestones in a life with years in the triple-digits, one in particular carried weight. Charles and Ellen were married 58 years up until Ellen's death in 1998.
"Looking back now it's not very long — but for young guys that's quite a while," the centenarian remarked.