When one thinks of a quilt, images of fabric, woven squares and warm winter nights come to mind. Through a process known as patchwork, a quilter sews many different fabrics together to create blocks. 
In 2001, Donna Sue Groves wanted to honor her mother, a celebrated quilter in Adams County, Ohio, with a painted quilt block on her barn, now known as a barn quilt. 
From the originally painted "Ohio Star" in 2001, a grassroots art movement was born, with more than 42 states in the country now hosting more than 4,000 barn quilts. 
Just about 14 of these uniquely painted square decorations exist in Clark County. Mike Tribe, of Ridgefield, has made over half of them. 
"These things are all over the United States and Canada now," Tribe said. "They're showing up all over the place." 
Tribe started creating barn quilts a year ago after he retired and his mom suggested he do something creative with his spare time. 
"I enjoyed doing it so much that I kept doing it," Tribe said.
He makes them for friends, family and himself, as his property is decorated with many barn quilts of different shapes and sizes. 
According to Tribe, the traditional size of a barn quilt is 8 feet by 8 feet and made of painting over veneer-coated plywood with a high quality outdoor paint.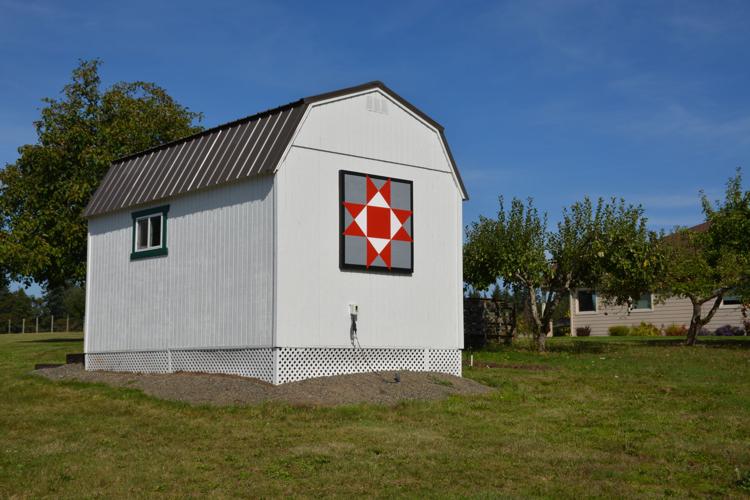 "I usually do two coats of paint," Tribe said while he displayed the design for a new quilt in his shop. 
To create a quilt, Tribe first finds a design he likes from different barn quilts, fabric quilts or online. 
"I have an old antique windmill, so I called my first design 'The Windmill,'" he said as he pointed to a four-by-four green and white square sitting in the back of his shop. 
Following a design choice, Tribe cuts the perfect square with a guide and a skill saw. "Measuring is incredibly important," he said. "If you get one measurement wrong, the entire design is off."  
Once the measurements are correct, Tribe draws the design on the board and paints over it with two coats of paint. Tribe creates quilts of many shapes and sizes from two-by-two to the traditional shapes.
He said his quilts can be found around the world. 
"I just made these two for my friend that lives in England," he said as he rummaged through his supplies to find two freshly painted one-by-one barn quilts. "I have quilts in Benton City and Raymond." 
Tribe's quilts can also be seen around the county, with Wayne Rivers CPA in Battle Ground showing off one of his creations. 
"Wayne's one of my buddies, so I made that for him," Tribe said.
He also has a quilt up at Country Manor Quilting in Ridgefield. 
"It's all about the art," he said, adding that his favorite part of the entire process is giving the quilts away. "I get a lot of enjoyment out of it," he said.
Like Tribe, many people around the United States create barn quilts to decorate their towns. Barn Quilt "trails" that pinpoint the locations of numerous quilts in the same geographic areas can be found online. 
"It's a lot like wine tasting," Tribe said. "You drive around looking at different barn quilts and designs."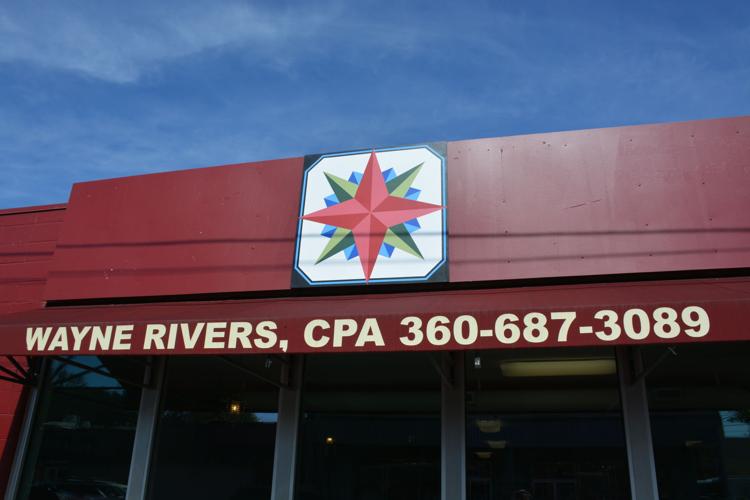 Tribe made a trip back to Adams County, Ohio, last year to see where the entire movement started. He said he didn't have the opportunity to meet Donna Sue, the originator of the movement, but he saw plenty of barn quilts and quilt trails in the area. 
"They're all over the place over there," he said. 
Tribe said he's not looking to sell his quilts because he feels doing so would take the fun out of it and create stress out of something he finds fun. 
"I like to make them on my own schedule," he said. "Sometimes I just don't want to make them." 
While Tribe may not be open for business, art lovers can experience barn quilt trails throughout many parts of Washington and Clark County with other quilts such as the one at Mt. Valley Grange #79, which was created by the Chelatchie Quilters. 
From east to west, barn quilts decorate the Evergreen State. You can find more about the trails in Washington by visiting