For the first time in school history, the La Center Wildcats took home first-place hardware in the 1A Trico wrestling league earlier this month. 
"All the credit goes to the coaches and kids, but in my heart I'm getting goosebumps talking about it right now," La Center Athletics Director Matt Cooke said. "Castle Rock's always been the standard as far as elite wrestling in Southwest Washington in the 1A across the state. They really always bring a lot of kids to state, so we always had troubles because we had to forfeit matches, you know, we had holes in our lineup for every year that I was coaching, and this is the first year that (coach) Kyle (Simmons) has 14 kids in all 14 weight classes, so that really helps. We weren't giving up six points."
Cooke was an assistant coach for the team from 2001 to 2012 and spent that time working with the kids to build up the program. Cooke said that, for the years he was coaching, wrestling always had about a 15 to 20 percent dropoff of enrollment. This year, however, the Wildcats have retained most of their roster. 
"Wrestling's a tough sport and it's grinding over the holiday season and and you know kids sometimes just it's too much for them, so they bow out," Cooke said. "This is the first year that we really haven't had that, so you just have a pretty strong group of kids here and a strong leadership of the seniors."
Senior Max Muffet has been wrestling since he was in fifth grade and spent the last four years training with La Center. This year, he has been wrestling above his weight class for the team in order to fill gaps in the lineup.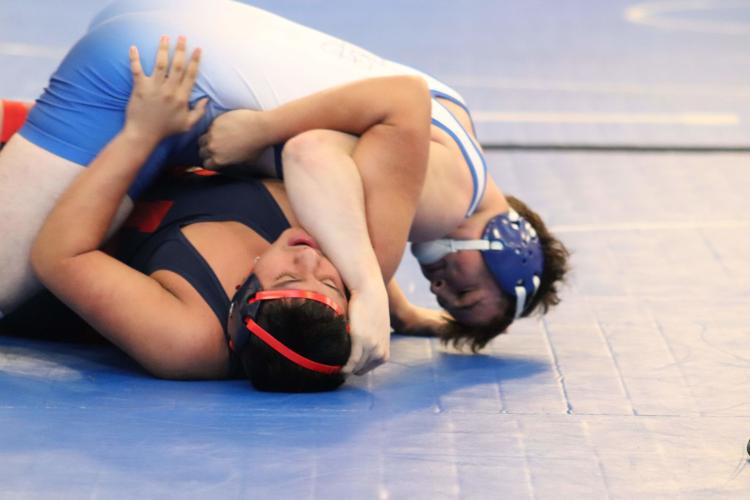 "I've been wrestling up for the team for the whole year. Just trying to do what the team needs and help coach put me where I need so we can come out and get wins," Muffet said. "There's tons of guys bumping up weights so we can have a full roster and be competitive with that full roster." 
As for the win, Muffet said he "didn't even know how to describe it." Another senior, Hunter Malicoat, echoed Muffet's thoughts about the win.
"It was awesome," Mallicoat said. "Ever since freshman year, I was one of the only freshman that went to the varsity tournament, but we never had a full team until this year, which was really awesome."
Mallicoat, a team captain for the Wildcats, said he previously went to state tournaments worried about just winning his match because he knew the team would never have a chance to win. This year, he wanted the team to win and put up a fight. 
"I knew we could have the potential to do it, especially filling every weight class in. It was an awesome feeling," Mallicoat said. "All we had to do is maintain the lead that we had (in the tournament). Eventually, we grew that lead."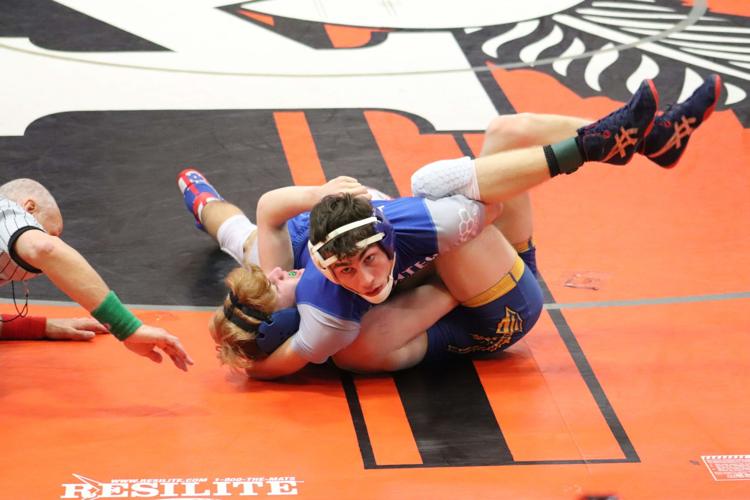 Head Coach Kyle Simmons said filling the entire lineup was his goal as a coach. 
"I wanted one kid in every weight class," he said. "When you're filling 14 weight classes from 106 to 285, you can't just rely on a subset of basketball or football players."
The win against rival Castle Rock was huge for Simmons and the team. 
"They're tough, really. They've got a good program, a good structure. The coaches are good. They got good community involvement. That's what they do up there, they wrestle," Simmons said, explaining how he was proud of the Wildcats this year. "The fact that we have all these seniors and think five of the seven have been here all four years and they've all put in the time and the effort … It's cool to see all that accumulation of all this effort, and you know work and, ups and downs and the whole nine."
Simmons has been coaching the team for the past seven years and said he was happy and proud of the team for the "incredible" league run they had this year. Now, he plans to prepare the team for the regional tournament, which starts up this week, and the state tournament later in the month. 
"It's going to take a lot of us to win, but we certainly have the right people in place and the numbers to back it up," Simmons said. "We get great performances out of everyone, and I'm expecting four to six of our kids can make it to state." 
Both Mallicoat and Muffet plan to train extra hard both in and out of the weight room for the state tournament this year. 
"My goal, it's going to be hard to get there, I want to be state champ this year," Mallicoat said, explaining how he's been going on runs around his house and working out, but also giving his body a rest. "(Resting) is important. When state rolls around, I want to be training extra hard in the room."