The Prairie girls saved their best bowling for last and became the 3A district champions Friday at Crosley Lanes. The Falcons collected 3,893 points to surpass two-time state champion Evergreen by 10.
Elissa St. Julian, Samantha Longchamp, Lauren Hapgood, Lilly Bash and Anna Gatlin strung together a series of strikes and spares for Prairie during the final baker. Gatlin delivered two strikes in a row on the 10th frame and then knocked down eight more pins on the final throw to increase her team's total 235; their highest score of the day.
Evergreen also finished with its best baker score of 212, but the Plainsmen couldn't keep up with the Falcon strike force. Prairie outscored Evergreen by 177 points in the seven-game series. The Falcons are on their way to the state bowling championships Jan. 31 and Feb. 1 at Narrows Plaza Bowl in University Place.
"It was just our determination," Gatlin said. "I just can't believe this. It's so awesome. I'm so excited to share this with my teammates."
The Falcons got off to a good start in the bakers with a 220-game. They added three more 200-games in the final six to leave the Plainsmen in the dust.
"I didn't get down one time. It was one of the best experiences that I've ever had," Longchamp said.
"We put a lot of effort into this," Hapgood added. "There are so many talented teams in this league. It's difficult because it all comes do to how you do on this day. I'm super thankful that I get to be a part of this team."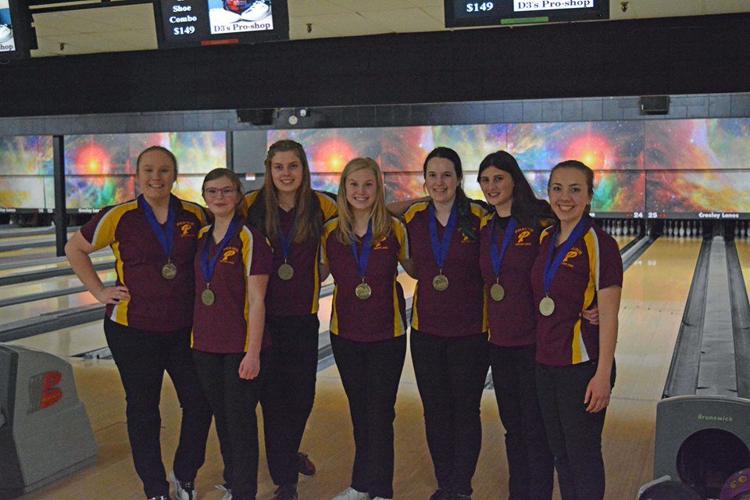 Evergreen led Prairie by 167 points after the first three rounds. Kaliee Wilcox claimed the individual district title for the Plainsmen with a 636-series. Kerissa Andersen earned third place (600) and Karina Johnson finished in fifth place (543). Gatlin grabbed eighth place for the Falcons (537), followed by St. Julian (529), Bash (499) and Hapgood (493) in 10th through 12th place.
Prairie head coach Rhonda Bash was confident the Falcons could make up the deficit in the afternoon bakers.
"They bowled like I knew they could," she said. "It was all about refueling at lunch and getting that energy back. They're a good team and a united team. They thrive off each other."
Prairie won a state title in 2011, but that was before some of these girls picked up a bowling ball.
"They have the ability to win a state championship. They have the talent," said coach Bash. "It all depends if they show up and do what they need to do on that day."
Hapgood and Longchamp hope the best is yet to come. They started this journey together when they were sophomores. They want to finish on top.
"I'll remember how strong we were as a team," Longchamp said. "We've never been this strong before."
"Shoot for first. Why not," Hapgood added. "If you don't, why are you going?"
Results from the rest of north county
Bowling season ended for Battle Ground with a third-place finish at the 4A district meet Friday at Crosley Lanes. Skyview clinched the team title, followed by Camas and Battle Ground.
Emma Wheaton earned eighth place for the Tigers with a 491-series. Morgan Bonebrake took 10th place (486), Brooklyn Weinberger followed in 11th place (474), Teryn Turner notched 13th place (470) and Emma Boucher claimed 16th place (435).
The Ridgefield bowling team secured seventh place at the 2A district meet Friday at Triangle Lanes in Longview.