2A 
Hockinson High School hosted the 2A Sub-Regional Wrestling Tournament on Saturday, Feb. 2. Three North County schools were represented, and each crowned one or more champions before the day was done. Ridgefield's wrestling team placed the highest at second place. Woodland's team finished third, just 11 points behind Ridgefield. Hockinson finished sixth. The top three wrestlers of each weight bracket advanced to the regional tournament next week in hopes of making it to the Tacoma Dome for the state championship. Fourth place wrestlers will have a chance to pigtail into the regional tournament, meaning they will battle other fourth placers to be able to compete at regionals.
Ridgefield's standout freshman Bracen Nash took first place at 106 pounds. In his finals match against R.A. Long sophomore Gavin Yates, Nash went right to work attempting a high amplitude throw. But Yates was able to float out just enough that the pair landed with Nash on his back.
That advantage lasted only seconds though as Nash handily beat Yates 15-8, nearly pinning him with a cradle.
Fellow Spudder Dylan Draper pinned his way to the 132-pound final in which he received an injury default, meaning his opponent could not wrestle due to injury. Ridgefield's third sub-regional champion was Bryce Lawrence at 160 pounds. The senior had everyone on the edge of their seats with a come-from-behind win in the finals.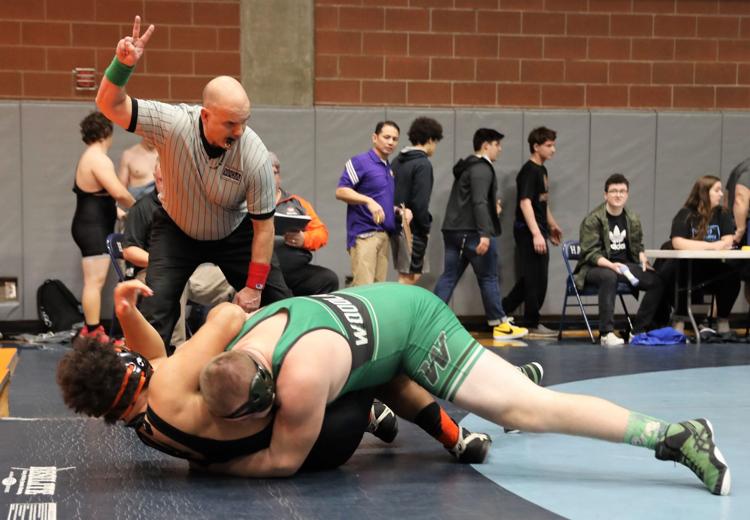 "Four seconds to go and being down by one point I just knew I had to take him down and not get reversed," Lawrence said. "Getting on the podium at state is my goal." 
To get there he has been doubling up his practices, hitting both the Ridgefield practice and then going to Merle Crockett's Southwest Washington Wrestling Club. 
"I really didn't get into (wrestling) until this last year. I wrestled with Danny Snediker all summer at Southwest," said Lawrence. Snediker is a gifted wrestler from Union High School who took first place in 4A at 152 pounds last year.
Ridgefield is sending a total of 11 wrestlers to regionals, four of them being fourth placers who will try to pigtail into the tournament.
Woodland also had three champions at sub-regionals. The Sanders brothers, Judeah and Josiah, both competed in the 113-pound bracket. They were to meet in the finals, but Woodland coaches chose to have Josiah forfeit to Judeah in order to avoid a possible accidental injury. This is a common practice when a school has two wrestlers who will advance to the next tournament. Woodland senior Anthony Clifford also placed first, beating Ridgefield junior Cyle Workman in the 145-pound bracket. Clifford attributed his success to his coaches and teammates. 
"Josiah Sanders always pushes me," said Clifford. "I wouldn't be where I am without (my teammates)."
Woodland's heavyweight at 285 pounds is Andrew Pottratz, who pinned his way to a championship. The senior has wrestled for 12 years, placing second at last year's sub-regional. "This is a little redemption," Pottratz said, adding that placing higher than seventh at state is his goal. "My friend got seventh, so I want to do a little better." 
Pottratz's matches were similar in that after gaining a body lock he threw his opponents to the mat. Watching nearly 600 pounds hit the ground makes one wonder how these athletes survive. Pottratz's coach indicated they had brought in a much heavier workout partner for Pottratz to help him develop. That work seems to be paying off.
In total, Woodland's boys wrestling will send eight athletes to Regionals, one as a fourth placer for the pigtail.
The other story at Woodland is standout female wrestler Ashlyn Daugherty. The 105 pound senior won her fourth consecutive sub-Regional title. "I want to be a state champ," said Daugherty. "I only missed getting to the finals last year by one point in my semi-finals match. I'm at a new weight now and I'm hoping to make it to finals this year." Daugherty will attend Western Washington University next year.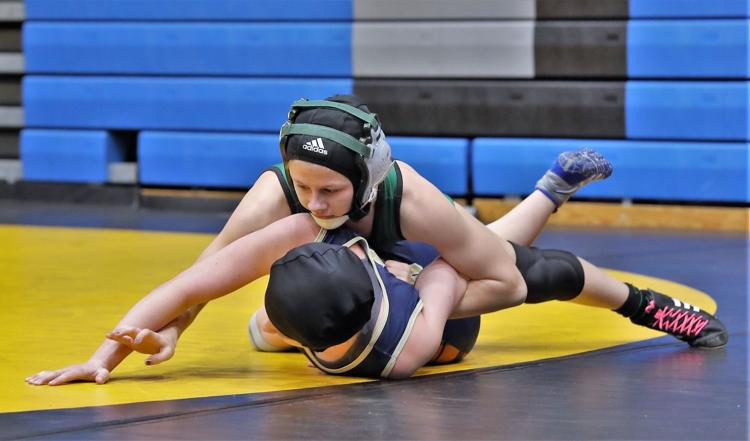 Hockinson's lone champion was Aiden Mallory at 170 pounds. Mallory, a senior, made quick work of his finals match, pinning Washougal junior Conrad Jones. 
"I went to state last year, but didn't accomplish what I wanted to do," Mallory said after his victory. "I want to get on the podium at state, but I'll take anything really." 
A three-sport athlete, Mallory also competes in track and football. Next year Mallory will attend Southwest Minnesota State to play football. Mallory will be joined at regionals by six teammates, three being fourth placers.
2A Regionals will be held on February 9 at Washougal high school and spectators are welcome. Wrestling usually starts at 10 a.m., with finals in the late afternoon to early evening.
1A 
On Saturday, Feb. 2, La Center High School hosted the 1A Boys Trico League Sub-District Tournament. 
The Wildcats as a team finished second overall. 
The following grapplers are headed to the 1A regionals in Castle Rock next Saturday: Clay Roberts (182, champion), Max Muffett (220, champion), Robel Grove (126, champion), Hunter Mallicoat (132, 2nd place), Makai Rivers (160, 3rd place), Mitch France (120, 3rd place), Sam Kitchel (170, 3rd place), Alder Brigham (145, 4th place), Eli Johnson (106, 4th place) and Ian Crocker (126, 4th place). Alternates will be Jacob Petersen, Jarom Rader, and Miles Bacon. 
The La Center girls wrestling team is sending two grapplers to regionals this week in Olympia after the Sub-District Tournament Saturday at Hockinson: Lexi Kysar (190, 2nd place) and Jami Osato (100, 3rd place).