Battle Ground High School junior Kaden Perry was more than excited when he kept getting calls from college basketball programs from around the country. 
"I mean, it's just incredible," Perry said. "I've always worked hard and I've always dreamed of playing basketball at the next level, but once I started getting the calls and texts, it just opened my mind. I've been seeing how great an opportunity I have and how much farther I can take my basketball career."
At 6-foot-9, Perry dominates the court for Battle Ground High School varsity basketball team, which he's been on since his freshman year in 2017. He led the team to the 4A State Tournament last year for the first time in 17 years. 
"I've played with all these guys in this program for such a long time, it really feels like family where I know a lot of people and the team," Perry said. "It really feels like I'm playing with my family and it makes it so we have a better connection on and off the court." 
Following the state run, Perry verbally committed to play basketball at Gonzaga in July of last year.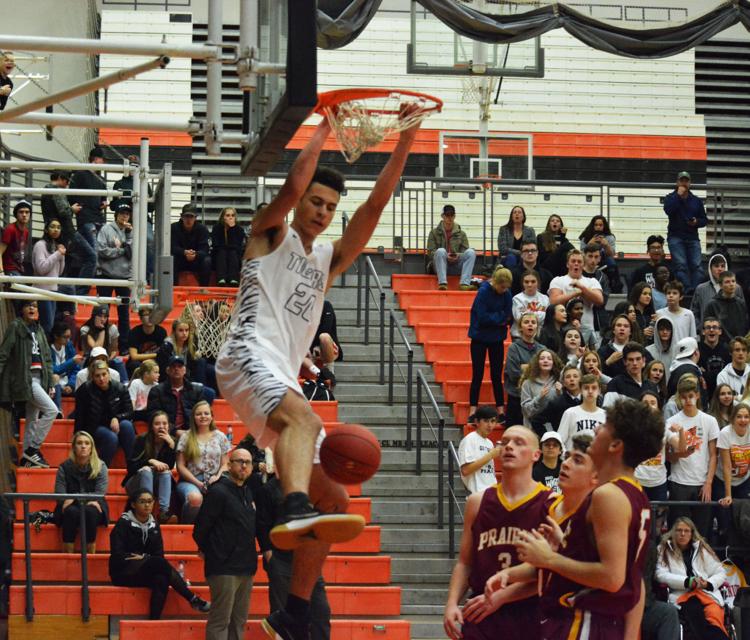 "Gonzaga has always been my dream. I mean, how they've developed their big men and what they do with them. I mean, they put two great posts in the NBA just last year and I've just always felt like they could do a lot and help me with a lot of my game." Perry said. "So, just seeing how much work I've been putting in to basketball and finally getting the offer I wanted is really so special." 
Gonzaga wasn't the only team on the lookout for Perry as Battle Ground Head Coach Manny Melo fielded calls from over 15 high profile college basketball teams. 
"I've never had a guy like this and very rarely you get somebody like that that is so highly recruited," Melo said. "It's been fun in the sense of you know, I've got to talk to a lot of high-profile coaches … I get to ask them things about basketball, so it has just helped me become a better coach and understand the game at a higher level."
Melo said the recruitment and praise of Perry is well deserved as he is a team leader both on and off the court for the Tigers. 
"He has definitely grown his game to be a leader where if I call a timeout, he'll bring the guys together and say a couple of words," Melo said, mentioning how off the court Perry goes to the weight room to build more than his game skills. 
"I think his communication is the best on the team and I think that really helps him become a better leader because talking," Melo said. "You know kids think it's something that just comes easy, but you know when times get tough and you're tired, everyone stops talking, but he just keeps talking, which is great, and I think that's a huge thing for him."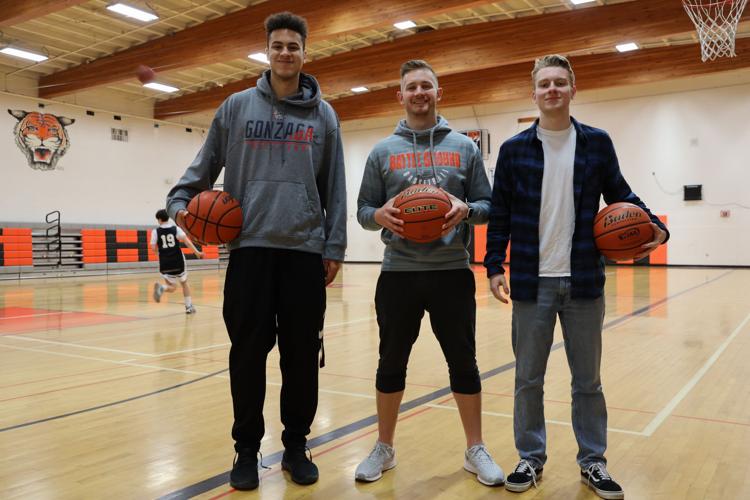 Battle Ground senior Brendan Beall echoed Melo's thoughts and said the team can feel Perry's energy on the court as a leader and teammate. 
"He's definitely like one of our leaders on this team just because his energy that he brings to every game and every practice," Beall said. "When you step into a game you know when Kaden is playing because you just feel his energy coming off. He's always talking. He's just a hyper energy guy that's easy to play with."
Perry said he wanted to be more than just tall when it came to playing on the court and feels that's what helped him gain a spot on the varsity team his freshman year. 
"It was just being big and knowing how to use my height and not wasting it on trying to be one of those slow big guys," he said. "My parents always had me working and trying to make it where I was a natural basketball player that was tall."
This year, Perry is averaging more than 22 points a game for the Tigers, and he and Beall hope to bring the team to the state tournament again this year. The team is currently 9-7 overall and 3-1 in league. 
"One of the main things I know is that me and Kaden are really the only returning guys from last year so we know what it takes," Beall said. "Getting to state is like, always the goal, so I think just being a leader and kind of showing the guys that came up into varsity this year what it takes to get there."
Along with heading to the state tournament, Perry said he's also working on making himself the "player that Gonzaga needs him to be."
"I want to show them that I mean business," Perry said. "I don't want to be that guy that is like 'OK, he's committed to 'Zaga but he's soft.'"
Off the court, Perry likes to hang out with his friends and play Xbox. His favorite food is cinnamon rolls. As for inspiration, Perry said he "loves watching Shaq" and the game of basketball in general. 
"I just love the game. I love getting out there and giving it my all. It's kind of hard to describe your love for the game. It's just natural," he said.