Much like Michael Jordan, who she is named after, it often seems like Jordan Chiles is defying gravity. 
The 17-year-old from Brush Prairie is a member of the Senior US National Team, trains 32 hours a week at Naydenov Gymnastics Center and dreams of competing in the 2020 Olympics. She is also a senior at Prairie High School and recently signed a college letter of intent to join the UCLA gymnastics program.
Whenever Jordan Chiles sees that giant American flag hanging on the wall at a meet, there's something about those stars and stripes that bring out the best in her.
"Just being able to get out onto the floor and compete is just crazy. Seeing that flag on that wall and listening to the National Anthem tells me that I have gotten one more step closer to my dream," she said. "I'm doing this for the United States or for my club, my hometown and my family. And I go out there and enjoy it. That's why you see me dancing a lot."
Gina Chiles named her daughter after Michael Jordan for a reason.
"Michael Jordan, in my opinion, is the greatest of all time," Gina Chiles said. "I always tell Jordan, you have the ability to be the greatest on whatever level it is. It doesn't always just have to be in gymnastics, it can be just in life period."
Jordan Chiles has embraced that message by staying in public school. Teenage prodigies usually homeschool, allowing them to travel freely. Chiles makes the sacrifice because of her friends and support system at Prairie High School. Even though she doesn't compete for the Falcons, the school keeps a space in the trophy case for her latest piece of hardware.
"They support me so well," Chiles said. "It's an amazing school." 
She gets up at 5:45 a.m., goes to school for half the day, arrives at Naydenov in the afternoon and trains until about 7 p.m. Then, she has dinner and completes her homework before going to bed. She said she tries to get seven or eight hours of sleep.
"I think it's just because I know that this sport is for me," Chiles said. "I come into this gym. I give my whole heart to it. I dedicate my life to it. I take things out of my own life just to come here and do what I love. So just being able to have that set schedule and routine has helped me."
Gina Chiles said the teachers at Pleasant Valley and Prairie High School have been supportive of her daughter's dream.
"Prairie High School has been absolutely amazing in every way," she said. "Principal Drake has been a supporter of Jordan and the craziness of her schedule. All of the teachers and everyone, they have been cheerleaders for my daughter. I can't explain how much that means. I'm sure she feels it, but we all feel it as a family."
Chiles had an unbelievable 2018 on the competition circuit.
 In March, she earned a bronze medal in the all-around at the DTB World Cup in Stuttgart, Germany; in April, she helped her team win the Pacific Rim Championships in Medellin, Colombia, by placing first on the vault and the floor exercise; in August, she claimed second place on the vault at the US Championships in Boston.
Boston also marked the first time she got to compete alongside Olympic champion Simone Biles.
"She is one of my good friends," Jordan Chiles said. "Ever since I met her, I believed that I could be just like her. A lot of people say that we kind of have the same body type and we kind of look alike."
Jordan Chiles also turned heads by wearing a Wonder Woman leotard, designed by her mother Gina.
"The minute she stepped on that floor, everybody kind of took a step back and was like … she did not just walk out on this floor with a Wonder Woman-esque leo," Gina Chiles said. "And I wanted to make sure that it was the warrior version because that is what Jordan is to us."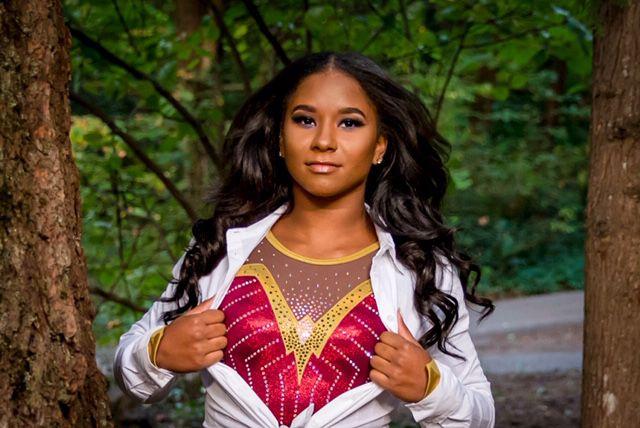 Jordan Chiles didn't expect the leo to catch much attention, but it quickly went viral.
It even lassoed the attention of Wonder Woman actress Gal Gadot.
"I didn't know it was going to go that viral. Not even to the point where Gal Gadot retweeted it," Jordan Chiles said. "I was just like, 'whoa! This is crazy!' Till this day, people are still talking about it."
She added that there was a hidden number 23 on the leotard in honor of Michael Jordan. Which leads to the question: who Jordan Chiles would like to meet more?
"Wonder Woman is my favorite character," she said. "If I ever met Gal Gadot, I think I would cry. If I met both, I would faint. Whoever comes first, I guess. Great role models to have."
As her calendar flips to 2019, Jordan Chiles vows to give everything in her mind, body and spirit to earn the opportunity to compete for Team USA at the 2020 Olympics in Tokyo.
"It's so close but so far away at the same time," she said. "It's like 600 and something days, I think. I'm not counting."
Whatever happens in the next two years, Jordan Chiles hopes her journey is an inspiration to others. She enjoys every minute of it. Every tumble and every triumph.
"Always believe in the power of your dreams," Chiles said. "There's going to be some twists here, turns there, ups and downs, craziness, but just always believe you can do whatever you put your mind to."