Not all sports are played outside on the turf or field. Some are played inside, not on a court, but over the internet with friends and family. 
Riley Bufford, a 2013 graduate of Prairie High School, was recently selected for one of the most exclusive assignments in the United States Navy — a spot on the Goats and Glory esports team. 
"It's a tremendous honor to represent the Navy on its first esports team," Bufford said in a news release. "I never thought I'd be an esports athlete for the Navy."
Bufford moved to the Battle Ground area when he was in middle school and spent a majority of his free time practicing or playing soccer for the Prairie High School soccer team. 
"Soccer was a big interest of mine in high school," he said, explaining how while he spent most of his time focused on soccer, he played a few video games "here and there" throughout high school. "It wasn't really until college that I played many video games."
Once he graduated from Prairie, Bufford attended Warner Pacfic University for two years, majoring in biology and playing on the soccer team. While getting his degree, he'd play video games with his friends, sticking mostly with sports-oriented games such as NBA 2K, Madden and Fifa.
After a two-year stint at Warner Pacific, Bufford joined the Navy Reserves after completing the Joint Cyber Analysis Course to become a Cryptologic Technician (CTN). CTNs are communication network defense and forensics experts. Now, Bufford serves as a Navy recruiter in the Portland metro area while also holding a position not many have had before: he's one of 10 gamers on the Navy's esports team.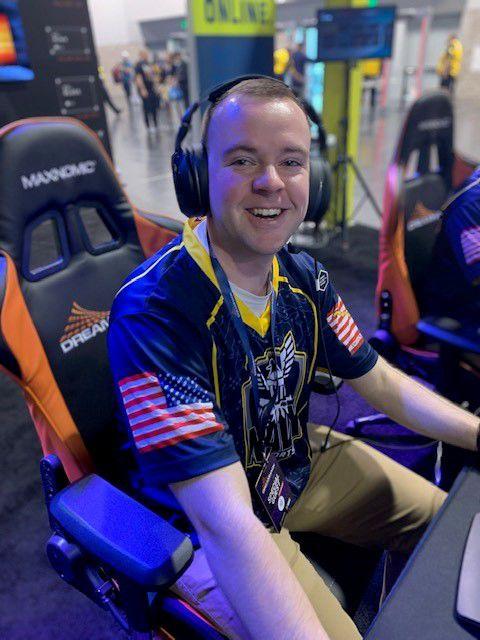 Bufford made his esports debut in late February at DreamHack-Anaheim, one of the largest gatherings of esports enthusiasts and gamers in the world. 
"I thought it was really neat," Bufford said about playing on the team. "I didn't really have any expectations because it was beyond any other experience in my life. When I went to DreamHack and got to meet the team on not just a video game level but a personal level, we all really gelled and got this good team aura about us and it's been an awesome experience."
Bufford said the group's teamwork is like that of a physical sports team. 
"One of the common things between esports and sports in general is that it still takes a lot of teamwork," he said, emphasizing how much communication the team needed to win. "We had to not only communicate where we were but where the enemy was and try to move and coordinate around that."
Before DreamHack-Anaheim, Bufford mainly played games on the Xbox. Now, he's working on getting a gaming PC set up and streams as much as he can. On Saturdays during the month of April, he can be seen streaming on Navy's Twitch channel, twitch.tv/americasnavy. On different nights throughout the week, he streams on his personal account River_CT.
As for his favorite game of all time, he said he's really enjoying playing Call of Duty with the Navy team. However, the Fifa games released between 2012 and 14 are some of his personal favorites. 
"I'm just having a good time (with the team)," he said. "Hopefully I can continue having that good time."