A four-game winning streak kept the season alive for the Woodland Beavers last week as the fifth-place seed in the 2A Greater Saint Helens league won a tiebreaker game to move on. Following the tiebreaker win against Mark Morris, the Beavers went on to defeat Aberdeen, No. 1 seed Columbia River and the W.F. West Bearcats and made it to the District Tournament final last Friday. 
The Beavers couldn't keep their streak alive as the Tumwater Thunderbirds followed an 8-0 run in the first quarter with a 12-0 run at the start of the second in Friday night's district title game. After two huge runs, the Beavers couldn't catch up and lost 63-28. 
However, the season isn't over yet for the Beavers, who made it to the state tournament after finishing the regular season 9-11 and withstanding a seven-game losing streak in league play. Head Coach Jesse Buck said he is proud of his team and saw good things on the court Friday night.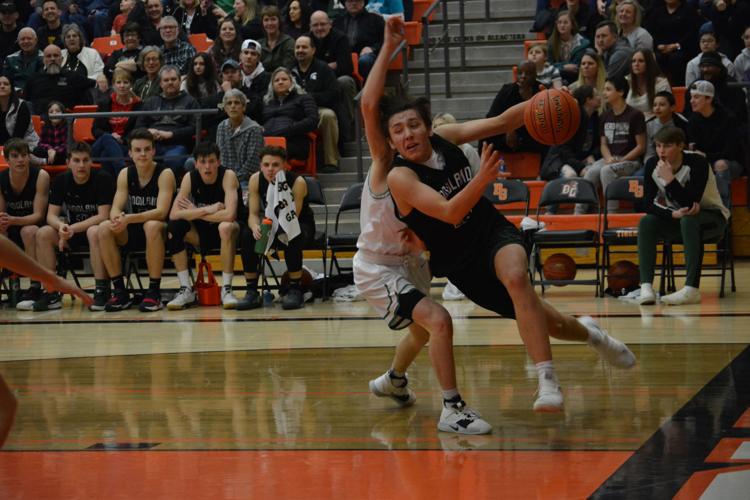 "The same thing we've had all season, no quit, no flinch. They (Tumwater) shot 70 percent in the first half to our 15 percent and it kept going in the second half, and I didn't see any quit, and that's what we've been about. That's what brought us here to this stage. It just didn't go our way, but we have more ball to play," Buck said. 
As for the Cinderella run to center stage, Buck said there will be time to reflect on that after the season is over. 
"It feels good. We've talked often about how there's a time to reflect on what we've done, and that's not now. We still expect to win, show up and play teams tough and come away with wins. Yeah, it's cool, it's special and after the season we will revisit it and realize how special of a run it is. But, we're not through," he said. 
Woodland is headed to the Regional round of the State Tournament this weekend and will play No. 9 seed Black Hills on Saturday at Tumwater High School. Buck said he and the team are going to work on "tightening up defense" and learning how to play faster. 
"It's a different speed (of game) on this level and we need to get ready for that," he said.