This is the last go-round for Kellen and Cade Bringhurst on the Ridgefield High School team. Once again, they hope to extend the season into spring.
Last spring, the brothers led the Spudders to fifth place at the 2A state tournament. Cade finished in 13th place as a freshman, Kellen earned 27th place as a junior and teammate Caden Whitsitt took 31st place. This year, the Ridgefield boys are aiming for a district title and a top-three team finish at state. Winning it all would be a dream come true.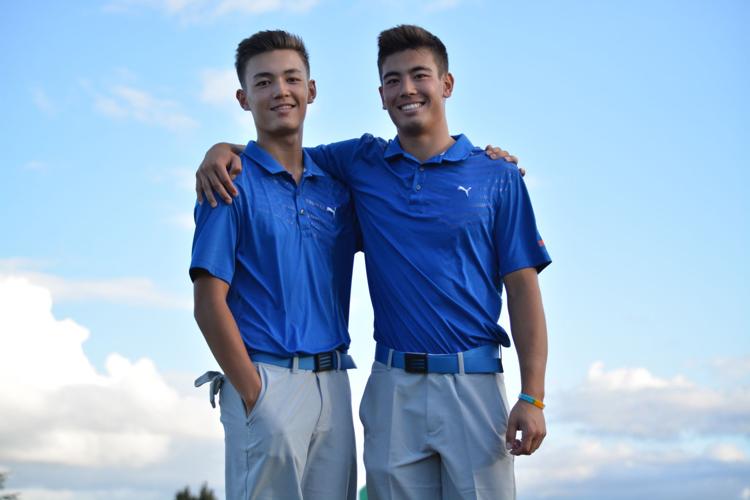 "We definitely want to get a state title and this would be the year to do it," Cade said. "We're pushing each other every day to try and make each other better so we can achieve that."
"We got a lot of good players on this team and only two of them are seniors, Kale (Suomi) and I," Kellen said. "So for the next three of four years, our team has a lot of great potential and talent. I want to leave a little bit of a legacy for them to follow. A state title would be sweet to leave behind."
The Spudders kicked off the season Thursday with a 154-161 victory against Black Hills High School of Tacoma at the Tri-Mountain Golf Course in Ridgefield. Kellen shot a 1-under par nine-hole round of 36 strokes. Cade was 1-over at 38, freshman Cruz Combs fired a 40 and Suomi added a 40.
"This was my last first match of high school golf. I just got to take it all in and have fun with it," Kellen said.
"This is our last year playing on a team. Just make every moment count. Every match, just leave it all out there on the line and try and get a win," Cade said. "That's what everybody on the team wants. They want it bad. I think we can definitely do it this year."
Kellen swings a baseball bat pretty good for the Spudders as well. He spends most of the spring and the summer on the diamond, but he also finds time to golf. He is determined to qualify for the state golf tournament at the end of May for the third time in his high school career.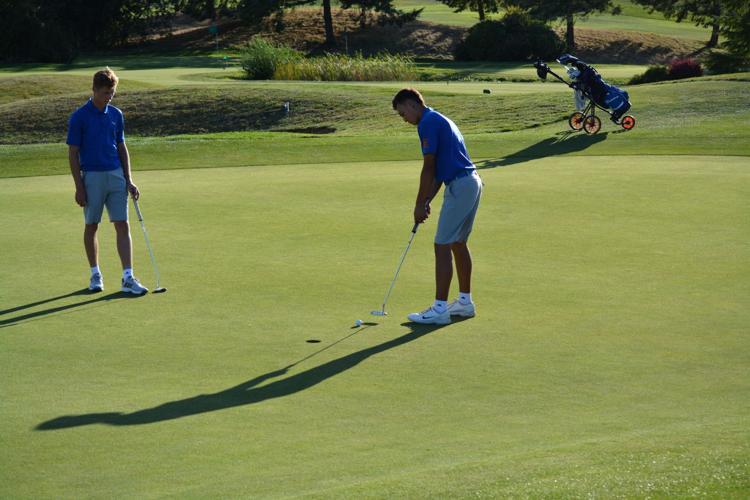 "Throughout the spring, I'm pretty committed to baseball. There's not a lot of time on my hands to play golf. It's usually that last week or two weeks after baseball season ends that I have to prepare for state. I really wish I could have more time, but I love playing baseball," Kellen said.
There is a difference between the golf swing and the baseball swing. Kellen said it takes him a few weeks to adjust once puts the bat down and starts swinging the clubs again. He says it's worth it because he loves both sports.
"I've played more baseball, but golf is awesome too," Kellen said. "Golf is all about how much work you want to put into it yourself. The more time you put in, the better you get. I kind of like that aspect of it."
Cade caught the golfing bug when he started playing regularly with his older brother.
"I just fell in love with the game," he said. "What I love about golf is the process that you have to take to improve. All the hours on the range and just grinding on the putting green, it's a lot of fun. It's definitely helped my drive and my work habit."
Cade made waves in his first year of high school golf by winning the 2A district championship.
"Winning districts was a lot of fun. That was at Riverside Golf Club. I really like that course," he said. "For this year, I definitely want to defend and help the team get that district title."
For the Bringhursts, golf is at its best when they're playing together. Loser buys the winner a pack of golf balls, does his brother's chores around the house or carries the other's golf clubs for a round.
"We go back and forth a lot," Kellen said. "I think we play better when you're playing with each other because we enjoy watching each other play well."
"We definitely thrive off each other's shots," Cade added.
Good thing they found a game they can keep playing together long after high school.
"For the rest of my life, I'll be playing golf," Kellen said. "Golf's awesome."
"Golf's a game you can play up until you're 80," Cade said. "Just trying to get better at it now so that when I'm older I can still compete."