The Prairie Wolfpack, Prairie High School's varsity rugby club, came home with a state championship win after an undefeated season on Saturday, May 18. The team won 20-5 over the Newberg Tigers at Western Oregon University in Monmouth, Oregon. 
"Prairie started pretty well," Wolfpack coach John Fletcher said, adding that Prairie had success moving the ball upfield.
Max Velaide was the first to score a try (worth five points) with Esteban Ojeda scoring two on an extra kick within the first five minutes. Following that, Fletcher said Newberg "dominated the game" and scored their own try bringing the score to 7-5.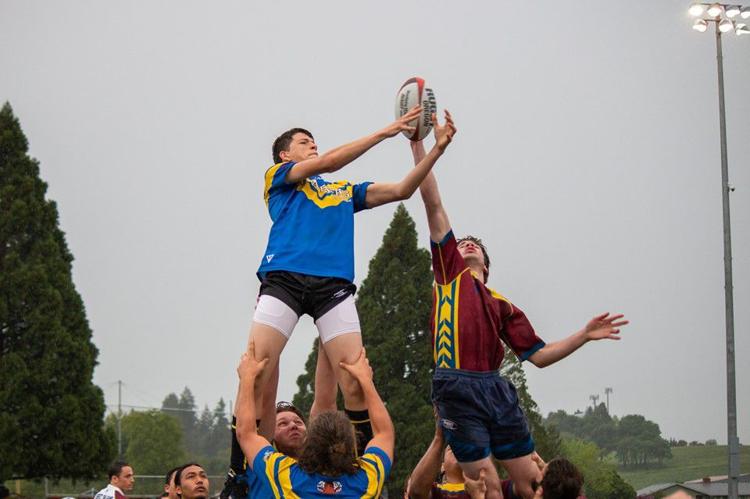 "They were a worthy finalist," Fletcher said. "They had big, hard running forwards."
But that didn't stop the Wolfpack. Despite an mid-game delay for a thunderstorm that lasted an hour and a half, the Prairie Wolfpack finished their win by scoring 15 more points and holding Newberg to seven. 
"Prairie really did a good job defending," Fletcher said. "They just didn't get scored against a whole lot during the season."
But for Fletcher, winning the state championship is about more than a title. It's a way to bring people into a loving rugby community full of camaraderie that accepts all types of people.
"It's beyond awesome," Fletcher said of rugby's the acceptance of all shapes, sizes, and abilities. "It's what's driven me to coach all these years." 
Fletcher also said fostering a fun environment is critical in rugby. Over the season, many coaches, athletes and parents from opposing teams will gather after games to have dinner, much like he used to do when he was playing rugby as a young adult in New Zealand. 
Fletcher has been coaching rugby in the states for 17 years after coaching for three in New Zealand. Most of the boys on the varsity team had been with coach Fletcher for many years, some even since middle school. 
The Prairie rugby program is graduating about 20 kids this year and Fletcher said next few years will be spent rebuilding and working with JV teams.
"These kids were driven this year because most of them were seniors and have been with John a long time," 'parent and Brush Prairie local Frank Schmitt said in an email to The Reflector. "(They) wanted to go out with a bang."