"Vancouver, Vancouver, this is it!"
– David Johnston, 8:32 a.m., May 18, 1980
Those final words of volcanologist David Johnston are deeply moving. From a ridge 5 1/2 miles from Mount St. Helens, Johnston died doing an important job that morning: taking scientific readings and keeping careful watch on a massive bulge growing on the north flank of the volcano.
The eruption buried him within moments, even though his outpost was slightly outside the so-called Red Zone. Johnston is one of 57 people killed by the eruption that day. His name lives on in the name of the Johnston Ridge Observatory, a concrete bunker of a visitor center that offers a gorgeous but unsettling down-the-barrel view of the volcanic crater.
And now his life and legacy have been fully told in an excellent biography, "A Hero of Mount St. Helens" by Melanie Holmes. Published last year, the book recently came to my attention when the author gave a virtual talk sponsored by the Mount St. Helens Institute. I immediately contacted my friends at Book 'n' Brush in Chehalis to order it, and my copy arrived within a few days at my door.
The book is a great read. 
Johnston comes to life, a boy scout whose Chicago suburb hometown endured a deadly tornado. He grew to a man who was patriotic and quick with a joke — humble and shy but with an Irish gift of gab; slender with blonde hair and a red beard. We learn about harrowing research work he did in Alaska, braving active volcanic activity (and cooking his food over fumaroles) to make important discoveries about volcanic gases.
"Each day is a new opportunity to learn something new, to get better at what you do and to use that knowledge and skill to help others," Johnston once told his father.
When Mount St. Helens came rumbling back to life with a flurry of earthquakes in March of 1980, Johnston was in the right place at the right time to be an expert voice.
He flew with reporters over the peak of our volcano after the first small eruption on March 27. They landed on the flank of the mountain and he spoke candidly.
"We stand at a dangerous place," Johnston said, like "standing on a keg of dynamite and the fuse is lit, but we don't know how long it is."
Suddenly and dramatically, the mountain rumbled again. The reporters' heads swung to the mountain, then back to Johnston.
"If it were to explode now, we would die," he said.
One of the world's leading experts on volcanic gases, he later volunteered for a dangerous mission to travel by helicopter to the peak and dash down to collect samples from a small pond that had formed in the bottom of St. Helens' new crater. Johnston was an endurance runner and knew that his stamina meant he was best suited to succeed in the dangerous environment.
He was able to overcome his fears, but he was no daredevil. In fact, a colleague said Johnston had an unusually full appreciation of the risks he faced in advancing science for the public interest.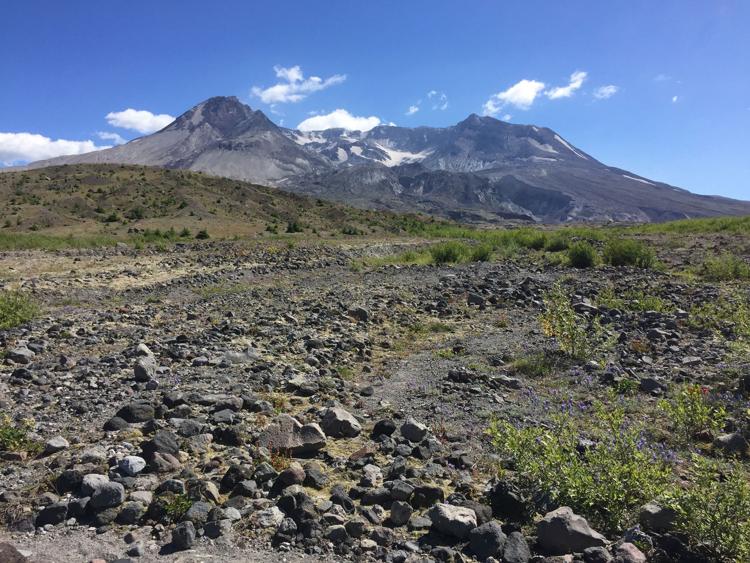 Remarkably and tragically, the fateful shift that Johnston took at the Coldwater II research outpost the night of May 17 was the first and only time he was stationed there.
One of his research assistants, Harry Glicken,  had been posted there for two weeks. He had to go back to California to meet with his Ph.D. advisor, so another scientist had volunteered to take his place. Then that scientist was asked to show a foreign visitor around the region, so he asked Johnston to sub for him that one night. 
Johnston arrived on Saturday, May 17, knowing how dangerous and yet how important his job was. He felt the mountain would blow in "hours, days, maybe a couple of months."
Two other scientists, a pair of female researchers, came up that afternoon and wanted to camp there for the night, but Johnston insisted they go back to their hotel. 
"There's a chance that the ridge isn't safe," he said, so there was no reason for more than one person to be in harm's way.
Johnston was awake by dawn on May 18, calling in his first scientific measurement at 5:53 a.m. by radio to the temporary headquarters set up in Vancouver.
His life ended at 8:32 a.m. on a blue-sky day as the mountain exploded toward him with a 24-megaton force — 16,000 times the power of the atomic bomb dropped over Hiroshima. David Johnston's body was never found.
He died like a soldier at his post, President Jimmy Carter said in a hand-written letter of condolence to Johnston's family.
Johnston's friend and research assistant Harry Glicken was overwhelmed with guilt and survivor's remorse. He threw himself into his work and made important advancements in volcanology himself. In a tragic and ironic twist, Glicken died 11 years later on another research expedition when a Japanese volcano erupted. To this day, Johnston and Glicken are the only two American volcanologists ever to have died in a volcanic eruption.
I spoke with the author of the biography this week and asked her: forty years after the eruption, what should we remember about Johnston?
"David Johnston died in the line of duty while trying to advance the science of volcanology, a science that was very young in 1980 and only got its growth spurt after that eruption," Holmes told me. Johnston's teenage experience with a deadly tornado in his hometown — seeing people die unwarned of the risk because science couldn't forecast tornadoes effectively at the time — likely led to his deep desire to lead the research that would help predict deadly eruptions. 
"The idea that science can protect those in harm's way, that's absolutely the takeaway from his life's work," Holmes said, then turned to speak of his warm personality. "He always believed in being kind and working hard."
That's a powerful legacy. 
May 18 will mark the 40th anniversary of the eruption at Mount St. Helens. I encourage you to pick up a copy of this book, or any other about that life-changing day. From the 57 people lost and the landscape forever changed, to the scientific discoveries that have billowed out like a cloud of ash, there's still a lot to learn about our local volcano.
In honor of David Johnston, deepen your knowledge of the mountain where the legacy of this brave young scientist will live forever.
***
Next week: In the beautiful May days before the eruption, there was a strong and increasingly successful push to reopen Mount St. Helens. What lessons can we learn today as we consider COVID-19 and how to reopen?
•••
Brian Mittge would love to hear your Mount St. Helens eruption stories. Send them to brianmittge@hotmail.com.