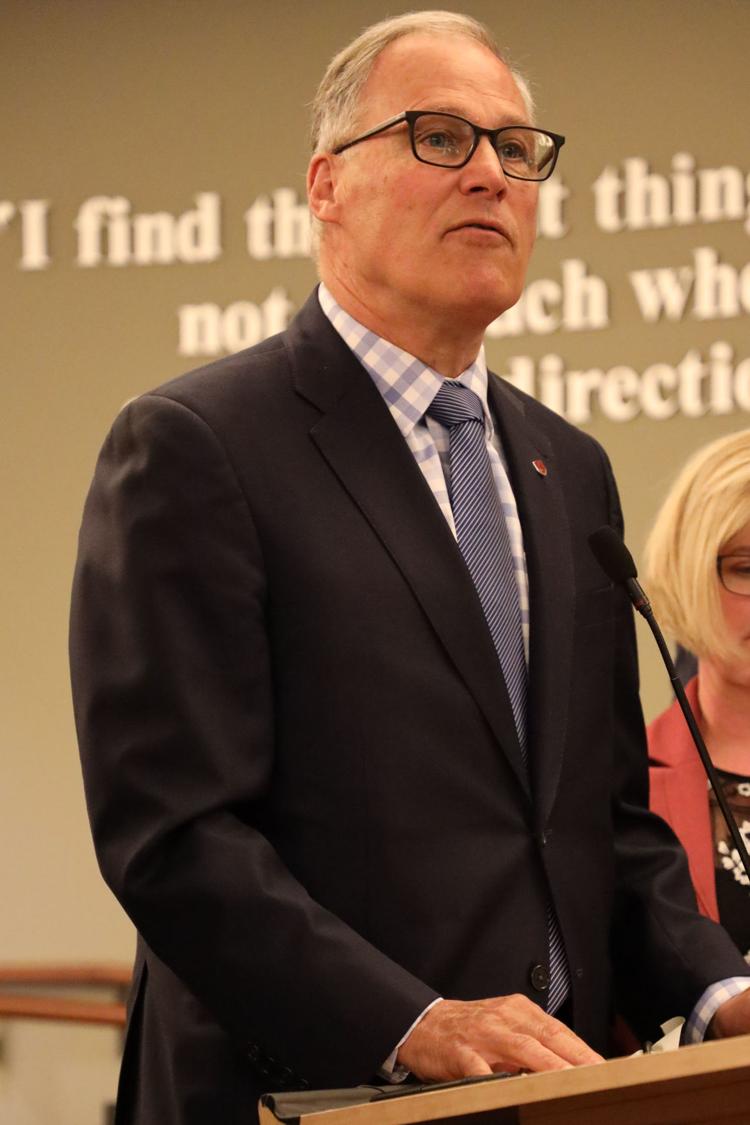 U.S. Rep. Jaime Herrera Beutler wants to make sure Gov. Jay Inslee is still on her side regarding Oregon's proposal to toll Interstate 5 and Interstate 205.
Earlier this month Herrera Beutler, R-Battle Ground, sent a letter to the governor asking for his "renewed engagement with Oregon's unfair plan to toll I-5 and I-205." She was referencing work that the state had undertaken looking at the potential to place tolls on the interstates in the Portland metro area. 
"Now that you've declared your intention to serve as governor for four more years, we need your involvement before Oregon moves forward with a plan that treats Southwest Washington commuters as a revenue source without providing them with any benefit," Herrera Beutler wrote. Inslee ended his 2020 Democratic presidential campaign Aug. 21, and is now seeking a third term as Washington governor.
At one point a policy advisory committee tasked with coming up with "value pricing" options considered the possibility of tolls up to the Oregon-Washington border. The current plan is more targeted, with the potential to toll I-5 between Going Street and Multnomah Boulevard and I-205 at or near the Abernethy Bridge.
The most recent development with the project was a January letter from the Federal Highway Administration which provided guidance to Oregon on how to move forward with implementation.
Herrera Beutler wrote that Oregon did not plan on using revenues from any tolling to improve infrastructure used by her constituents. She added that tolling could also stymie plans for an I-5 bridge replacement, something that in recent months has been a focus of both states as lawmakers and agency officials have earmarked millions for restarting a project.
Herrera Beutler wrote that federal law made it "very difficult – if not impossible" to stop tolling from happening, stating her own legislative options were limited. She added that Oregon Congressional Representatives have been in opposition to her efforts in Washington, D.C., to prevent tolling from happening.
The Congresswoman's urging of a "renewed" stance was in reference to statements the governor made last year. In July 2018 Inslee visited Vancouver, where he said he had instructed the Washington State Department of Transportation to make sure Southwest Washington wasn't left out of the conversation when it came to tolling.
"(S)tanding up for the economic well-being of our constituents is not a Democrat or Republican issue, it's what we're supposed to do as elected officials," Herrera Beutler wrote, reiterating her statements during Inslee's visit last year. She said "teachers, service industry workers, and other working class folks" would be most affected, "individuals who can least afford the additional cost, and do not have the choice to commute to work during non-peak hours."
"I implore you to engage with your Oregon counterpart, Governor Brown, to help her understand that any attempt to toll Southwest Washington residents unfairly will be counterproductive," The Congresswoman wrote.
As of press deadline Inslee had not made a formal reply to Herrera Beutler's letter. The governor's then-communications director, Jaime Smith, said in an email last week that Inslee "has consistently and repeatedly stated his commitment to making sure the voices of Southwest Washington are heard."
Smith wrote that WSDOT would be "an active participant" in any progress on the tolling scheme, and Washington would be involved in any development that impacts its residents.
"We will insist on significant engagement from communities on both sides of the bridge," Smith wrote.