A Vancouver man's family recently got a little bigger with the discovery of a long-lost brother brought to light through genetic testing.
Larry Dickerson, an engineer, small business owner, and 16-year Clark County resident, learned that he wasn't the oldest son of his parents, Mavis and Larry Sr., last year. In late 2017 Dickerson, 56, took a 23andMe test on a whim. 
The first surprise came from the results on heritage, Dickerson explained. Initially, he was confident of his Irish and British ancestry, though was surprised to find small (but detectable) levels that showed black and Jewish ancestry, much to his surprise.
Dickerson said that he had been matched with some 1,600 relatives through his genetic test, but it wasn't until last July that he received word through 23andMe that they had found a full brother that until that point Dickerson wasn't aware of.
As it turns out Dickerson's mother had a child out of wedlock with his father before they were married. Dickerson said that his mother had received a full-ride scholarship to Eastern Washington University before dropping out ostensibly to attend a "girls school."
"But she didn't really go to a girls school," Dickerson said, saying instead she went to a place for unwed mothers to have his long-lost brother. After giving birth to the brother who would grow up as Dan Drake in May 1956, their mother married Larry Sr. in November, never telling about the child she had and then gave up for adoption.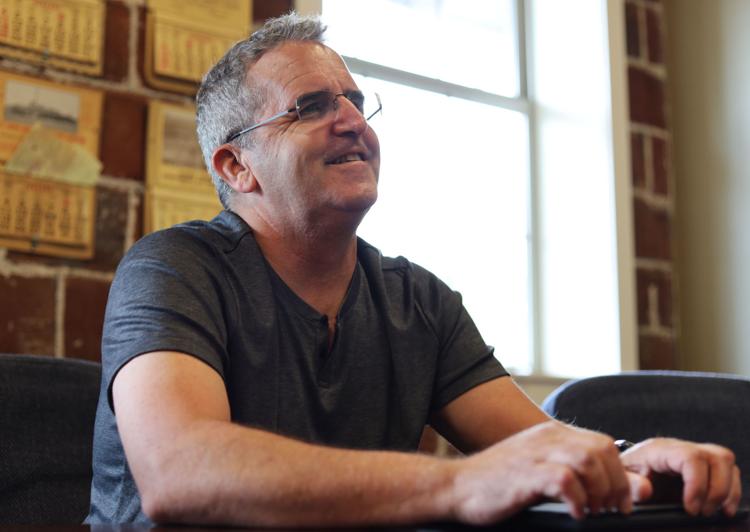 When Dickerson's mother passed 10 years ago the story of Drake was never mentioned as she told Dickerson family secrets on her deathbed. It was still a mystery if his father knew who Drake was.
"They both took it to their graves," Dickerson said, adding that it was "definitely" the stigma of the time that led to her decision to give up Drake. He recalled conversations he had with his mother about abortion where she would bring up how "In (her) time your mom made you go have the baby and give it up. Nobody should go through that."
"I didn't know she was talking about herself," Dickerson remarked.
Drake was adopted by parents Carl and Shirley, and has a sister, also adopted, Lisa Davis. He said his mother worked in the medical field which once the couple found they could not have children of their own led to them adopting him and his sister.
"Back then they could arrange adoptions fairly easy once you're in the know," Drake said. He was told he was adopted from an early age and grew up with a fairly average family life alongside Lisa.
Drake has lived most of his life in the Spokane Valley area save six years in the Navy, going to work for Kaiser Aluminum in Trentwood for 20 years and now working at a carabiner manufacturing company in Airway Heights. Prior to taking the 23andMe test, he said he previously spent thousands for a more granular genetics test following open heart surgery on a previously-undiagnosed heart defect.
"I was more interested in finding the heritage stuff," Drake said. Seeing some of the relative matches was somewhat interesting given that he was adopted, but it wasn't until he had a 50 percent DNA match that his interest was piqued.
Following the discovery of the kinship, Dickerson met Drake a few weeks later, Dickerson said. He recalled having to break the "bad news" to Drake — that though Dickerson only had to get one more Christmas present, Drake would be buying four more for the other full siblings in the Dickerson clan.
Dickerson noted that there were many similarities between Drake and the Dickersons, even without having grown up in the household.
"He has mannerisms like my mom, and he has mannerisms like my dad," Dickerson said. "You don't think genetics would be the same way they hold their mouth, the way he walks and shrugs."
Since the first meeting Dickerson, his previously-known siblings and Drake have met several times and maintain a group text with all five in the mix. Most recently a few of them competed in the Bloomsday run in Spokane.
Drake said that the Dickersons lived about 60 miles south of Spokane Valley in St. John — when Drake was working at a motorcycle parts store in high school he recalls one customer coming in from that area and saying that he knew Drake's brother.
"I didn't think too much of it," Drake said. He recalled an instance when he was a child potentially meeting either his birth mother or grandmother.
"I think there were those little things in the background all the time," Drake said.
Drake commented that when his daughter, Michelle Froehlich, met one of his sisters by birth, Tami Church, "it was like they were twins." He commented how his granddaughter, Michelle's daughter Hayden, was "totally infatuated" with her newly-discovered great-aunt.
"I guess it's a new experience for me because I definitely have a big family now, and I never had a big family," Drake remarked.
"He's part of the family," Dickerson remarked. "He's been incorporated, and we're incorporated into his family."