The Battle Ground City Council gave a virtual welcome to new Battle Ground Police Department staff hired throughout the year, an expansion of police services brought on by the approval of the city's annexation into Clark County Fire District 3 in February.
During the Dec. 21 council meeting, the new hires and one promotion in the police department were introduced by BGPD Chief Mike Fort. The department made four hires over the course of the year: three officers and one professional staffer, and also made one promotion.
Officer Ashley Kinlaw previously worked for the Delmar Police Department, which serves both the municipalities of Delmar in Delaware and Maryland as there are two technically distinct towns with the same name in both states due to its location on the border, Fort said. The chief noted this meant Kinlaw had to attend different police academies for both states.
Fort said Kinlaw was an officer for Delmar for about five years, where he became the first drug recognition expert for the Delmar department, something Fort said was difficult to attain 
During his tenure at Delmar, Kinlaw won several awards from Mothers Against Drunk Driving and was Delmar's officer of the year in 2018, Fort said, adding Kinlaw had experience in collision investigations and defensive training.
"In the short amount of time I've been here, I've fallen in love with the community and the city," Kinlaw remarked. He was hired in April, and currently works on solo patrol. 
A Prairie High School graduate, officer Luke James joined the Clark County Sheriff's Office cadet program at the high school before joining the U.S. Marine Corps after graduation, Fort said. James had worked for a private security agency prior to his hire at BGPD, and had graduated from the Washington State Police Academy the prior week "with flying colors," the chief said. He added James was currently working toward a bachelor's degree in homeland security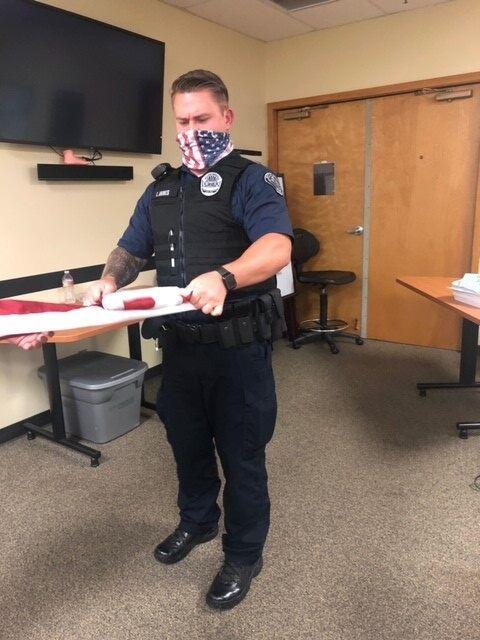 The most-recent hire was Shane Bradley, who joined the force Dec. 1, Fort said, adding Bradley would be attending police academy in January or February. Prior to his hire, Bradley was a pilot for Delta Airlines, Fort said. 
A Heritage High School graduate, Bradley earned a degree in aeronautical science before his commercial flying career.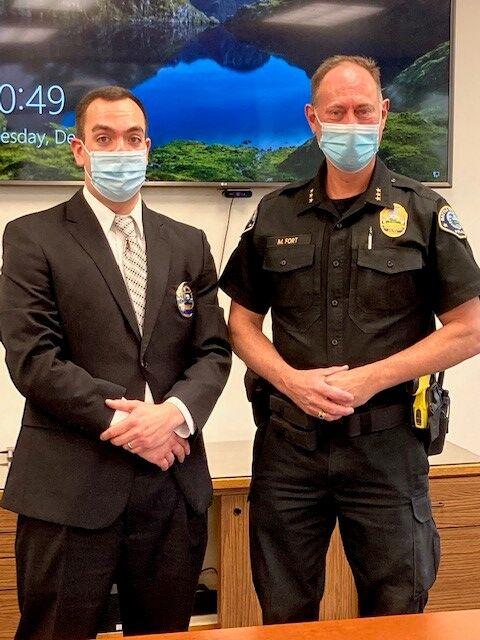 "If for some reason we come to you, councilmembers, and need a pilot or air program, we have a pilot already built in," Fort remarked.
The one non-officer hire was Jennifer Kirby who joined the department in May as its Prevent Together Coalition Coordinator. In that role she manages the department's Drug-free Communities Grant, which was approved this year for the Prevent Together: Battle Ground Prevention Alliance to help fund their efforts in addressing drug abuse in the community.
Fort said that Kirby had been in a similar position in the Evergreen School District before coming to Battle Ground. Kirby said she's lived in Battle Ground for 18 years, and was excited to be working in the community she calls home.
"Jennifer's brought a wealth of freshness to our police department," Fort remarked, noting her contributions to the department in a particularly challenging year.
The introductions also acknowledged the promotion of officer Jim Hurley to sergeant. Coming to Battle Ground a few years ago, Fort said Hurley had about 30 years of law enforcement experience, including as a corrections deputy in Washington County, Oregon, and as an officer for the Port of Portland and the Portland Police Bureau.
Promoted in August, Fort acknowledged that some officers with that much tenure may lack motivation and drive. That wasn't the case for Hurley when he arrived at BGPD, the chief said. 
"(Hurley) came to us as a lateral (transfer) police officer with a ton of experience, and we quickly recognized that," Fort said. He noted that Hurley wasn't the only officer in the family, as his wife, Erica, serves as a precinct commander for PPB. 
The new hires were in part made possible due to the approval of Battle Ground's annexation into Fire District 3 in February, which had previously served the city via contract. With the increase of funding the city received due to the addition of a fire district levy, as opposed to the city paying the contract for fire services out of its own levy, the city was able to fund an additional $550,000 to the police department annually for a number of improved services, including new officers, Fort wrote back in September.
Fort said the department had been holding off from a formal introduction of the hires in a hope that an in-person introduction could happen down the line, though the continuing COVID-19 pandemic prevented such a ceremony. He said that for all of the hires he saw a call to volunteer service, which was emblematic of his focus on building up the force following his promotion to his role as chief in February.
"We've hired the best. We'll continue to hire the best. That's my promise," Fort said.