Not all superheroes wear capes and masks. Some stroll down the street in their everyday clothes as a part of the local Rotary Club. 
Born in Detroit and a graduate of Lake Oswego High School, Ashley Holmer has helped the Lewis River Rotary Club make waves overseas with the Red Sweater Project. 
"We've already graduated 88 students and have set up a beyond program that sends them on to either trade school or pre collegiate training," said Holmer, a member of the Lewis River Rotary Club and organizer of the Red Sweater Project.
The project focuses on providing the population of Mungere, Tanzania, with a secondary and more in-depth education. According to Holmer, most children in Tanzania have an education up until they are about 12 or 13. After that, if they don't go on to secondary school, they head into the workforce if they're men. If they're women, they stay at home and raise children. 
"This goes back to why I initially said yes," Holmer said, explaining how studies have shown that if money for education is invested equally between boys and girls, the economic rate of return is higher for girls than boys. "Women reinvest up to 90 percent of their assets and income back into their families in their communities and men only reinvest about 35 percent. So while it's a very general education, if you educate women you educate the world."
Holmer went to high school in Lake Oswego, and attended college at Willamette University where she played soccer for all four years. 
"After I graduated, that's when I got my coaching license for soccer," Holmer said, explaining how she and her twin sister Haley moved to Portland for work and coached soccer on the side. 
In 2004, their lives would change as they decided to sell their cars and save up money to act on their decision to go to Tanzania. 
"We saved up money and moved home and then moved to Tanzania in January of 2005," Holmer said. "I had just turned 25 and spent the year there and became fluent in Swahili because we were fully immersed in the community. We were basically fluent after four months because there was no access to English." 
Holmer spent her original visit to Tanzania coaching soccer, a stray from the norm as women in the village usually aren't seen in such a role.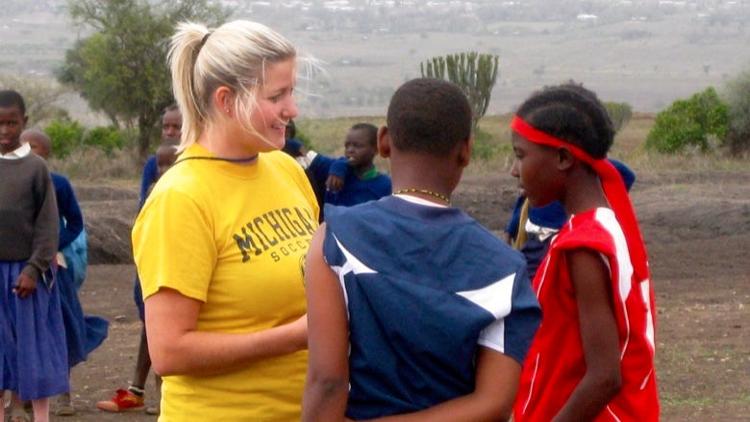 "I was often cast with reffing games so I would be like the lone female, you know," she said. "When I walked into a pub and they were watching English Premier League, not only am I the only white person, I'm the only girl period in the whole room."
Near the end of her first visit to Tanzania, she was approached by the village government of a nearby community. 
"They said 'we will give you 20 acres of land if you build us our first secondary school,'" Holmer said. "It was a general idea but I was the one who was crazy enough to say yes."
Access to a quality education, gender equality and responsible innovation are the three main tenets of the Red Sweater Project, which was started shortly after Holmer's decision to say yes. 
"Red Sweater Project's focus on quality education has set us apart since the beginning. Our success is not defined by the number of schools we build, but by the effectiveness of our graduates as leaders in their communities," the Red Sweater Project states on its website. 
Three years ago, Holmer joined the Lewis River Rotary Club and got them involved in the Red Sweater Project. 
"Originally, they had an attendance requirement," Holmer said, explaining how she couldn't attend many meetings because she spends a large percentage of the year in Tanzania. 
According to Holmer, the school now educates around 120 students and teaches the children everything from technology to English. 
"I find it all starts with education," Holmer said. "You know, we can throw money at infrastructure and all these different things but if we're not educating, then what's the point?"
Along with educating the children, Holmer and the Red Sweater Project wanted to make education affordable. 
"The buy-in cost from the local families is $15 per student, per year," Holmer said, later explaining how scholarship programs from the Lewis River Rotary Club and local churches help cover the remaining costs for them to attend. "We also supply them with all of their school supplies. Textbooks, paper, pencils, athletic equipment, whatever."
Over the past few years, Holmer has seen the project grow into something she couldn't imagine as 100 percent of the students attending the Mungere School passed their national exam. That's a remarkable feat, as only 27 percent of Tanzanians pass the exam nationally. 
"It feels amazing. Recently, I had been asked a question by a friend who had just heard about it (the Red Sweater Project) and they asked 'you know, when did you feel like you were starting to first have an impact?'" Holmer said, noting  how she sees the impact every day she's there. "We don't build schools because it makes us feel good. We build schools because the community asks us to and that's a really big difference in international development."
Prior to the Mungere school, a secondary education in Tanzania cost about $500 a year, according to Holmer. Along with the high cost, classrooms are jam-packed with hundreds of students, and teacher truancy is at a high. 
Local Rotarians Sue Coates and Gail Haskett were among a group of Rotary members to visit the Mungere school in September of 2018 and see the progress the project has made. Coates said it was one of the most meaningful experiences of her life, and she loved seeing the students being excited to go to school.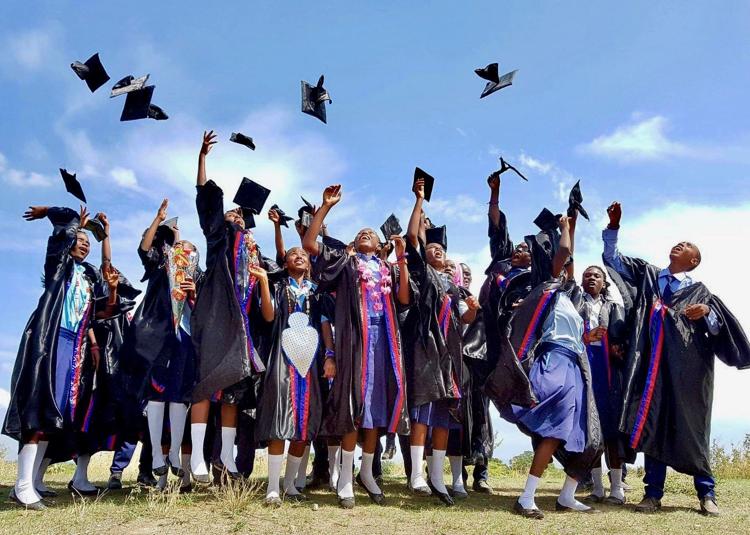 "One of the students I met was Steven and he wanted to be an M.D.," Coates said, explaining how she brought him her daughter's graduate school level biology books to learn. "They can't just look it up."
As for the name the Red Sweater Project, Holmer explained how students in Tanzania are required to wear uniforms by law. 
"When we started working, we worked primarily with the Maasai tribe, and the Maasai are known for their very staunch hold on traditions," Holmer said
Traditional Maasai clothing is red and blue, and she wanted to create a uniform that had colors reflecting the local tribe preferences. 
"We would, in a way, be communicating that education doesn't have to replace tradition, but it can go inside and coexist," she said. 
More information on the Red Sweater Project can be found at redsweaterproject.org/.