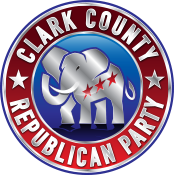 The Clark County Republican Party recently held its organizational meeting on Saturday, Jan. 2 and Sunday, Jan. 3. At the meeting, the party elected members to leadership roles for two-year terms.
Results from the vote are Joel Mattila for chairman; Kathy McDonald for vice-chair; Kelli Fiskum for secretary; Greg Cheney for treasurer; Richard Rylander for state committeeman and Jennifer Duvall for state committeewoman. 
Chairman Mattila is a local business owner and previously served two terms as the state committeeman for the party. 
"I am honored and humbled to be elected as Chairman by the Precinct Committee Officers of the Clark County Republican Party (CCRP). One of my campaign promises was to work with my team toward unity in the CCRP, and based on the election results, it is clear that is what the members wish for," he said in a news release. "I hope to work with all members of the party, both those who voted for me and those who did not, and invite everyone to reach out to me with their suggestions and ideas. Together, we will work toward building a large coalition party that will be a winning force in Clark County politics, electing Republicans now and into the future."