A pilot and passenger of a small airplane survived a crash after engine trouble near Yacolt on the Clark and Skamania county border Monday, the Washington State Department of Transportation reported.
The two in the plane, which the department described as a single-engine Piper aircraft plane, were rescued by a U.S. Navy helicopter following a combined search of multiple agencies, including the Clark County Sheriff's Office. WSDOT reported that air traffic control in Portland lost voice and radar signals from the plane at about 3:45 p.m. — the pilot had been speaking to air traffic, alerting that the plane's engine "started running rough" and the plane was losing altitude.
WSDOT said the last-known signal from the plane provided search crews a good target for where to search. A release from the sheriff's office stated that air traffic control contacted Clark Regional Emergency Services Agency (CRESA), alerting them to the possibly downed aircraft, after which deputies were dispatched and set up a command post at Sunset Falls Campground.
The deputies requested aid from Clark County Sheriff's Office Civilian Search and Rescue Team (CCSO SAR), the Volcano Rescue Team, as well as a search and rescue helicopter from the U.S. Naval Air Station on Whidbey Island, the sheriff's office release stated. While waiting for the helicopter, sheriff's deputies and CCSO SAR used unmanned aircraft to search the area, while additional CCSOR SAR and Volcano Rescue Team members did ground searches.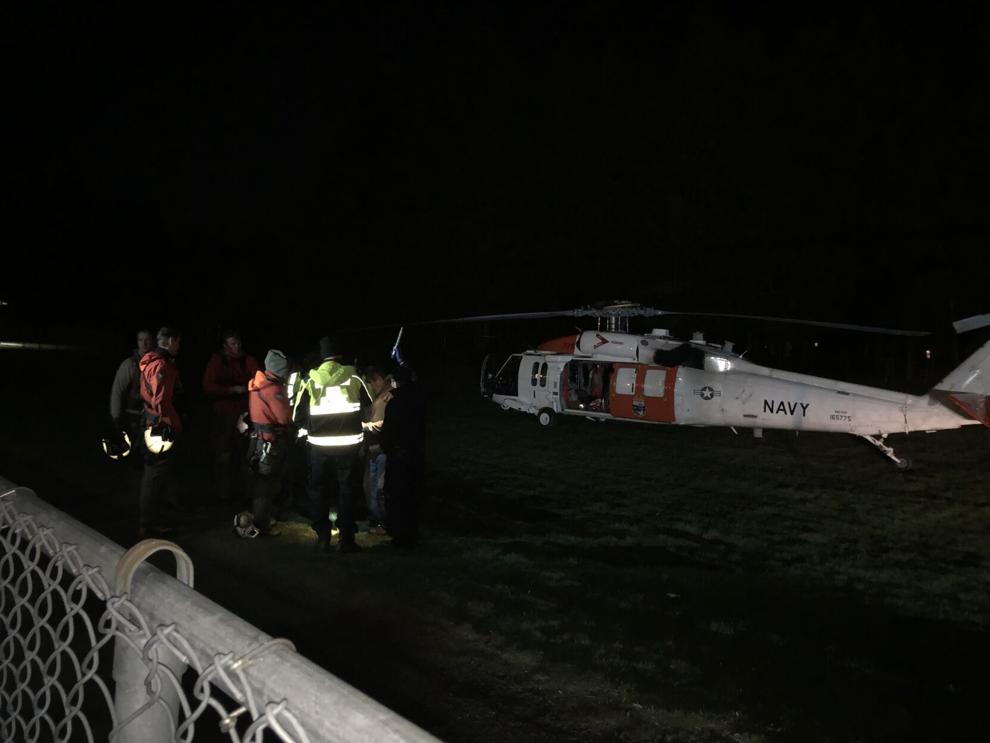 The helicopter arrived at about 8:30 p.m. and located the aircraft at 9:10 p.m., the sheriff's office reported. One of the helicopter crew was lowered to the crash site and found the pilot and passenger with only minor injuries, taking both up into the helicopter where they were flown to a landing zone on the north side of Yacolt Primary School.
The pilot and passenger were treated for injuries and given food and water at Yacolt's North Country EMS station, the sheriff's office reported, and were later transported to the sheriff's West Precinct Office where they were picked up by a family member.
The plane, registered out of Vashon Island, was headed from Bend, Oregon to the Tacoma Narrows Airport near Gig Harbor, WSDOT reported. Neither the department nor the sheriff's office released the names of the pilot or passenger as of the time of their reports.
The sheriff's office noted that alongside their efforts, a number of other agencies were involved with the search and rescue:
U.S. Navy Naval Air Station Whidbey Island
Clark County Sheriff's Office Civilian Search and Rescue Team
Washington State Emergency Operations Center
Clark Regional Emergency Services Agency
Department of Emergency Management
Skamania County Sheriff's Office
US Forest Service Law Enforcement Division
North Country EMS
The crash is being investigated by the National Transportation Safety Board, both WSDOT and the sheriff's office noted.