An annual day of outreach to Clark County residents experiencing homelessness got more robust in 2020 as two projects spearheaded by the Council for the Homeless added more resources in efforts to address the problem.
On Jan. 30, both the annual Point in Time Count and Project Homeless Connect took place, undertaken by the council and a number of partner agencies. The count involves staff and volunteers covering the county to document the number of people experiencing homelessness at around the same time every year. Project Homeless Connect is a resource fair where dozens of groups and agencies offer materials, services or information to support the homeless and at-risk population.
Council for the Homeless Executive Director Kate Budd said that for 2020 the Point in Time Count would once again use a mobile application, which debuted last year. Budd said the app  worked well in 2019, and this year the ability to edit questions allowed for more detailed data, such as asking participants what led to their homelessness.
The number of counters roughly doubled from 2019, rising to about 60, Budd said. The increase allowed for more teams to head into northern areas of the county than before, along the I-5 corridor and in downtown Battle Ground and Ridgefield, while also having a presence in areas like around State Route 500 in Orchards.
"That's been great to be able to cover that additional ground," Budd said, mentioning support from Battle Ground Public Schools' Community Resource Center and Just One Thing, a Battle Ground-based movement formed last year intended to end homelessness in the city and greater area.
"It's just amazing that the community is willing to go out, especially early in the morning, and engage with folks," Budd said, mentioning some were out as early as 5:30 a.m.
Numbers from the count won't be available for a few months, though the number of those facing homelessness has been on the increase in recent years. The 2019 count had a total of 958 people experiencing homelessness, more than 42 percent more than in 2015. 
Another new addition for the day's outreach was a pet wellness clinic at the Vancouver Navigation Center, Budd said. The clinic, put on through a partnership with the Humane Society for Southwest Washington and West Hills Animal Clinic, will help with the council's outreach to homeless pet owners.
Budd said that the partnership with the humane society allowed for the council to provide additional resources  such as dog food and pet jackets, the latter being a popular item.
The pet clinic took place at the same time as Project Homeless Connect, hosted at St. Joseph Catholic Church in Vancouver for another year. The number of vendors providing information, materials or services increased this year, Budd said, going from 28 to 35. She mentioned there were more employment agencies than in past iterations, mentioning there was a booth for the 2020 U.S. Census engaging attendees to work as Census takers.
Budd said the material offerings were among the most used — being able to receive clothing and items such as eyeglasses.
The Point in Time count has been going on in the county since 1998, while Project Homeless Connect has been undertaken since 2008, Council for the Homeless Spokesperson Charlene Welch wrote in an email following the day's events.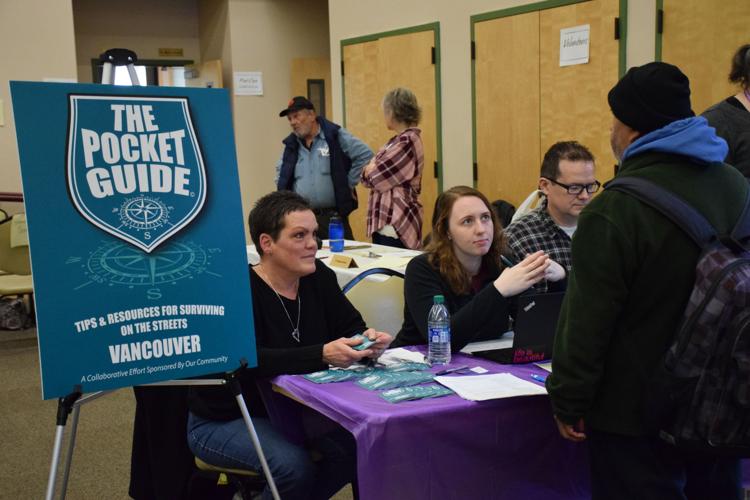 Budd said there were about 250 attendees at last year's event, and midway through the day she anticipated the 2020 iteration would at least match that tally. She said she saw more people currently experiencing homelessness, slightly different than previous years where she saw more that were at risk, but not currently experiencing, in attendance.
In order to get more people out of homelessness, Budd said that more investment into support services would help.
"Having programs that help to house people — covering their move-in costs, helping to connect them to resources to give them a solid foundation — is what helps to build stability, so that when people are housed, they remained housed," Budd said.
One attendee, Don Dunham, made his second visit to Project Homeless Connect, having gone last year. He described his situation as a "borderliner" though generally he was able to find a place to stay through his friends and "allies" as well as the Navigation Center.
Dunham spoke positively of the resources offered at Project Homeless Connect, with the vision and dental care a few of the most prominent. He said that housing costs were one of the chief pressures causing increasing homelessness, but said events like the council's efforts showed the community was making attempts and handling the problem.
Dunham said he had experienced homelessness for "quite a while" but noted that he didn't have any children to take care of which made his situation better than others.
"I'd rather see the women and children being taken care of over me first," Dunham remarked. "To see them off the street is a blessing."