Members of Xchange Recovery and Discovery Pointe Church have come together with a similar prayer — save the lives of people addicted to drugs and alcohol.
According to Kevin Rose, one of three elders at the church, attendance at the 5,500-square-foot building in Ridgefield had dwindled down to about 35 people and they were worried about having to close their doors. 
"We got all this space here and not a lot of people coming every week," Rose said. "We were just praying for how we could serve the community with all this space."
A call from Xchange Recovery Program Director Vicky Smith in November 2017 changed everything. She asked if they could use the church once a week for classes to help those struggling with addiction. 
Since this partnership was established and fostered, Rose said attendance at Sunday's services has doubled in size. Plans are also in place to utilize the extra space at the church for a recovery center.
"It's really meeting the need of that prayer for them and for us. The need was so great," Smith said. "I'm just really excited about how we are going to serve people at this center all week long. We get calls all the time from families that their loved ones are addicted. They're trying to do everything they can to get their loved one back and they don't know what to do. So now, there will be a place for them to come to."
Randy Questad, owner of Manor Homes, is reaching out to people he works with and friends of his in the construction industry to help remodel the church for its new multifaceted purpose.    
"From my perspective, they are doing everybody a favor when they help somebody get off drugs and restore a family," Questad said. "I'm not on the front lines with them doing the work. What I can do is do my best to support them."
Redemption stories 
Rose recalled Jesus' parable of the Good Samaritan: two people avoided helping a Jewish man who had been beaten and robbed, including a priest, before he was finally cared for by a Samaritan, who put aside the strife that existed between Samaritans and Jews at that time. 
"A lot of us have someplace to go and we don't want to get dirty, metaphorically, but the third guy in the story got in the ditch and embraced this naked, bloody, beaten person and helped him," Rose said. "That's what the church needs to be. I don't feel like the modern church is like that, but we want to lead them to that."
By opening their doors to Xchange Recovery, Discovery Pointe Church is getting away from being the priest who walked on the other side of the road to become people that get in the ditch and embrace those in need.
"There's different aspects to the journey of recovery and restoration," Smith said. "What's cool is the very people whose lives have been transformed are the people that are now leading and bringing other people in and showing them the way."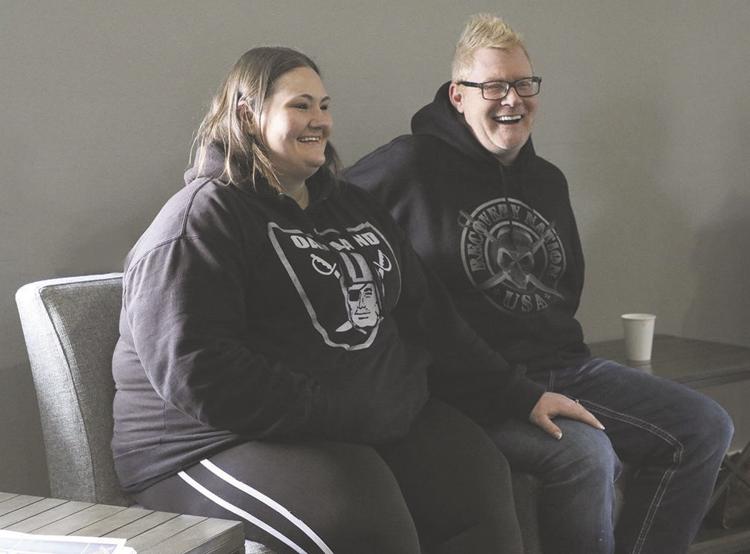 One of those leaders is Billy Peck. He was shooting meth and abusing alcohol on a daily basis. If it wasn't for this program, Peck believes he would be dead or in jail.
"I had been drinking myself into a gutter. I had no shirt. My face was black and blue from fist fighting every day," he said. "God must have granted me an opportunity when I got dropped off on their doorstep. I've put a lot of action into this program and I've grown. Instead of taking away from the community today, I put in. I'm not perfect in what I do, but the guidance that is here helps."
Peck has been a part of this program for four years. It's important to him to help others struggling with addiction.
"I know this program works because it saved my life," he said. "I've seen this church grow and I've seen the outreach already. We're just looking to do more in the community with this partnership."
Before joining Xchange Recovery, Melody Peck said she was homeless, living in tents and almost freezing to death.
"I was more concerned about getting high than I was staying warm at night," she said. "I was in a super toxic relationship and hopeless. I didn't have any hope of ever seeing my son again. I had a protection order against me from my mom and my son for six years."
Within the first year in the program, Peck said she restored the relationship with her mother before she died and got her son back in her life. She also got married to Billy. The two had met before, but fell in love through their work with the ministry.
"I'd never had a healthy relationship before this. It's always been toxic on one level or another," Melody Peck said. "Through the classes that they offer here, they have taught me how to have a healthy relationship.
"I was so broken when I got here that I was super teachable because I didn't have anybody left and I didn't have anywhere to go," she added. "My life is completely different today."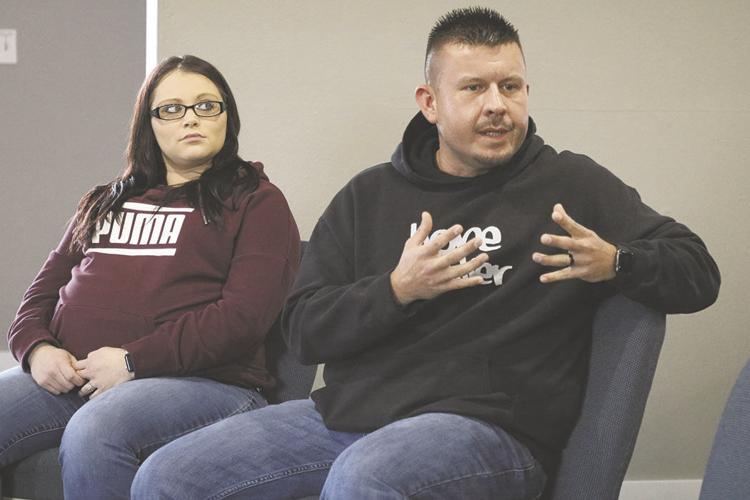 Lance and Katie Gayton struggled with addiction for years. Lance's life had been consumed by drugs and alcohol since he was 10. He got help on his own from Xchange Recovery and was sober for 30 days for the first time in as long as he could remember, but Katie was still struggling with her issues in their home just outside of Port Angeles. Against the advice of his counselors, Lance returned home to try and help his fiance'. He relapsed within the first week back.
"I felt if I stayed there, I was going to die. God was speaking to me to come back to Clark County," Lance Gayton said. "At the last minute, Katie decided that's what she wanted to do. We left everything behind in Clallam County and went through hills and valleys in this program. We got married last year and she's going to have a baby; all within this ministry."
The Gayton's already have a name picked for their daughter.
"Since we came here, everything has been hope related," Lance Gayton said. "When we found out it was a girl, Hope just seemed to be our theme word for our recovery and our walk with God these last two years."
Katie Gayton lost custody of her son before seeking help. She gets to see him every three weeks now and her mother is in her life a little bit more.
"I'm just really grateful for this program and the opportunity that they gave us," Katie Gayton said. "I pray that my daughter will never have to see us loaded like my son did."