The race for the Ridgefield City Council's only seat without an incumbent seeking another term is on, as one longtime resident and former councilor faces off against a relative newcomer both to the city and local politics this November.
The Ridgefield City Council Position 2 seat has Matt Swindell, a current member of the Clark County Planning Commission, running against Dana Ziemer, past co-chair of the Ridgefield School District Capital Facilities Advisory Committee (CFAC). The candidates seek to replace current councilor David Taylor, who is not seeking another term.
Both of those seeking to fill what would have been a vacancy on the council otherwise are in support of what current council has been doing. Swindell said his decision to run came only after he learned that Taylor didn't want to return to the council in 2020.
"I wouldn't have ran against anybody that's on city council. I think they're doing a good job," Swindell said. 
Born and raised on a farm outside of Ridgefield, Swindell's career has been in the construction and development industry at various times, though now he said he is working in outside sales for an industrial distributor.
Swindell had been previously elected to the Ridgefield School District Board of Directors in 2005 and Ridgefield City Council in 2007, serving as mayor pro-tem. Following an unsuccessful run for Clark County commissioner the following year, he took a hiatus from elected office, he said. 
Swindell recalls that during his previous tenure in city government the council was going over a comprehensive growth plan update, saying that he sees that work coming to fruition in Ridgefield's recent growth.
Housing affordability is one of the biggest issues Swindell has seen in the city. He said preserving the small-town feel of Ridgefield, a priority of his, would require multiple generations of families living with roots in the community, something that is impossible if younger would-be homebuyers are priced out of the local market.
Swindell's strategy for keeping it affordable to live in the city focuses on both maintaining reasonable regulations that won't drive up the cost of housing while also having a focus on economic development, specifically on high-paying jobs. 
"We're either going to be the best bedroom community Vancouver and Portland's ever seen, or we're going to become an economic power in North County," Swindell said. 
He said pursuing companies with international business could help steer the city toward the latter, allowing the local economy to weather any economic downturn in the future.
Swindell pointed to the Lake River waterfront owned by the Port of Ridgefield as a prime development opportunity, though he feels that it is best to still be owned by the port. He also mentioned a desire for more connections to Interstate 5, including the potential for one connection dedicated for industrial traffic in and out of the city.
Though some of his visions for the city are more about building Ridgefield up, he reiterated that he does not want to see the city lose its roots as it grows.
"I don't know too many cities that can get to 30,000 people and keep a small town feel, but that is my goal," Swindell said. 
He said after living nearly his entire life in the area he is able to remember times when Ridgefield leaders were content with "burying their heads in the sand and not wanting any growth."
"We're past that now," Swindell said, noting his general approval of the council's current direction.
"This isn't something like they (council) are going the wrong way. They're going there, and I'd just like to be a part of it," Swindell said. 
Swindell has no ill words for Ziemer, but he said his past elected and appointed service, his time living in Ridgefield as well as his experience working in the development world makes him the best candidate for the seat. 
"I just believe I bring more to the table with my experience and my knowledge of being here all of my life," Swindell said.
While Swindell has spent time on the Ridgefield school board, Ziemer also has experience working with and for the district. 
After co-chairing the Ridgefield School District CFAC, a group tasked with coming up with recommendations for new schools, Ziemer's interest in helping lead the direction of the city grew. She's also a former paraprofessional for the district, working primarily in special education, prior to a recent purchase of an indoor installation and plant maintenance business he currently runs.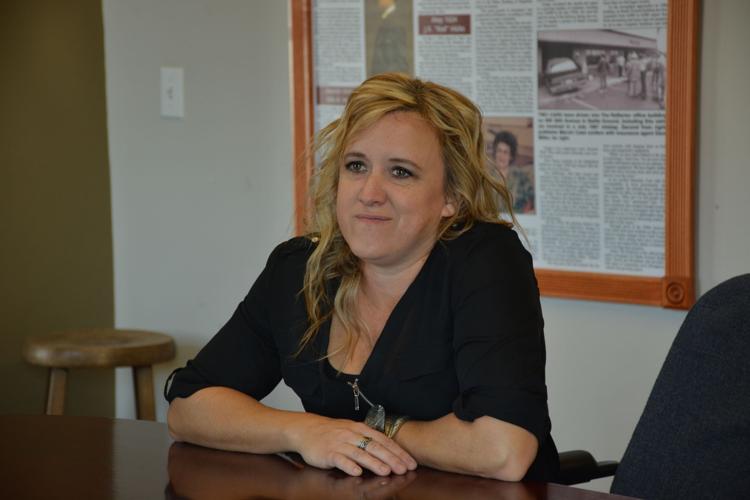 While Swindell has a long history in the city, Ziemer made the move to Ridgefield in 2011, she said, following a life living in Oregon and Washington, including Vancouver. She said she has become increasingly involved with the Ridgefield community over the years, connecting with sitting councilors through her interactions at city events or with the local Lions Club.
Ziemer has had the support of some of the sitting council including mayor Don Stose and councilor Sandra Day, the latter whom is also running for another term this year. She acknowledged she has some to learn when it came to aspects of government business, though she mentioned her background on the CFAC and other volunteering with the district as experience that would allow her to be a liaison of sorts on the council for issues and developments faced by RSD, keeping the city informed on what the schools are doing.
Prior to her stint as a paraprofessional with RSD, Ziemer had a criminal justice background, primarily working with at-risk youth. When it came to being on council, she said that experience could help her in communication, something she stresses is important in being one of the leaders of the city.
Though she had mentioned the chief concerns facing the city as building a sustainable economy within city limits by bringing in well-paying jobs and looking into ways to avoid traffic problems as the city grows, first and foremost Ziemer said she wants to make sure whatever direction Ridgefield moves it will be to the benefit of the people living there.