Residents of Southwest Washington were back on the phone with Congresswoman Jaime Herrera Beutler Tuesday night as she called in from Washington, D.C., for another telephone town hall. 
Much of the hour Herrera Beutler spent fielding questions — six total — was spent defending her support of the tax-reform bill that Senate and House Republicans are working to push through before the end of the year and correcting what she believes to be misconceptions about the bill and the effects it will have on Southwest Washington. 
"It's remarkable how much is being spread for political purposes," she said  
She said she has spent a lot of time closely examining the bill and is confident a vote in its favor will positively impact the people she represents. Her findings, she explained, are that the bill would simplify the tax system while offering further limitations on how much of one's income the IRS has access to. She said it would foster job growth in Washington. 
"What I am finding here, with the tax reform bill, is these cuts are a good deal for Southwest Washington taxpayers," she said. 
Herrera Beutler was also quick to speak against the idea that the bill would negatively affect social programs such as Social Security or Medicare, a common belief by many critics of the bill, including AARP, a senior-focused interest group. 
AARP Chief Executive Officer Joe Anna Jenkins wrote in a letter to Congress in late November that the "most troubling is the negative effect the Tax Cuts and Jobs Act will have on the nation's ability to fund critical priorities. The Tax Cuts and Jobs Act will increase the deficit by approximately $1.5 trillion over the next 10 years, and an unknown amount beyond 2027. The large increase in the deficit will inevitably lead to calls for greater spending cuts, which are likely to include dramatic cuts to Medicare, Medicaid, and other important programs serving older Americans." 
Herrera Beutler said that not a single word of the legislation goes after Medicare or Social Security and she wouldn't support it if it did, calling the reports scare tactics and that all the fear mongering aimed at seniors angers her. She said it is wrong to mess with people's emotions. 
"Nothing in this tax bill that I'm working on, or quite frankly that I will even support, cuts Social Security or Medicare for seniors," she said. "It is not in any way trying to pull the rug out from under them." 
The reform, Herrera Beutler feels, is necessary because of stagnant wages and a slow moving economy. 
"My goal is to release economic growth … Everyone is going to see a tax cut and they're going to see more money in their pockets," she said. 
One caller from Vancouver was concerned that the tax cuts would create more of a deficit. 
As a member of the Appropriations Committee, Herrera Beutler said she's worked to cut unnecessary spending, but noted that one cannot cut their way out of debt, that instead growth needs to happen, which is why she's supporting the reform. 
"If we really want to pay down the debt, if we really want to get to a place where we can balance the budget, we've got to have more GDP growth," she said, pointing to independent studies she's read that predict the tax reform will bump the GDP growth from around 2 percent to 3 percent.
"That's about a trillion dollars added to the economy every year," she said. "That is huge. That puts more money in people's pockets and it also means we have more taxpayers." 
She earlier listed the sources she was basing her predictions off of as the Tax Foundation, the Joint Tax Committee, the Congressional Budget Office and the Manhattan Institute.     
A Long Beach caller asked Herrera Beutler what she would do to fix it if the reform didn't work out the way she thought would. 
"I'm not afraid to revisit something if it's wrong — I'm not perfect," Herrera Beutler told the caller, but again noted her confidence that the bill would lead to prosperity.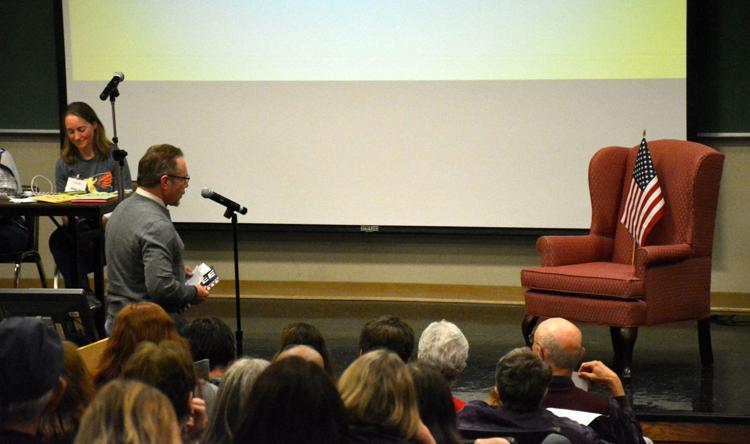 Herrera Beutler has held only telephone town halls for almost a year now, with her last in-person event being in January of this year. It's a strategy the Battle Ground resident says allows her to reach more of her constituents at once in the sprawling 3rd Congressional District. 
The in-person dry spell has been met with much criticism among many of her constituents on the left.
Liberal activists implored her to hold more in-person town halls when they rallied in front of her office in late February.
There was a "Citizens Town Hall" held at Clark College in April for 3rd Congressional District residents, with an invitation extended to the congresswoman. The event, sponsored by Southwest Washington Coalition Action Network, a group that formed as a result of the January Women's March, was packed. 
Herrera Beutler did not show up, so questions for her were instead directed at an empty chair fashioned with a miniature American flag placed on the stage. 
 "We are your boss, and you need to be here tonight because we are concerned," Cameron, a Battle Ground resident who did not give his last name, said in the direction of the empty chair. 
In late August, the Clark County Progressive Coalition and other local chapters of the Indivisible Movement held a small rally with a number of speakers at Esther Short Park, criticizing Herrera Beutler for not holding in-person town halls, among other complaints. 
Despite the pushback, Herrera Beutler again asked Southwest Washington to join her on the phone line last week. 
— Reporter Rick Bannan
contributed to this article