There are only a few weeks left before the scheduled end of the 2019 Legislative Session and locally lawmakers have dozens of bills still alive with the potential to be signed into law by Gov. Inslee this year.
Representatives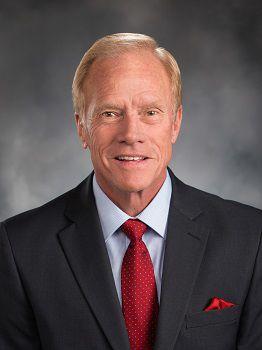 Paul Harris 
Though Inslee has only begun to sign bills into law this session, as of press deadline one bill led by a local legislator had already received the governor's signature. House Bill 1074, which raises the age that people can legally buy tobacco and vapor products to 21, was signed April 5. Sponsored by Rep. Paul Harris, R-Vancouver, the bill was one of two of the legislator's bills that have made it to the Senate for consideration.
Harris' other bill moving forward, House Bill 1638, would remove the personal exemption for the measles, mumps and rubella (MMR) vaccine. That bill, sitting in the Senate rules committee as of press deadline, is in response to an outbreak of measles that has hit Clark County. As of the county's latest update, there have been 73 cases confirmed by Clark County Public Health with the last new case identified March 18.
Vicki Kraft
Harris' counterpart in the House representing the 17th Legislative District, Rep. Vicki Kraft, R-Vancouver, also has a few bills that have made their way to the Senate. House Bill 1082 would require government-issued photo identification to be on licensed massage therapists or reflexologists at all times while they were on the job, according to a bill digest for the legislation.
HB 1082 was in the Senate Rules committee awaiting scheduling for a second reading as of press deadline, as was the case for Kraft's other bill with momentum, House Bill 1583. Her second bill deals with mosquito control districts, extending the timeframe before foreclosure on properties with delinquent payments on the assessments the district provides on properties from two years to three.
Larry Hoff 
Washington's 18th Legislative District also has a few bills backed by its House Representatives moving forward as well. Freshman Rep. Larry Hoff, R-Vancouver, has sponsored House Bill 1176, which streamlines the licensing requirements for a number of professions including auctioneers, engineering and land surveying, real estate, funeral directors, and cosmetology, according to a bill digest. The bill was currently awaiting a second reading in the Senate as of press deadline.
Brandon Vick 
Hoff's counterpart, Brandon Vick, R-Felida, had two bills ready for a second reading in the Senate. House Bill 1208 would allow flexibility for accounting firms as to whether or not they need a specific license if they do or don't provide attest services as a part of their business.
Both HB 2018 and another of Vick's sponsored legislation, House Bill 1284, are ready for another reading in the Senate. HB 1284 would allow the state treasurer to create three investment accounts to benefit local governments, according to a bill summary, allowing the governments to take advantage of state expertise to help their funding.
Ed Orcutt
Rep. Ed Orcutt, R-Kalama, has three bills he has authored moving forward as of press deadline. House Bill 1801, which would allow state or local governments to apply for authorization to maintain abandoned cemeteries, was awaiting a second reading in the Senate, having passed the House unanimously.
House Bill 1803, another of Orcutt's, would increase the number of waivers the state Office of the Superintendent of Public Instruction can give to small school districts for the minimum number of instructional days in a school year required by law. It is also ready for a second reading in the Senate.
Orcutt also had legislation, House Bill 2085, that would create a Mount St. Helens license plate. That bill was in the Senate Transportation Committee as of press deadline.
Senators 
Lynda Wilson
Bills sponsored by North County legislators in the other lawmaking chamber are also making their way through the process. Sen. Lynda Wilson, R-Vancouver, has Engrossed Substitute Senate Bill 5148 ready for a second reading in the House. The bill would expand required hunting gear colors to include fluorescent pink.
Wilson also has Substitute Senate Bill 5151, which would increase the accessibility of Growth Management Hearings Board decisions by requiring certain cataloging and publishing steps. Both it and Wilson's Substitute Senate Bill 5428 were in the House Appropriations Committee as of press deadline. SB 5428 would require state and regional universities "to each employ at least one full-time licensed mental health counselor who has experience and training specifically related to working with active members of the military or military veterans," according to a bill digest.
Ann Rivers 
Sen. Ann Rivers, R-La Center, had seven bills still alive as of press deadline. Her bills include Engrossed Substitute Bill 5298, which changes marijuana product labeling requirements; Engrossed Substitute Senate Bill 5318, which modifies compliance and enforcement provisions for marijuana licensees; Substitute Senate Bill 5354, which would provide greater access to school districts' highly capable student programs; Substitute Senate Bill 5612, which promotes more Holocaust education; Senate Bill 5613, which would allow counties to vacate roads near bodies of water given certain safety issues; Engrossed Senate Bill 5616, which would develop training for manicurists with regard to safety for diabetic clients; and Senate Bill 5817, which would require senior chiropractic students to pass an exam before performing an adjustment.
John Braun
The North County lawmaker with the most bills still alive is Sen. John Braun, R-Centralia, with nine bills as of press deadline. Braun's bills include: Substitute Senate Bill 5175, which provides incentives for firefighter safety practices specifically regarding cancer awareness and prevention; Senate Bill 5177, which allows for removal of territory from a cemetery district if no registered voters live in the subject area; Engrossed Substitute Senate Bill 5330, which would create a legislative work group to look at regulatory impacts on small forest landowners; Engrossed Substitute Senate Bill 5483, which would improve services for individuals with developmental disabilities; Engrossed Substitute Senate Bill 5523, which would improve managed care organization performance in caring for Medicaid clients; Substitute Senate Bill 5532, which would promote special education in schools through a number of ways including formal recognition of schools with strong programs; Engrossed Substitute Senate Bill 5536, which would require work on transitioning individuals with intellectual disabilities out of immediate care facilities under certain circumstances; Senate Bill 5566, which limits fees on prevailing wage statements; and Substitute Senate Bill 5894, which clarifies cities and towns' use of a levy for fighter fighters' pensions.
The 2019 Legislative Session is scheduled to end April 28.