After the Hockinson, Ridgefield, Vancouver, Camas, Washougal and Evergreen school districts settled their new teaching contracts and got back to work, Battle Ground is the only district in Clark County with teachers still on strike.
After nearly 12 hours of mediated bargaining Sunday, Battle Ground Public Schools (BGPS) filed a request with the Public Employment Relations Commission (PERC) for fact finding. Bargaining teams for the district and the Battle Ground Education Association remain $4.7 million, or 8 percent, apart in their offers.
Fact finding is a legal process that allows PERC, a state agency, to examine information where there is disagreement and provide a non-binding opinion that the district hopes will advance the bargaining process.
"The district has been unable to settle its dispute with the Battle Ground Education Association regarding resolution of the parties' open contract," the request states. "At this point, the district believes the parties are deadlocked on the fundamental issue of available resources for employee compensation" and the legislation implementing the McCleary decision.
Instead of continuing negotiations in Battle Ground, bargainers from the BGEA and the district administration head to Olympia Tuesday, Sept. 11, for mediation with the PERC.
"Battle Ground School District leaders have relinquished their responsibility to their students, parents, the community and their employees," states BGEA President Linda Peterson. "The administration's decision to request fact finding is so infuriating. After more than three months of bargaining, they continue to stonewall our efforts to negotiate a fair settlement."
Battle Ground's proposal would add $6.6 million or an increase of 11.6 percent for teacher compensation in 2018-19 compared to 2017-18. BGEA's proposal would add $11.3 million or an increase of 19.6 percent for teacher compensation in 2018-19 compared to 2017-18.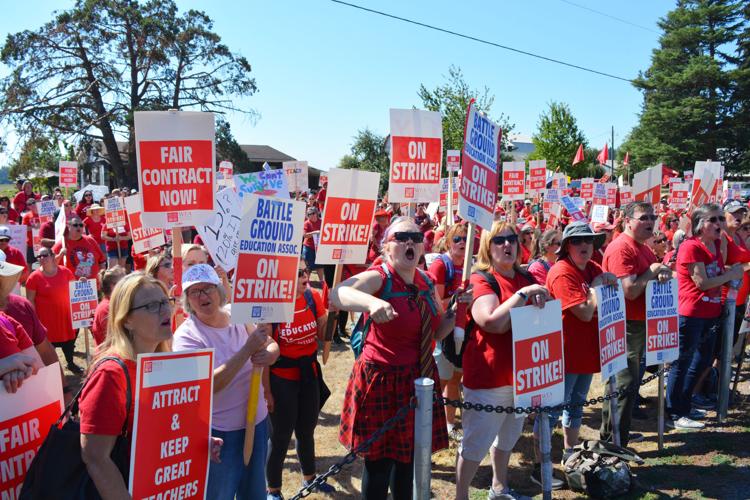 On Sept. 4, teachers, spouses, parents and students in Battle Ground Public Schools marched from the north and south ends of the city to the district office; on Sept. 7, Battle Ground teachers joined their counterparts from other school districts in a rally at Esther Short Park in downtown Vancouver.
"It's really disappointing that some people are not understanding our message," said David Harding, a first-grade teacher at Pleasant Valley Primary School. "Essentially, we don't have a contract. In past years, we would have gone back and looked for negotiations to continue. We can't do that this year.
"As of this month, we don't have anything and I don't know anyone that goes to work for nothing unless they're volunteering," he added. "I'm not going back without knowing what I'm going to make."
The Washington State Legislature passed a bill in March to increase teaching salaries across the state. Peterson said BGPS received $4.5 million, but the district is reluctant to part with this money in fear of the levy decrease expected next year. Peterson and BGEA argue that $4.5 million is strictly for salaries, and educators are not backing down. 
"We don't want to be here. We want to be in our classrooms, we want to be in our schools, we want to be with our students, but this is about a fair contract and a fair wage," said Holly Smith, a school psychologist at Daybreak Primary. "My Master's degree isn't any less than a Master's degree in the private sector. We should be paid the same."
School offices remain open while the strike continues. According to the district, students will still need to receive 180 days of instruction. The calendar will shift accordingly, much like snow days added to the end of the year, and dates for graduations might need to be adjusted.
Lunch is served to students in need, ages 1 to 18, from 11 a.m. to 12:30 p.m., at Kiwanis Park, 422 SW Second Ave. 
This is an extension of the summer meal program supported through a USDA grant.
Harding and Smith understand the frustration setting in as each day passes without school starting. They feel it, too.
"In my 25 years here, I've been at every intersection. I've rallied for levies. I've been riffed three times, only to come back. My loyalty is to my families," Harding said. "A lot of people will say we just move on to the next job. That's not what teachers do. We build families with who we work with and with who we teach. I have families here. I have kids and grandkids, and I know their families. I don't want to leave here."