For someone whose age is in the triple digits, Battle Ground resident Annie Eisenhart can keep up with people decades younger. 
Living at Mill Creek Senior Estates, the centenarian still manages to make the routine walking trip to Albertsons and maintains a robust social life with her neighbors.
Those friendships were on display Jan. 7 as her neighbors came together to wish her a happy 105th birthday. Born Jan. 5, 1915, in the Pocono Mountains, Eisenhart has lived across the country in her life, having the unique distinction of having worked on NASA's Space Shuttle program.
Eisenhart said her job duties at NASA involved work on gold plating and electrical engineering, explaining she more or less fell into the job given a mix of brains and build.
"They couldn't find anybody small enough to fit in the (tight spaces)," Eisenhart said.
She said she worked on what would lead to the first five shuttles a part of the project. A "first shuttle flight achievement award" thanking Eisenhart for her contributions to the program adorns her apartment wall alongside a signed photo of both John Young and Bob Crippen, the first two astronauts to take a manned flight in the shuttle program in 1981.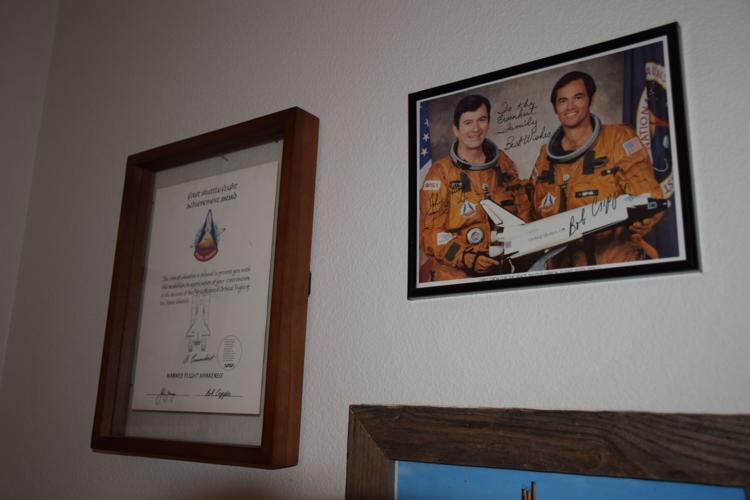 Eisenhart said she worked at NASA until her husband, Woodrow, fell ill and she had to care for him. She said she met Woodrow, a professional ice skater, on "sort of a blind date" when she was living in Pennsylvania.
Recalling stories from her earlier years, Eisenhart recounted how when her parents were married in Mauch Chunk, Pennsylvania (now Jim Thorpe, named after the famed Native American athlete), her father bought her mother a 200-acre farm in the Poconos where she said relatives still live today. She was the 10th of 11 siblings, remarking that, "(her) mother said she almost didn't make it out of the cornfield," when she gave birth.
Eisenhart said she didn't receive an education until she was 13, receiving home-schooling from Nina Price, a doctor at a time when women were all but nonexistent in the profession.
"There were no schools where I lived," Eisenhart said. 
Old newspaper articles in the area showed Price was a prominent member of the region, receiving the Pennsylvania Federation Woman of the Year, according to a 1963 article in the Pocono Daily Record. 
After living in Pennsylvania and Buena Vista, California, while she worked for NASA, Eisenhart eventually made the move to Battle Ground following a bad fall. At the request of her son, she moved to be closer to family about five years ago, though she maintains her independence at the estates.
"It's great here, such wonderful friends," Eisenhart said. She maintains a strong sense of humor and enjoys socializing with her friends.
"I like people," Eisenhart said "especially men."
Eisenhart credits home cooking as helping her longevity. Though not formally trained, she honed her cooking while working to pay off Woodrow's medical bills at the hospital, falling into the position when the cook "took off," she said.
Her neighbors said Eisenhart is still an avid walker, making routine trips around town. Bonnie Thompson, one of her neighbors and a friend, said her neighbor was a role model for any age.
"She's the epitome of what every woman wants to be at 105," Thompson said.