Imagine you are friends with someone, and everything is fine. Then, suddenly, they stop talking to you, calling you, texting you, with no explanation at all — it's like your relationship never even existed. That's ghosting, and it's one of the many challenging topics addressed in the play "Ghosted."
Kaiser Permanente Educational Theatre Program and the Oregon Children's Theater presented the one-hour assembly to all Ridgefield High School students. According to the National Institute of Mental Health, one in every five teenagers lives with a mental health condition, and less than half are receiving the support they need. Kaiser Permanente's Educational Theatre Program hopes to reduce the stigma of mental health challenges, to teach healthy coping strategies, and to let students know that it's okay to ask for help. The goal is for students to feel that they are not alone.
The play follows four students who are dealing with mental health challenges. Syd is clinically diagnosed with anxiety; Andre is dealing with depression; Liam has anger management issues;  and Kayla is trying to manage stress. They meet unexpectedly at the school counselor's office, where they go from being strangers to eventually discussing their issues.  They try to determine how to move forward, using coping skills and leaning on each other for support.
A post-performance question and answer session with the cast and a moderator gave students the chance to discuss the play's themes. They offered a range of coping strategies, like breathing exercises, sharing with a trusted adult, immersing yourself in an activity you enjoy, getting exercise, finding a counselor or therapist, removing yourself from stressful situations, and texting the crisis line.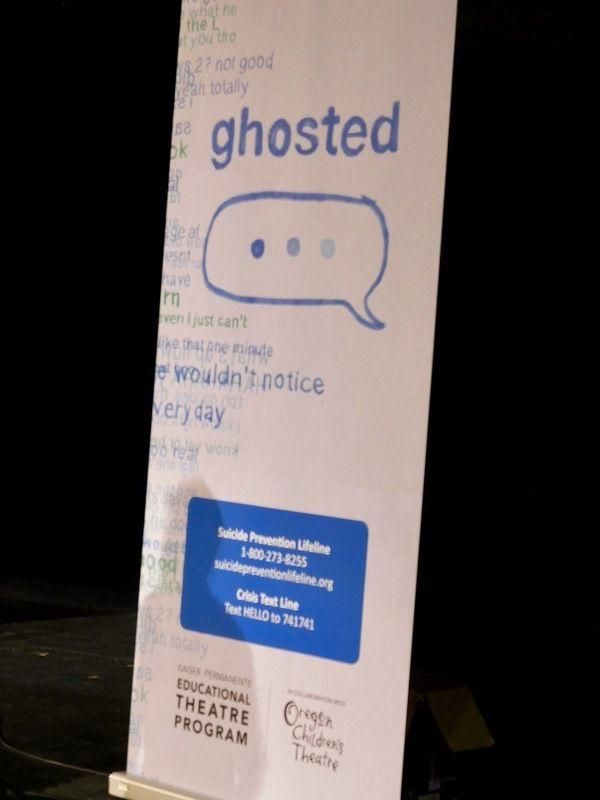 Ridgefield High School students always have access to information about counseling and other resources on the back of their student ID cards. Counselors, teachers, and administrators also received training guides about "Ghosted" and are able to provide students with additional support around mental and emotional health.
In addition to in-school resources, Ghosted mentioned two key national resources for additional help, available 24 hours a day, seven days a week: the Suicide Prevention Lifeline at (800) 273-8255 (or suicidepreventionlifeline.org) or the Crisis Text line by texting HELLO to 741741 (or crisistextline.org).
By modeling strong, positive responses to common mental health challenges, the school hopes to open an ongoing dialogue around mental health and provide multiple paths to help for teens in crisis.
"There are all kinds of ways to ghost, to disconnect abruptly from each other or from life," playwright Trista Baldwin explained. "Despite the fear of being ghosted, in this play, the characters do the opposite, committing to stay connected."
Ridgefield High School wants to provide a safe space for students to discuss teen issues.
"I know we talked about some big topics, some heavy topics, and some topics that many of us face," RHS principal Christen Palmer said after the show. "We are a Spudder family. So if you are going through something or if a friend or somebody you know is going through something, you don't, at your age, need to know how to deal with it all by yourself. We have our counselors and mental health professionals here on campus, adults who are ready to help. Get help. We're there for each other. Being part of the Spudder family, that's what we do for each other."
— Ridgefield School District