The Ridgefield Art Association's (RAA) "Halloween Hall" is back for its fourth year of family fun this weekend, Oct. 18 and 19. From 6 to 9 p.m., families and kids of all ages can experience straw bale mazes, "Thriller" dance fusion and art from around the community. 
"Our target market is younger kids," Vice President of the RAA Maureen O'Reilly said. 
She said while younger kids are the target market, Halloween Hall offers fun for everyone. 
"We want things to be a little bit spooky but not give anyone a nightmare," she said in the Halloween Hall promotional video. 
The event, started in 2016, serves as a fundraiser for the RAA, with ticket and food proceeds benefiting art in the Ridgefield community, RAA Board Member Chris Biddleman said in the video. 
According to the video, decorations will be hung up all around Bennett Hall at Abrams Park and are created for the event. 
The weekend of fun kicks off on Friday at 6 p.m. as Bennett Hall and all of its decorations will be open to the public. Dance Fusion Northwest will be performing flash mobs of Michael Jackson's "Thriller" at the bottom of the hour, three times a night. 
"The kids (and families) will be able to pose for a picture after," O'Reilly said.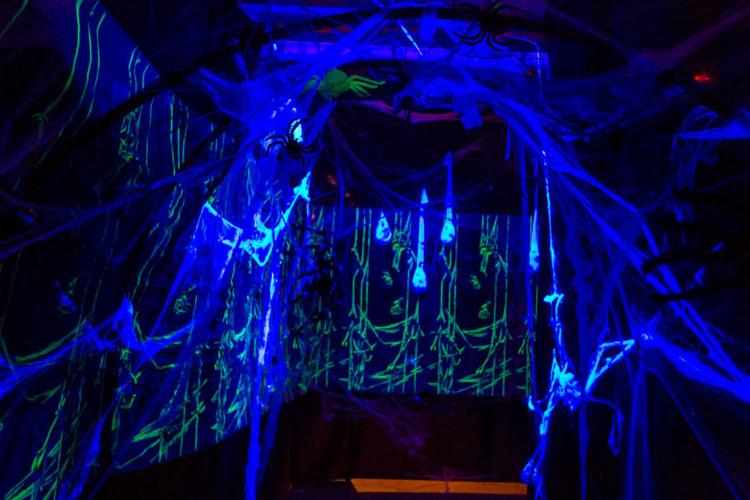 This year, the Ridgefield Chamber of Commerce and a few employees from city hall are additions to the Halloween Hall creation team. Along with the new teammates, O'Reilly said "fan favorites" the Ridgefield Pirates are back in action. O'Reilly said she appreciates the support from organizations such as the chamber as it "means she has a little less work." She later said she hopes to get the event operated by the city itself. 
In the hall, event goers can hunt for pumpkins as the annual Pumpkin Hunt is back this year. Pumpkins will be hidden throughout the hall with gift certificates given out to the winners with correct guesses. O'Reilly said she hides the pumpkins as a way to get people to slow down and enjoy the hall and all its various decorations.
On Saturday, the fun starts at 5 p.m. as local car club "That Dam Volkswagen Club" is hosting its Trunk-or-Treat in the parking lot (weather permitting). Costumes are encouraged as Volkswagens of all kinds will have their trunks and cars filled with candy. The Bennett Hall will open at 6 p.m. on Saturday after Trunk-or-Treat.
"They decorate their Volkswagens and hand out candy," O'Reilly said, later mentioning that the best decorated cars will receive awards. 
Admission to the event is $5 at the door, with food and drink from the Ridgefield Lions Club available for purchase. For more information, go to facebook.com/Ridgefield.Art.Association/.