Just after the 2019 NBA Finals between the Toronto Raptors and the Golden State Warriors came to a close, players in the 2019 National Senior Games were practicing their 3-on-3 skills for the upcoming tournament. Among them was Jim Nielsen of Ridgefield, who plays for the Detroit Metro. 
The Metro is made up of five players in the 75-to-80 age bracket. Nielsen was the only one from this team from the Pacific Northwest, with the other members hailing from Michigan and New Jersey.
Founded in 1987, the National Senior Games is an association for those over the age of 50 to play competitive sports like basketball, baseball and softball. This year, the 2019 basketball tournament was a double elimination, half-court, three-on-three tournament made up of teams comprised of those 50 and up, sectioned off by five-year increments. Neilsen has been playing in the senior games since he was about 60 years old. 
Neilsen got his start playing basketball on a hoop in this family's barn in fourth grade. He later played for Battle Ground High School, from which he graduated in 1961. Now, at 75 years old, he is the youngest of those in his 75- to 80-year-old age bracket. 
"You're not playing against people that are younger than you are, you're playing those that are about the same age," he said. "Now I'm a rookie because I went through the 70s and you go into the next group to start over again. You're the young guy."
The tournament started on Tuesday, June 14 with the preliminary rounds to decide if teams were going to be placed in the "A" division or "B" division. Given their undefeated season, the Metro players were placed in the "A" division and the double-elimination tournament started on Thursday, June 16.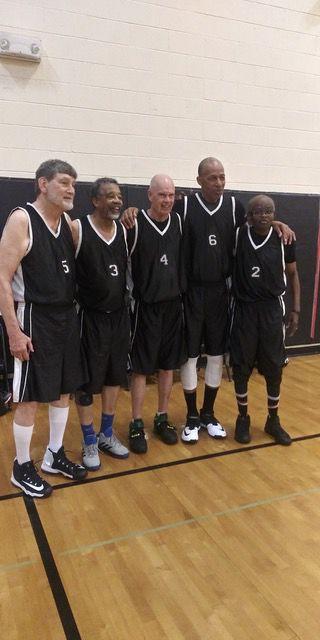 Although tested a few times, their tournament run resulted in much of the same, as the Metro took gold. 
"Every game was not easy," Nielsen said. "They were all tough, the scores were close. You weren't beating somebody by 20 points."
The hardest part of the tournament came on Friday morning for the semi-finals when the Metro had to play a team from Tennessee that, like themselves, had not lost a game. 
"In every game they had played they won by 15 points," he explained. "They were good. We beat them I think by four points."
Neilsen said all the teams in the tournament are good, making it very competitive and fun to play in. 
Ultimately, Nielsen and the Metro ended up playing the team from Tennessee again, later that day, in the final match of the tournament at noon. 
"We beat 'em again; that was a very difficult game," he said, later noting that the other team's "big fella" fouled out with about two minutes left in the game. "We ended up winning the game by about seven points. But, until he fouled out I wasn't sure where it was going."
Neisen feels lucky not to have been injured too many times while playing. Other than tearing his Achilles in 2010, he has managed to avoid other major injuries on the basketball court, a feat he doesn't take for granted. 
"Hopefully I'm playing when I'm 80," he said. "But you never know when you're one game away from never playing again."
Neilsen later said that he enjoys all aspects of playing basketball, but his favorite to play is defense and he pegs his primary strength as rebounding. He likes to pick up a few games throughout the week in what he calls "gym rat" basketball, saying that when he's getting ready for a tournament he will go and play around three times a week. 
"I'll probably go to the gym in between just to shoot around," he said. "I try to improve. I don't know how much you can improve when you're 75, but I try."