For just that brief moment when Anna Collier and her horse Ben are flying through the air, all the hard work it took for them to get over that obstacle is worth it.
"When it all comes together, it's rewarding. You don't feel like you have just been given things. You feel like you have really earned them," Collier said.
"That's one of the things I would say to young people that work hard. You don't hardly ever get rewards and you have to realize that," she added. "When you get things right and you do things correctly, just savor that moment because it doesn't happen very often. You get beat up all the time. In that moment, you need to just let yourself enjoy it and remember all the hard work that you did to get there."
Collier has competed nationally and internationally in jumping and cross country events for more than 20 years. Her parents bought Vossenberg Farm in Ridgefield in 1994. Although they have divorced, Collier still helps her mother, Norma, manage the 26-acre homestead to this day.
People have an opportunity to tour Vossenberg Farm from 10 a.m. to noon, Saturday through the Washington State University Clark County Extension program. Collier will share strategies she uses to manage the farm and care for her horses.
Collier and her 8-year-old horse Ben have competed together for two years.
"It's definitely a partnership and the horse has to trust you," she said. "It's why I love them so much. They're all so different. You go to work every day and you get to do something different. There's never a boring day with horses."
Collier describes Ben as a middle schooler who gets into mischief. He's talented and enjoys working, but he needs extra attention and guidance to get there. And sometimes, she has a tendency to be a little soft.
"I would much rather have a more complicated horse than an easy horse," Collier said. "If you enjoy a puzzle or having to do things not the simple way, then you pick a horse that's a little more complex."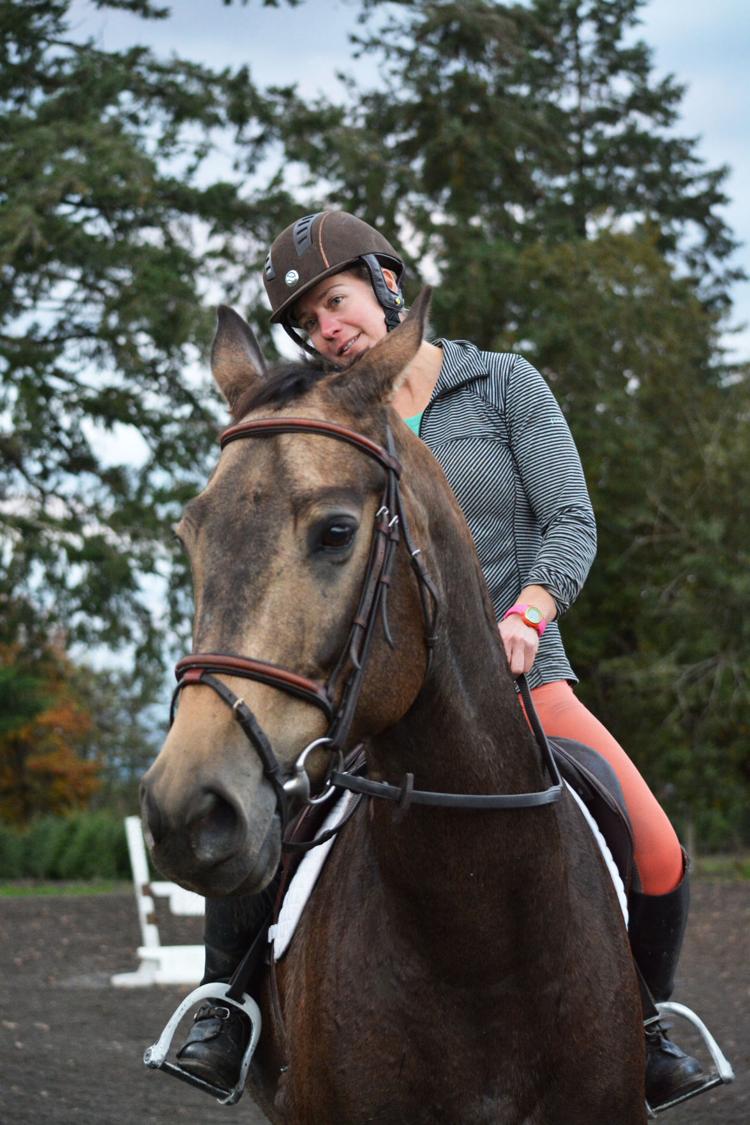 Jumping over obstacles takes lots of training, timing, trust and courage. Collier does everything she can to make sure that she and Ben are safe, but there's always that risk factor. She never knows how her horse is going to act inside an arena surrounded by people.
"The thing about eventing is, you have to have an absolute commitment to getting the job done. There's no halfway," Collier said. "If you're not sure, you're just going to hurt the horse. You can't be halfway. We're doing this or we're not even going to go."
Collier and Ben have a special bond. She can tell what he's thinking just by looking at him. That's what she loves about him.
"There's an old saying, 'the eyes are a mirror to the horse's soul.' That's why I think horses touch people in so many ways. They have that empathy and that ability to make humans better," Collier said.
After an exhausting day on the farm, there's no better feeling than when she and Ben gallop off into the sunset together.
"It's a lot of work and time and effort, but horses are pretty amazing in that way because they're so honest," she said. "They basically give what you put in. If you don't put the effort forth, that's what you get."