"It's your future, take the reins." 
That's the motto of the Interscholastic Equestrian Association (IEA), and take the reins is exactly what the organization allows kids to do. 
"I like it because you don't have to spend a fortune and chase points everywhere and overwork your horse," Julia Richard, a coach of IEA Zone 9, said.
She said each participant in the IEA is only responsible for the small fees required to participate. Zone 9 is made up of Alaska, Idaho, Montana, Oregon, Washington and Wyoming. 
The IEA is an equestrian association split up into 11 different zones across the United States. It operates just like a high school equestrian team, without being affiliated with high schools. Riders from fourth through eighth grades participate in middle school IEA teams and riders in ninth through 12th grades participate in high school IEA teams.
Richard said after high school, riders can move on to the IEA sister program, the Intercollegiate Horse Show Association (IHSA). 
Richard believes one of the most important aspects of IEA is the ability to participate without owning a horse, making the competitions come down to "the luck of the draw" and a rider's skills.
"I like the opportunity it creates for kids that don't own horses," Richard said.
At each IEA equestrian show, riders show up and pick their competition horses out of a hat, leaving which horse they get completely to chance. Horses are donated to the program by riders, coaches and community members. 
Richard's horse, Chopper, is used in the program because he is "tame and easy to ride," making him a great competition horse.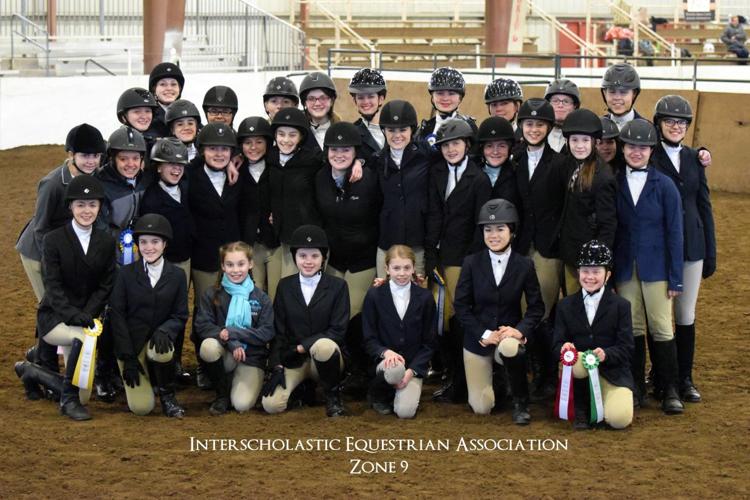 Richard's team at Quarry Ridge Farm is one of the few IEA teams in the Southwest Washington area. 
"Oregon has exploded," Richard said.
She wishes the IEA could get more traction around the Clark County area. She said it is a "wonderful opportunity" for kids to get involved in the equestrian community.
The IEA is made up of four skill categories: beginner, novice, intermediate and open class. Each team usually has a few members from each skill level to get points at the meets.
Each team is limited to five horse shows a year, adding another level of competition. 
"The points you get at those horse shows are the points you get (for the whole year)," Richard said. 
The top teams and best performers from each team move on to regionals, which includes riders from throughout Washington. After that, riders compete in zones before finally moving on to nationals, much like a collegiate or high school equestrian team. Along with the five shows a year, each team is required to host one show of their own each year.
This year, Quarry Ridge Farm is hosting their IEA show on Sunday, Sept. 22, and Richard encourages those interested in IEA to apply as soon as they can. 
According to the IEA website, rideiea.org, the deadline for teams to apply to IEA is Nov. 1. Those interested can apply at rideiea.org/forms/membership.html.