For the past 27 years, the Latigo N' Lace drill team has been riding high in Clark County. This year, the team of women took home five first-place awards in three drill categories at the Clark County Fair and received overall first place for the drill team competition.
"(Drill) builds a level of trust that you don't really see in any other sport," Treasurer of Latigo N' Lace Shing Burkhart said. "You not only have to have skills yourself as a ride but you also need to know your horse."
The sport involves riders and their horses performing choreographed maneuvers and routines to music. Different categories include a short drill program that must be performed in under six minutes and a freestyle program with no time limit. Each drill team in the Pacific Northwest is part of the Pacific Northwest Drill Team Association (PNWDTA).
Burkhart explained how short drills in the program are made up of a select few maneuvers from the PNWDTA handbook while freestyle is completely up to the team captain. 
"Christy Slaby (the team's coach) has come up with amazing drills for us," Burkhart said. "Maneuvers that no other drill team in the world has ever done."
Latigo N' Lace spends time traveling around neighboring states such as Montana and Nevada to spread the popularity of the sports which usually has about six to 12 teams in a competition.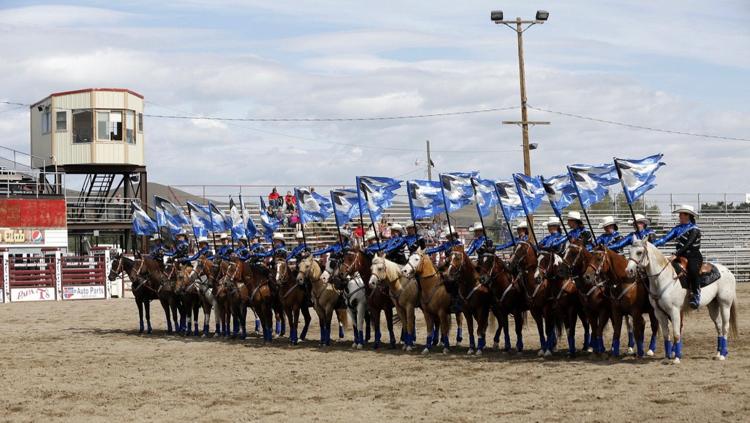 "It's fun to travel and see how other states do drill," Burkhart said.
The team is now looking for more riders.
"We are a team of hardworking women that really want to promote the sport of drill," Burkhart said. "(We want to) let people know that you can be a working mom or someone in college and you can still have that one day a week to spend with your horses or your girlfriends."
More than riders
Along with riding and traveling, Latigo N' Lace, a nonprofit in Washington since its inception in 1993, spends time doing community outreach. Last year, the team participated in the Christmas Roundup at the Clark County Fairgrounds, which collects gloves, coats and other winter clothing for families and children in need. Along with recruiting new riders, they are also looking for new sponsors to foster growth and new ways to pitch in around the community.