As 2019 comes to a close and 2020 starts up, it's important to remember that storm season is in full swing. Just because a big storm has not hit the area yet does not mean homeowners shouldn't be prepared for windy and rainy weather.
Clark Public Utilities Safety Manager Justin Zucconi tells property owners in the area to keep an eye on their property and understand where power lines enter their home. It's important to first know whether the home has overhead or underground power lines. 
"Most importantly is if they have an overhead line coming in to a weatherhead on top of their house is to make sure limbs are trimmed away from them so we don't have debris from windstorms falling on them and taking them out," he said. "Everything else is up to the utility to manage."
According to the Clark Public Utilities website, 50 percent of power outages in Clark County are caused by trees and limbs, with loss of power supply, vehicle accidents and birds and animals causing 13, 12 and 8 percent of outages, respectively. Zucconi said trees and limbs on public property and near power line poles are trimmed and fixed by the utilities district. However, trees and limbs near power lines on private property are tended to by the property owner. 
"As homeowners, walk the property and make sure you don't have any limbs growing around your house where the power lines enter," Zucconi said, mentioning that he commonly receives notifications that a tree or limb has caused a power outage.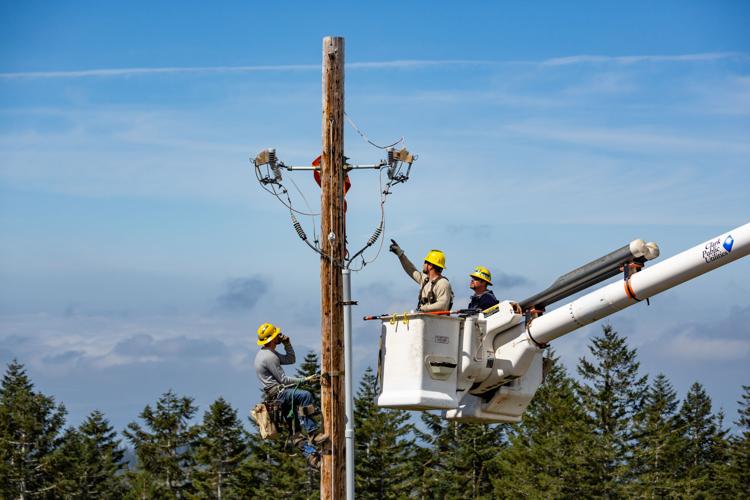 As for homeowners with power lines underground, Clark Public Utilities Media Specialist Dameon Pesanti said they should always call a professional on to the property before digging. 
"Hypothetically, if a homeowner is trying to do some sort of flood control measure, they need to have professionals to mark where those underground lines are so they don't cut them and seriously hurt themselves, damage the line or cause general chaos," Pesanti said. 
According to Call811.com, property owners in Washington who plan to dig on their property must give notice of at least two business days prior to breaking ground. People who plan to dig can call 811 or 1-800-424-5555 prior to digging 24 hours a day, seven days a week.
Along with knowing where power lines are on your property, Zucconi said it's important to plan ahead and have storm preparedness kits in homes just in case the power goes out for longer than expected. 
"In that kit it's really essential to have the basics," Zucconi said. "A lot of people underestimate how much water is recommended for each person."
Zucconi recommends people keep a gallon of water per person per day in the house. 
"If you are prepared for a three-day outage for a family of four, you're going to need at least 12 gallons of water and that's a lot more water than people typically keep in a garage or storage space," he said. "In addition (to water), you want to have a stash of canned or non-perishable foods and make sure you have something to open (the cans)."
Along with food and water, Zucconi said it's important for people to keep flashlights and battery-operated lanterns in their homes in case of a long outage. 
"We don't recommend using candles because that's a huge fire hazard during outages," he said, explaining that LED lanterns are relatively inexpensive these days and can provide light for a few days. 
As well as preparing, Pesanti said that during outages people should never assume that Clark Public Utilities knows the power is out. 
"They should always report power outages right away," Pesanti said. "The more of those calls we get, the quicker we can pinpoint where in the grid the problem is and the faster we can get the lights on."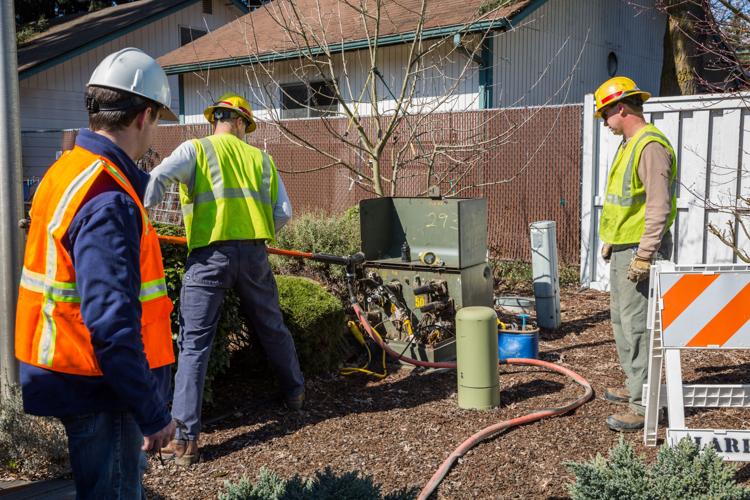 Before calling the PUD, Zucconi said to check neighboring houses to see if the entire neighborhood is out of power or just your house. He said if it's just your lights that are off, check your breaker box before calling in the outage. 
Zucconi recommends turning off and unplugging all appliances and lights during an outage and leaving just the porch light on. 
"This lets you and the people working on your house know that you have power," Zucconi said. 
Those who wish to see a map of the current outages or report and outage online can visit clarkpublicutilities.com/outages-safety/. Residents can also call (360) 992-8000 to report an outage.