For the 10th year in a row, the NW's Largest Garage Sale will be held April 13.
Although the event resembles a medieval-era marketplace as vendors banter with bargain hunters and attendees of every age jostle for position along the packed walkways, much work goes into organizing and controlling the chaos — and one couple can be thanked. 
Kim and David Buffum have been married for 31 years, and have spent all of their married life in Vancouver. They have both been around garage sales and swap meets when they were younger so when the market crashed in 2008 they started buying things to resell for money. Soon, they were buying storage units, and while the first experience wasn't great they kept at it. Before they knew it, they were buying about 15 storage units per month and ran a fulltime garage sale out of their home — but soon Big Brother caught wind of their operation. After city officials told them to wrap it up, they started looking into other options. 
The Buffums decided to take a leap of faith and rent the Portland Expo Center for their first Garage Sale event. 
"We had never put on anything like this, we had never done an event," Kim Buffum said. "It was just us thinking 'Well should we do it?' After the first vendor handed us money, we knew we were doing this." 
The event went better than they both expected. 
"They thought we were going to have 800 people show up, but we had 3,500 people come," David Buffum said. 
Kim Buffum now dedicates her life to the events.
"It's my full-time job now, we do it three times a year in April, July, and November,"  she said. "I work year-round at it because I have to go let people know about it and find vendors. It's also very important to get the shoppers there. A lot of people are in condos and apartments now so they can't really have a garage sale at their home, so this has been a great alternative for them."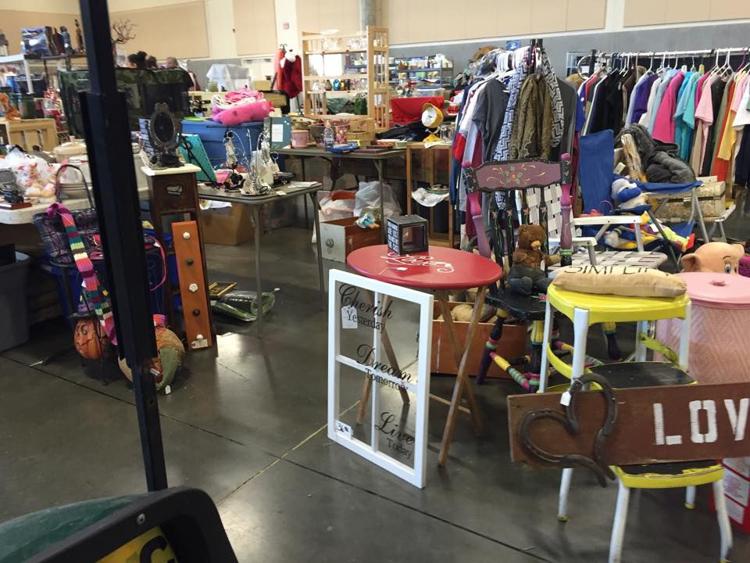 Since there can't be a show without vendors, Kim and David Buffum try to keep their vendor rates as low as possible, falling at $55 dollars per space. 
"We provide a safe place to be, and thousands of customers when at home you might only have 50 people stop by," David Buffum said. 
"There's not much you can't find at the NW's Largest Garage Sale," Kim Buffum said. "We have people that go out and vintage pick, we've got guys that go out into the farmlands and bring back stuff, people who need to move, young moms with baby clothes or kids items that have been outgrown. We have a plant guy who's always really popular. People are getting their gardens ready and he has great prices." 
Both Kim and David Buffum agreed that their favorite part of the sale is when the doors first open.
"It's amazing to see so many people coming to something we started," David Buffum said.