After hearing the concerns about coronavirus prevention this fall from many Woodland families, Woodland Public Schools is spotlighting two district programs designed to help students learn from home with little to no classroom interaction. The Lewis River Academy (LRA) is for students kindergarten through eighth grade and TEAM High School for students in grades nine through 12. 
The LRA offers an alternative learning environment for K-8 students who want to participate in an innovative approach to school. The academy features lessons taught at home with content provided by two teachers dedicated exclusively to the program combined with optional in-classroom activities. 
Guest speakers are invited to the LRA each week for Wednesday Workshops where students learn about science, art, math and a variety of other subjects from experts. 
"We like to seek out a variety of presenters to come and give lessons depending on the units we're covering in class," LRA's K-5 teacher Teri Retter said in a news release. 
The alternative learning environment at LRA provides families access to a different approach to learning using a combination of in-class curriculum and homeschooling. 
"The mission and vision of LRA is to be an extension for students learning from home by offering online and in-person alternatives to traditional school," WPS Executive Director of Learning Supports and Alternatives Jake Hall said. 
Although optional for LRA students, the Wednesday Workshops typically draw in a majority of the enrolled students as well as their families. 
"We usually have a great turnout as our students, parents, and siblings enjoy learning about different topics from our guest speakers," Retter said. "We particularly enjoy having parents attend as they are our learning coaches; by experiencing the curriculum first-hand in the classroom, they're better-prepared to use it out of the classroom, too."
The LRA program requires the same amount of rigor as traditional schooling. 
"Students in the LRA program must dedicate six hours each day to their schooling just like any other student," Hall explained. "The program also offers home-schooled students access to electives like band and athletics while still permitting them to take their core classes through the LRA."
Students and families interested in enrolling in LRA should contact Hall. Interested students and their parents will meet with him to discuss how LRA works and whether the program fits the family's interests and approaches to their student's learning. 
"We want to determine that the LRA program is a good fit for the students and families during the intake overview," he explained. "If LRA is the right fit, the student can enroll and get started right away." 
To learn more, contact Hall at hallj@woodlandschools.org.
For those older than eighth grade, WPS TEAM High School offers students a path to earning a diploma (not a GED) with an approach to school that accommodates extenuating life circumstances facing individual students such as full time work, challenges with traditional school schedules or family responsibilities. 
The staff of TEAM help people think of alternative high schools differently. 
"Many people hear 'alternative school' and think it's a place for 'troubled' kids," TEAM's Math and Science Teacher Elizabeth "Liz" Vallaire said. "We want to change that perception: we don't have 'typical' students — we have high-achieving students; students with life responsibilities; and students whose life circumstances make TEAM's approach to learning a better fit."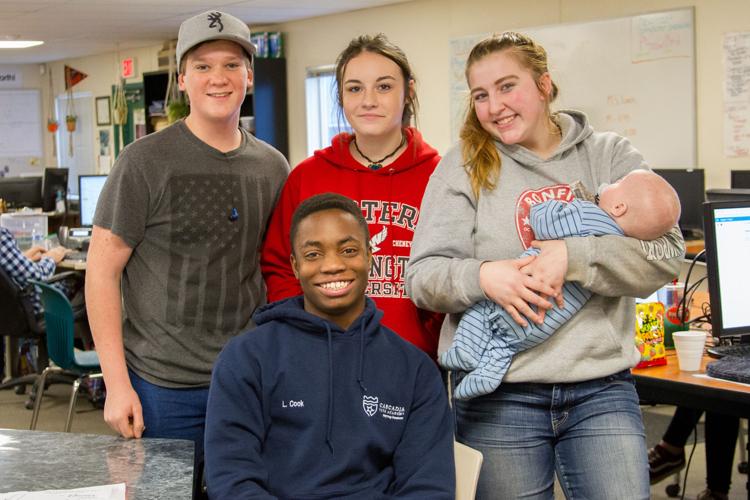 "TEAM can be great for students because we meet them where they are academically and offer a myriad of supports and flexibility with classes to help them succeed," TEAM's Social Studies and English Teacher Jill Domingo said. "Since we have time to work with our students one-on-one, they share information about their work, hobbies, and home lives; I feel having that knowledge helps me be a better teacher by allowing me to adjust my instruction to fit their specific needs and learning styles."
The graduation rate at TEAM has more than doubled over recent years. Hall serves as TEAM's principal and commends the staff for the school's success. 
"Some of our students develop 'learned helplessness' from years of not being successful in school, however, our staff at TEAM works with students to show them that success can build upon success," he said. "Students at TEAM develop self-confidence by having teachers who want them to be successful, especially some of our most discouraged students." 
Due to coronavirus prevention efforts, Woodland Public Schools is no longer limiting enrollment, instead supporting TEAM High School with more staffing, as needed, to maintain the alternative school's ability to serve a diverse student body. 
"We feel like a family since we all get to know each other really well, and through that we are able to build trusting relationships from all the one-on-one time we have with each student," said Liz. "I believe those relationships are often part of what keeps a lot of students motivated to succeed; they know that their families, their teachers, and their peers are also invested in their success."
To learn more about TEAM High School or how to enroll, visit the TEAM website at woodlandschools.org/team.