Due to the COVID-19 pandemic, Woodland High School's annual plant sale would have been canceled this year had it not been for the quick thinking and teamwork of more than 40 students and nearly two dozen current and retired staff. 
The yearly sale is put on by students of the school's horticulture program and Kendra Pearce, the horticulture teacher at Woodland High School, led the charge to take the plant sale online and save the much-loved community event. Pearce also received the Outstanding Teacher of the Year Award from the National FFA Organization. 
An incredibly popular and long-running tradition, the high school's annual plant sale was nearly canceled due to COVID-19, something that would have devastated Pearce's students and the community. 
"When I learned that students might not be able to participate in the plant sale, I was heartbroken," Pearce said in a news release. "Since the start of the school year, the students had spent hours and hours in the greenhouse planting, propagating and managing their more than a thousand plants."
Pearce came up with the solution to take the sale online. However, she only had two weeks to figure out how the team would make it happen. 
"After conferring with agriculture teachers throughout the state and investigating options that we could put in place in our incredibly limited time-frame, we decided to use the InTouch payment platform the district uses to accept meal and Skyward Family Access payments from parents," she said. "However, InTouch isn't intended for e-commerce so our business manager, Stacy Brown, helped make it happen by working with me and my horticulture students to upload individual photos, descriptions, and pricing for 123 unique plant varieties."
Peace and Brown also developed a way for customers to pick up the plants they purchased while still following the social distancing and other health guidelines of the COVID-19 outbreak. "We created a separate scheduling system for buyers to choose specific days and times to pick up their orders from stations set up outside at the high school," Pearce said. "The online scheduling system then had to feed into a separate spreadsheet system so the students could prepare and set out orders in the same order that buyers would arrive to pick them up."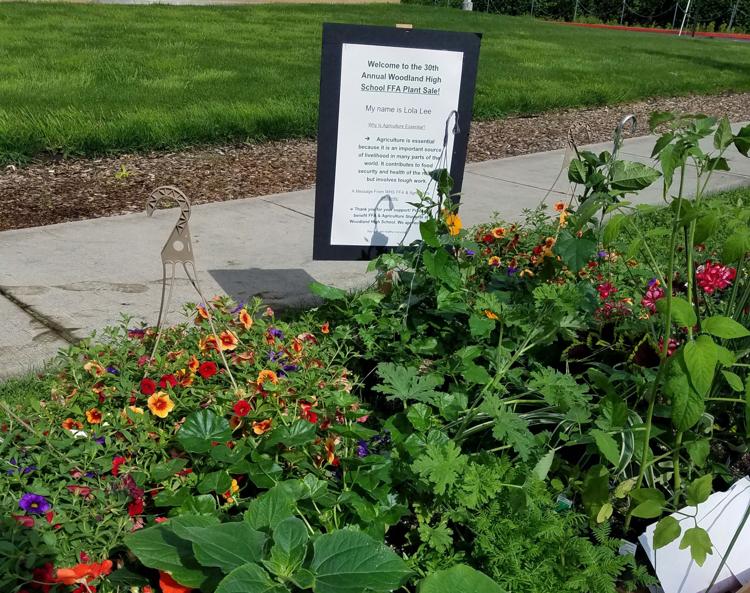 For Pearce, her background as a land use planner at a local firm for several years and her continuing volunteer work as a coordinator for a large volunteer program for Clark County were instrumental in providing her the skills she needed to develop the complex solution. 
"I'm a planner, professionally, whether it was at my past jobs or for my current role as a teacher where I have to track thousands of plants cared for by 40-plus students over the course of the year," she explained. "The students were key to make the plant sale possible — they prepared each order and ensured each one was in the right place at the right time for customers to pick them up."
In addition to her classes of students, nearly two dozen current and retired staff members helped administer the sale from checking in customers to ensuring everything went smoothly. Following the sale, a survey of customers provided valuable feedback for future plant sales. "Nearly a third of the respondents would like to see us continue the online sale in the future, however, many of them said they prefer to shop for their plants in-person, of course," she mentioned. "That being said, 97 percent of the respondents said the pick-up process was easy, and the results certainly speak for themselves as we sold nearly 85 percent of what we would during a normal year — a pretty remarkable feat seeing as how we'd never held a sale online prior to this."
Her efforts making the online plant sale a reality didn't go unnoticed, as the FFA awarded her Outstanding Teacher of the Year for District 8, which covers an expansive area including districts as far south as Vancouver and as far east as Toutle Lake. 
"I am honored and humbled to receive the award, this year, in particular," Pearce said. "I truly believe this is the year every agriculture teacher deserves an 'outstanding' award, regardless of whether their name is on a plaque or not."