"Jerry McGee was one of my best friends," David Johnson said while looking at photos of the Battle Ground High School graduate and one-time Amboy resident.   
As Johnson tells it, McGee was a man that always wanted to improve his community. Whether it was light conversation with a stranger, helping teach disabled children or working on the city council, McGee was always involved. 
After 85 years of adventure, McGee passed away on Jan.11 after a battle with cancer. According to the Keizertimes newspaper, McGee married his wife of 55 years Shirley Joan Rolling on Sept. 11, 1953. He was the father of six children: Shawn McGee, Shannon McGee, Marty McGee, Tammy McGee, Cathy Jordan and Wendy Hunt.
McGee was born Oct. 3, 1933, in Battle Ground, where he would attend school in a one-room schoolhouse before heading to Battle Ground High School. 
When Johnson met McGee they were freshmen at Battle Ground High School. McGee wanted to get involved from a young age, so he became the student body president in 1951 during his senior year. 
After high school, McGee continued his education at Clark College, then Western Washington University, and finally Colorado State College where he earned his Doctoral Degree in Education. After graduating he spent most of his professional career working with children who had developmental disabilities. he also worked on several tunnel projects in Washington and Oregon to help pay for his college education. 
According to McGee's website, he loved to dress as Thomas Dove Keizur and visit classrooms where he gave history lessons to the children. 
For many, however, McGee is best known for his writings. He is the author to five books about the outdoors: "Follow the River," "It's a Long Way to Oregon," "Lost and Found," "Whiskey Riley," and "The Lewis River High Scalers and The Dam Kids."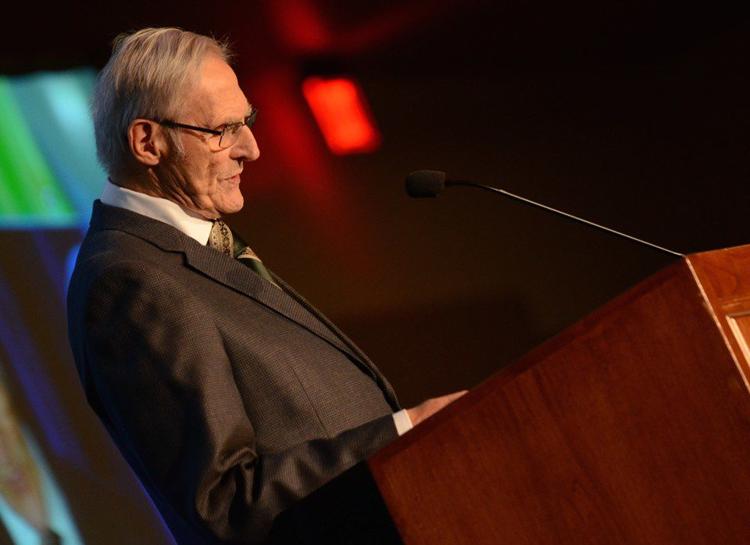 David Johnson remembers helping McGee market his books. 
"When I first got up to Amboy I saw Jerry was advertising his books on a small paper because he didn't want to spend any more money," Johnson said with a laugh. "I went up to the house and got a 4x4 sheet of plywood wrote on it what the books cost, the names of all of them and then he started selling them a lot faster."
McGee found the inspiration for his books during his outdoor adventures. He loved to go hiking and was an amateur prospector in the Mount St. Helens Mining District for two decades, according to his website. He also worked on major dam projects around the Pacific Northwest and tunnels on the Lewis River.
Kenneth Doane, a civil engineer who used to work in Southwest Washington, remembers a near-death experience with McGee that inspired a portion of "Whiskey Riley." 
In 1956 they were working on a diversion tunnel of Swift Creek Dam together. McGee was working at the head of the tunnel drilling, while Doane and another worker were inside setting up the transit to determine where to install direction aids for the hard rock miners. 
The job was going just like any other. 
"A couple of small rocks fell from the ceiling, but neither of us was concerned because this, although not usual, had occasionally happened before,"  Doane told The Reflector in February. "Suddenly, I heard a great noise and I just grabbed the transit and moved to the edge of the tunnel. My co-worker saw me moving and he followed right behind me. We both looked back toward where we were standing by the transit and discovered that the ceiling had fallen with rocks bigger than the front end of a car on down to smaller ones the size of a basketball.
If he would have stayed where he was, Doane said he wouldn't have been touched by any rocks but his coworker would not have survived. 
McGee and other miners on the scene had to drill and blast the boulders to remove the debris from the tunnel, so they could free Doane and his coworker. 
McGee moved to Keizer, Oregon later in his life and in 1991 was elected onto the city council where, according to the Keizertimes, he was known to be hardnosed about keeping the council on budget. He served until 2003 and is still the longest-serving city councilor. 
McGee also helped organize the Keizer Points of Interest Committee, which worked to mark historical sites throughout Keizer for nearly two decades, according to McGee's website. 
While McGee's writings will offer generations to come tales of life in Oregon and Washington during the 20th Century, they also as a comfort to those who knew him. 
"I love reading his books because I knew him so well that I can hear his voice as I read his words," a quote from Lore Christopher on his website reads. "It is a comfort now that we will always have him speaking to us through his books."