For the past six years, Troy Steigman and his team of brewers, cooks and staff have been cooking up good food and brewing beer for the Battle Ground community. With multiple different beers on tap and a wide array of food to eat, Barrel Mountain Brewing is a hotspot for North County diners. Despite the COVID-19 pandemic and related closure of dining rooms, Steigman and his team have kept on brewing. 
Back in March, Gov. Jay Inslee's "Stay Home Stay Healthy" order instructed non-essential businesses to close their doors to prevent the spread of the novel coronavirus. Restaurants across the country closed their dining rooms and started slinging food to-go. Barrel Mountain followed suit and started a to-go menu for North County residents. Steigman, like other business owners, has faced adversity in these times of uncertainty.
"It's been a difficult challenge, you know, everyday we get new information and have to manage that," Steigman said, mentioning that he is proud of his staff and fortunate to have them. "For the first couple of weeks, everybody was facing the challenge just head on, and that really helped us move forward." 
Stiegman said he and his team have been working to provide food for the community as well as "not being able to brew enough beer" as Barrel Mountain Brewing cans hit shelves at the beginning of the COVID-19 quarantine. According to Steigman, the release of the cans falling in line with Inslee's order was sheer luck. He and his staff planned the release of the cans six to seven months ago and they hit shelves the week people were stocking up. Barrel Mountain Beer lovers can find a variety of their beers, such as No Bad Days IPA and Starway Stout, in cans for purchase both at the restaurant and at grocery stores in Clark County.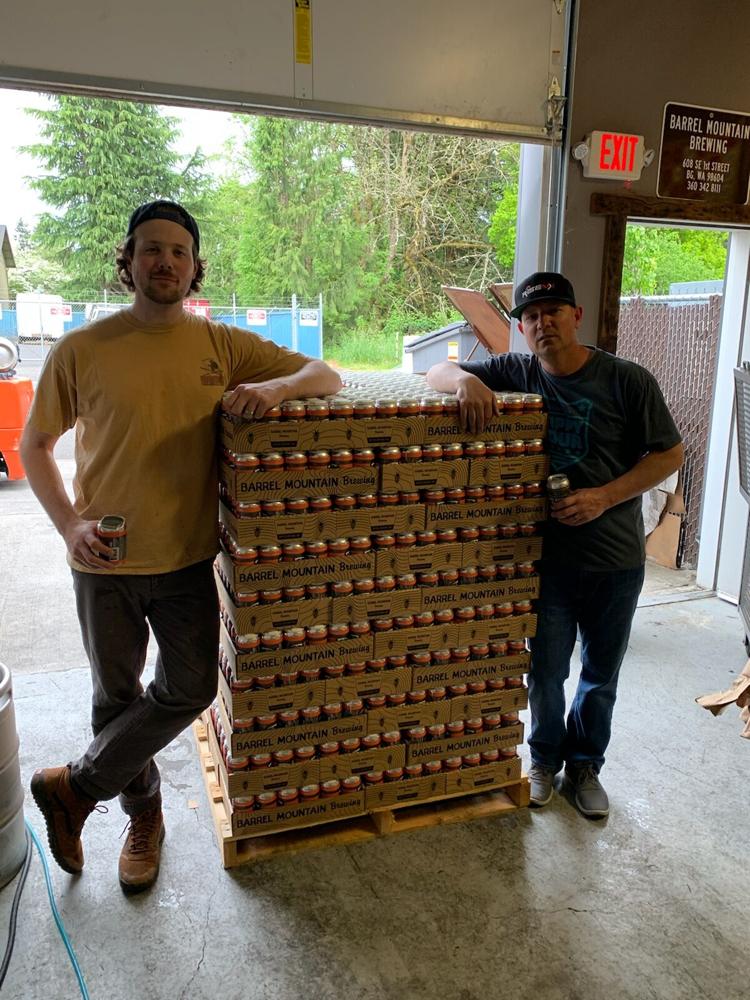 "Not being able to make enough beer is a pretty cool problem to have," he said. 
As for the future, Steigman said he and the team at Barrel Mountain are "taking it day by day" and making adjustments as needed as Clark County prepares to enter Phase 2 of Inslee's four-phase reopening plan. Along with having hand sanitizer stations set up for customers, Steigman mentioned that the outdoor patio seating and indoor space will be up to health code and extra spacious for those dining. He plans to keep adapting to the requirements as new rules for restaurants are instituted. 
"We're going to deal with what is given to us and have a positive attitude," he said. "It's better than where we are now." 
Front of house manager Ben Buck said he is thankful for the community as it has been "nothing but supportive" during the time of crisis. While afternoons may be slow for the crew, Buck said the phone starts ringing around 4 p.m. and doesn't stop. Buck mentioned how there have been some days when Barrel Mountain has come close to or hit the amount of orders and service it had before the stay-home orders started. 
Giving support back and accommodating the community he grew up in is a big part of Steigman's philosophy. Originally, he wanted to support the Battle Ground High School sports program but said it "didn't feel right" to connect alcohol and youth. Now, for every batch of Trailbuilder IPA he and his team brews, he donates to the construction and upkeep of local trails in the area. 
Steimgan also manages Prairie Bar and Grill in Brush Prairie and said he's hoping to make different changes there for the community.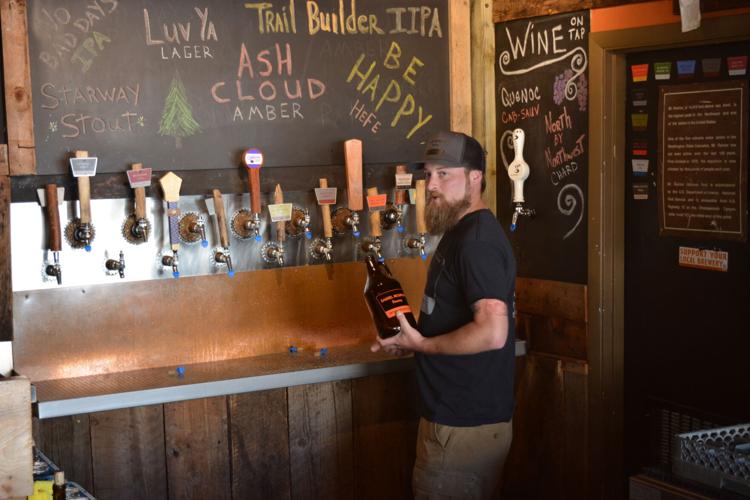 "We might attempt to change our business model," he said, alluding to possible walk-up counter service. "But essentially the game plan is exactly the same: take it day by day and stay positive." 
Barrel Mountain Brewing is currently open seven days a week for takeout service and growler fills. Your can keep up with them on their Facebook page at facebook.com/barrelmountainbrewing or their website barrelmountainbrewing.com