"Welcome to the blueberry patch," John Morrow said as the smell of fresh blueberries blew in the summer wind. The sounds of summer echoed through over 1,400 blueberry bushes on Morrow's BlueBerry Patch as Morrow walked me around the farm to taste-test his five different varieties of eight-year-old "high-bush" blueberries. 
Lying just north of downtown Battle Ground, John Morrow and his wife dedicate their summers to blueberry agriculture. 
"We bought this property and mowed this field twice a month and asked ourselves, 'what do we do this for?'" Morrow said. He and his wife went to a WSU Vancouver Extension agribusiness class and settled on turning the field into a blueberry farm. That was about 10 years ago. Since then, Morrow and his wife have been pruning, weeding and watering their farm to produce a variety of gourmet blueberries — even going as far to water the blueberries with black tea-infused water. 
After stepping into a footbath to clean my feet and sanitizing my hands, Morrow and I headed into the blueberry patch to taste-test the different flavors of blueberries his patch has to offer. "The Draper is a terrific berry," Morrow said as we come across the first row of labeled bushes. "They have a longer shelf life once you pick them; they are slower growing and they rank number one or two in taste testing."  
As for the verdict on taste, Morrow says they're "by far" his favorite ones. For me, they were not my favorite of the five, but still incredibly delicious and rank second place. My favorites were the next ones, the Earli Blues.
Earli Blues are sweet but not overwhelmingly sweet and they pack a nice flavorful punch. I went back the next day to pick some blueberries for home and picked mostly Earli Blues.
According to Morrow, Earli Blues are the first blueberry bushes to ripen and although they don't have a large berry, they have plenty of them. He later said that he chose to get the early blueberries over the late bloomers because he didn't want to mess with blueberries in the fall. Morrow's BlueBerry Patch is only open from late June to early August.
As Morrow and I moved to the Duke variety of blueberry, he explained his homemade irrigation system. Complete with black tea-infused water, fertilizer and a homemade drip line. 
"If you were to get a Draper at a different farm, it would taste much different. These have a much richer flavor," he said. 
"These are Dukes," Morrow said as we reached the other end of the patch. "Some people come and they just pick here because they like that tart," Morrow said after I mentioned how tart the Dukes were. 
We quickly moved on to the most popular section of the blueberry farm, the Spartans.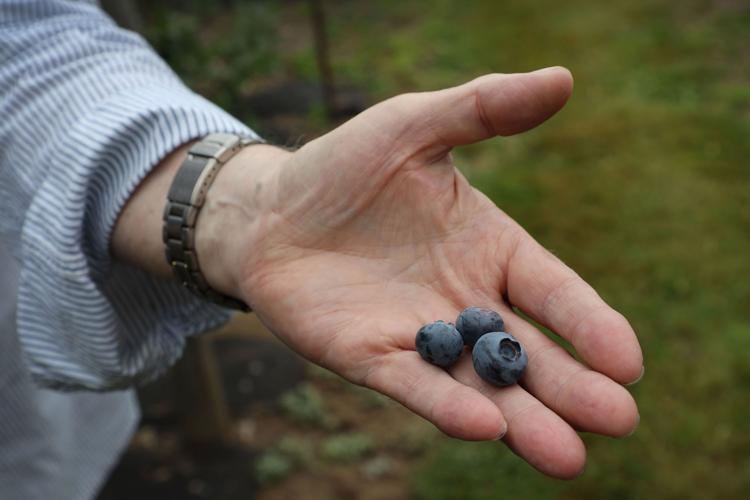 "The Spartan is big and sweet," Morrow said, later recalling an 11-year-old who screamed across the farm about their overwhelming sweetness. 
And overwhelmingly sweet they were. As someone who isn't the biggest fan of sweets, Spartans didn't rank the top of my list. However, they provided a nice sweet change to the more tart blueberries I prefer. I picked a few Spartans when I went back, however, and Morrow wasn't kidding about their popularity. The Spartan bushes were well picked over. 
Last up on Morrow's farm are the Blue Crop blueberries. "These are the ever-ready bunny of the blueberry field," he said. "They just keep giving fruit, keep giving fruit and keep giving fruit." 
Morrow also mentioned that blueberries don't ripen off the vine. While you're picking blueberries the two things to watch out for are a well-formed crown (top of the blueberry) and that the blueberry is violet all around, or it won't be as sweet.
As we headed back to the front of the farm, Morrow mentions to me the nutritional factor of blueberries, which are high in vitamin C and K as well as antioxidants and roughage for your digestive system. 
At the checkout, I see many signs hanging up along the side. Next to the normal sign describing prices, I see a sign with the quote about overwhelming sweetness and a sign with four names on it. Morrow explains the sign with the names by stating that purchases from his farm go to help support different humanitarian efforts across the globe. One being Dr. Val (Shean) Lomilo from Uganda who is working towards developing a "Peace Village" between warring tribes. Another being for Chaplain Epp of Clark County. 
"One of the best parts about owning a blueberry farm is the people you meet," Morrow said. "I've met so many great people doing this."
Battle Ground's Cameron Kast joined The Reflector earlier this year. Along with covering sports and lifestyle, he will be offering a millennial's take on food once a month with his column "Cookin' with Cam.