Roasted peppers, fresh garlic, vinegar and more, all smoked over Pacific Northwest wood. You're salivating, and it's probably because of the heat in the sauce. As I try a taste of a new creation, my mouth begins to water.
"This is one fine sauce," I say to myself. Two years after trying Silagy Sauce's Smokin' Habanero hot sauce, it remains the top of my pyramid of spice. On Wednesday, Silagy Sauce officially turned three years old, and what was once the hobby of Battle Ground resident Dave Silagy brought in members from all around the community (myself included) to celebrate the heat and try a new sauce.
"It's just like really high quality peppers, like all the peppers we're using here is all fresh. We fire real stuff right away to really capture a lot of  the pepper and you know, we put a lot of love," said Ryan Silagy, a Silagy employee and son of Dave Silagy. "We don't cut any corners, and people really feel like they can taste the difference."
At the celebration, Silagy unveiled their newest and most limited creation, Smokin' Habanero, Dormancy Edition. Limited to 1,200 bottles, the new creation is a collaboration with Yakima-based brewery Bale Breaker Brewing. 
"It's just everything we do with our normal Smokin' sauce except instead of water we used the Domancy Stout from Bale Breaker Brewing," Ryan Silagy said. "The sauce really brings out those chocolatey and coffee malt flavors in the beer."
For me, the new sauce was good, but it didn't dethrone the classic and original that has had a spot in my refrigerator since I first tried the sauce two years ago. Friend, fellow coworker and hot sauce fiend Rick Bannan, however, said he felt the new Domancy Sauce topped the classic Smokin' Habanero flavor in terms of spice and taste. While the recipe might be nearly identical to the classic, the Domancy Edition was spicier in nature and had a deeper and more rich flavor of malt and chocolate that Ryan was talking about. I ended up getting myself a bottle because, much like every other Silagy creation, it's still one phenomenal sauce.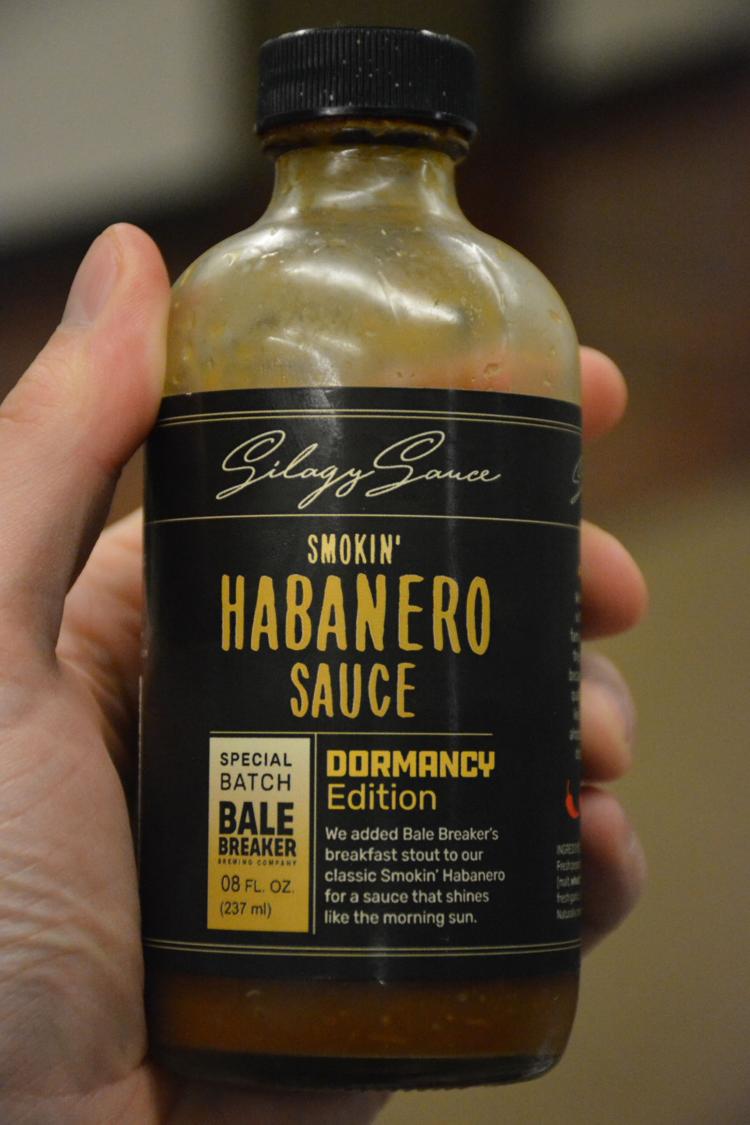 Wednesday's anniversary celebration took place at Northwood Brewery and Pub, a hotspot for many different community events, such as Oktoberfest, Christmas dinner and more for the Battle Ground area. 
"I wanted something that could highlight the sauce as well as Bale Breaker Brewing and their collaboration with Jameson Whiskey," Northwood owner Eric Starr said. "And their collaboration (Silagy and Bale Breaker)."
Starr said he thought for awhile about how he could highlight both Bale Breaker Brewing and the newest Silagy Sauce and settled on a special menu that had fried chicken and waffles (made with Silagy Ghost Sauce), Silagy Braised Beef Short Rib, a ghost pepper chocolate molten lava cake and a special flight of Bale Breaker Beers, Jameson Whiskey and a Silagy fiery hushpuppy. I settled for the flight. 
Paired with a Jameson Barrel Aged double IPA, a taster of Bale Breaker Keg aged whiskey and the renowned Domancy Stout, the Silagy fiery hushpuppy did not disappoint. Filled with spicy flavor with a hot sauce remoulade (an aioli-based French condiment), the spicy cornbread hushpuppy was just the tip of the delicious iceberg. I even added a few drops of the new sauce to try it out on some food. Verdict: even better when on food.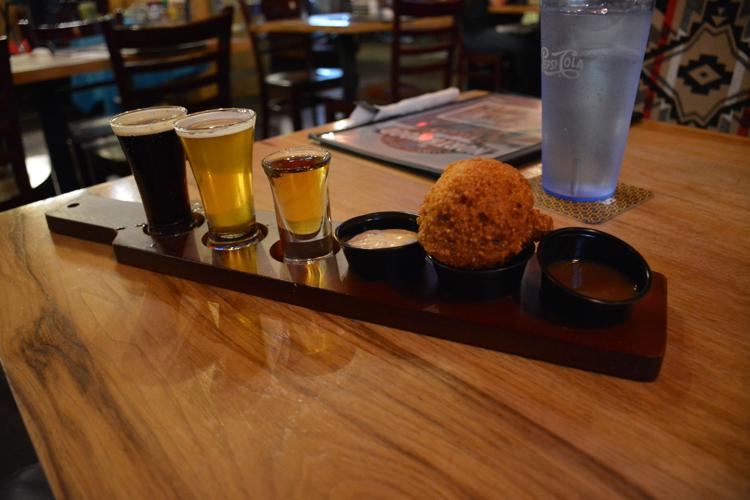 While the new sauce may be getting all the attention, Dave Silagy said the Smokin' Habanero is still his favorite (I have to agree, Dave). But, his favorite part about what he does isn't being able to eat as much hot sauce as he wants. It's meeting new people and seeing the faces of his fans. "We love you and we appreciate you and you know you keep us going and you know, just a lot of gratitude and thanks," he said. 
As for the hardest part about having a hot sauce company, Ryan Silagy said it's cleaning up the pots after a sauce has been made. "Yeah, cleaning the pots," he said. "Like, you're hacking along. blowing snot and stuff. It's pretty brutal."
Silagy's new sauce and all of their current sauces can be found at Battle Ground Produce and Chuck's Produce as well as at other restaurants around the county. The Silagy's also mentioned how they have made it into over 100 Safeway and Alberston's stores across Southwest Washington and Oregon. More information about the sauce can be found at silagysauce.com/oursauce.